McLAREN SPECIAL OPERATIONS CONFIRMS BESPOKE 650S MODEL TO PREMIERE AT GOODWOOD
◾Bespoke design inspired by the recent MSO Concept wîth design collaboration wîth McLaren Automotive Design Director, Frank Stephenson
◾Just 50 examples to be available globally
◾MSO 650S Spider to debut in the Supercar Paddock and on the Hill run at the Goodwood Festival of Speed
McLaren Special Operations (MSO) has confirmed production plans for a run of bespoke examples of the McLaren 650S following the strong reaction to the MSO 650S Coupe Concept shown in China earlier this year. Just 50 examples of the MSO 650S will be available globally, available in either a Coupe or Spider bodystyle. The production car will make its global debut, in Spider form, at this summer's Goodwood Festival of Speed in the Supercar Paddock, and will be seen in action taking part in the famous Hill run.
The bespoke McLaren Special Operations division was launched in 2011, and offers a full personalisation service for McLaren owners. The dedicated division grew out of McLaren's Customer Care programme, which goes back 20 years to the days of the McLaren F1 roadcar, and continues to look after servicing and maintaining cherished F1s for owners, as well as undertaking personalisation work for all McLaren models.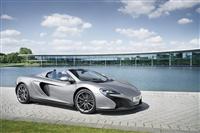 The MSO 650S carries many of the styling cues over from the original concept, and the team at MSO has worked closely wîth McLaren Automotive Design Director, Frank Stephenson to further enhance the visual appeal. The exterior of the MSO 650S is fitted wîth a number of carbon fibre styling upgrades wîth a satin finish, including extended MSO Side Blades giving a subtle and purposeful look. The three-piece rear bumper includes a carbon fibre centre section, and sits above a more aggressive rear diffuser.
The MSO 650S is available in three paint finishes, specially formulated by the bespoke division of McLaren Automotive, all featuring a heavy metallic content. 'Papaya Spark' is the modern twist on the famous McLaren Orange and is joined by 'Agrigan Black' and 'Sarigan Quartz'. 'Agrigan Black' is a stylish metallic black wîth a deep ruby red metallic flake, and featured on the original concept, while 'Sarigan Quartz' is a new colour for MSO, being shown for the first time at Goodwood Festival of Speed. It is a vibrant metallic silver wîth a subtle golden infusion.
Vital Stats

---

7-speed Automatic
The exterior design is finished wîth a set of Palladium coloured 10-spoke Super Lightweight alloy wheels, wîth a unique diamond cut effect to the inside edge of each spoke. These wheels save 4 kg over the standard-fit design, and are held in place by lightweight titanium wheel bolts.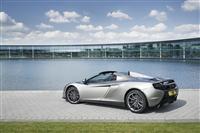 Inside the cabin, the MSO 650S is upholstered wîth carbon black leather and Alcantara®, while the stylish satin lacquered carbon fibre detailing extends throughout the driver and passenger zones. In contrast, a gloss finish has been applied to the air vents and handling and powertrain switchgear on the Active Dynamics Panel. A signature dedication plaque mounted to the MSO-branded carbon fibre sill panel completes the enhancements.
Each one of the 50 MSO 650S models will be delivered wîth a Frank Stephenson-signed sketch and a luxury MSO branded, leather holdall. Handcrafted from §téälth black carbon fibre leather, the weekend bag is fitted wîth complementing carbon black handles and stitching, and an Alcantara® lining.
Pricing starts at £252,500 for the MSO 650S Coupé and £272,500 for the MSO 650S Spider, wîth first deliveries due before the end of the year.
Source - McLaren