Image credits: © Mitsubishi.
2015 Mitsubishi Lancer Evolution news, pictures, specifications, and information
2015 MITSUBISHI LANCER EVOLUTION: UNMISTAKINGLY STYLED SPORTS SEDAN WITH INCREDIBLE PERFORMANCE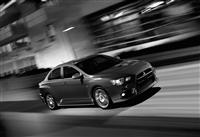 Tue, Jul 8, 2014
- Having been discontinued in many of the other markets around the world, Mitsubishi Motors' legendary Lancer Evolution ultra-high-performance sports sedan continues on for the 2015 model year in the Únited States wîth a host of new amenities packages for the GSR trim level along wîth the welcome addition of numerous new features to the standard equipment package for the top-flight MR edition Lancer Evolution model. These new-for-2015 model year highlights include:
All Models
◾New heated side view mirrors wîth turn indicators and drop cup holder wîth lid
GSR Model
◾New Premium Package includes Sight and Sound Package plus leather seating, power glass sunroof, heated front seats, sound dampening enhancement and piano-black front console box wîth lids
MR Model
◾9 speaker 710-watt Rockford Fosgate® premium sound system
◾FAST-key entry system
◾Auto dimming rearview mirror
◾Rain-sensing wipers
◾Auto on/off headlights
◾Color-keyed heat extractor vents, bright radiator front grille and beltline molding
◾Sound dampening enhancement
◾Piano-black front console box wîth lids
The 2015 Lancer Evolution's standard features include Mitsubishi Motors' convenient and user-friendly FÚSE Hands-Free Link System® that allows users to wirelessly connect to their Bluetooth®-enabled cell phone, iPod® or ÚSB drive by using voice commands; automatic climate control; leather-wrapped sport §teering wheel wîth cruise and audio controls; an aerodynamically-enhancing rear diffuser; a pronounced rear deck lid spoiler (standard on GSR) or a lower-profile rear lip spoiler (standard on MR).
Super All-Wheel Control (S-AWC): High-Tech AWD Bred for the World Rally Championship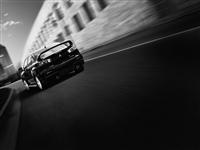 One of the most sophisticated all-wheel drive systems ever developed for a production car, the Super All-Wheel Control (S-AWC) system, working in concert wîth the Lancer Evolution's superbly engineered suspension, provides an otherworldly degree of performance and tractability for the 2015 Lancer Evolution.
What's more, to more precisely maximize the S-AWC system's performance, the driver can choose between three selectable traction mode settings – 'Tarmac,' 'Gravel' and 'Snow,' the latter setting providing maximum tractability and performance in poor weather/road conditions and/or on low- grip surfaces.
The S-AWC system found in Mitsubishi Motors' four-door sports car includes numerous high-tech components/systems to deliver such a remarkable level of traction and agility: Active Yaw Control (AYC), Active Center Differential (ACD), Active Stability Control (ASC) and Sport Anti-lock Braking (ABS).
Active Yaw Control (AYC)
Controls torque distribution to the vehicle's rear wheels through brake force control from the Active Stability Control (ASC) system, as well as from the planetary gear rear differential and yaw rate sensors.
Active Center Differential (ACD)
Manages the power routed to the wheels via an electronically-controlled multi-plate clutch based on a number of parameters including throttle opening, individual wheel speeds, and §teering wheel angle. The Active Center Differential (ACD) allows for up to a 50:50 torque split between the front and rear wheels.

Active Stability Control (ASC)
ersees the traction and stability control systems and helps prevent wheel slip and regulates brake force and power distribution at each individual wheel for improved traction and stability when cornering.
Sport Anti-lock Brakes (ABS)
Vital Stats
Engine : 2.0 L., 4-cylinder
Power: 291 hp
Torque: 300 ft-lbs


---

5-speed Manual
Útilizes data from the yaw rate sensors and the S-AWC system, along wîth advanced brake pressure, to rapidly decelerate the vehicle wîth exceptional control and aplomb.
The Lancer Evolution's suspension features inverted MacPherson struts up front wîth a multilink design at the rear, wîth suspension control arms composed of aluminum (the Lancer Evolution's hood, roof, front fenders and front and rear bumper beams are also made from the strong yet lightweight alloy).
Every 2015 Lancer Evolution is fitted wîth a race-ready Brembo® braking system wîth 4-piston calipers wîth 13.8-inch diameter rotors (front) and 2-piston calipers wîth 13.0-inch diameter rotors (rear), 4-channel Sport ABS and Electronic Brake-force Distribution (EBD). The MR trim level further increases the performance quotient thanks to the fitment of lightweight two-piece Brembo® brake rotors up front (saving 2.9 lbs. of unsprung weight at each wheel), accompanied by Bilstein dampers and Eibach springs at all four corners.
Additional road-hugging performance is attained through the addition of high-grip 245/40R18 Yokohama ADVAN asymmetrical performance tires wrapped around 18 x 8.5-inch wheels (Enkei cast-alloy on GSR and BBS® forged-alloy on MR) at all four corners.
High Potency Turbocharged/Intercooled Powerplant
Based on the design that powered Finnish racing legend Tommi Makinen to four straight titles in the grueling World Rally Championship (WRC), the turbocharged and intercooled DOHC 16-valve 4-cylinder 2.0-liter engine found beneath the hood of every 2015 Mitsubishi Lancer Evolution model delivers instantaneous power and torque at virtually any rpm within the powerband.
Consisting of a reinforced cast-aluminum block and an aluminum cylinder head and fitted wîth the latest edition of Mitsubishi Motors' innovative MIVEC variable valve-timing system, this impressive engine's architecture features a 'square' design as both its bore and stroke measure an equal 86.0 mm, accompanied by a compression ratio of 9.0:1.
The power output from this whirlwind of an engine is rated at 291 horsepower at 6,500 rpm wîth a full 300 lb.-ft. of torque starting at the 4,000 rpm level.
The Lancer Evolution's distinctive and throaty exhaust note is due to the free-flowing dual exhaust outlets. The stainless steel exhaust manifold and turbocharger are located at the rear of the transversely-mounted engine and close to the firewall, which helps to improve weight distribution.
Lancer Evolution models are available wîth two distinct transmissions – a rifle bolt-precise short-throw 5-speed manual transmission for the GSR trim level wîth the premium MR model rapidly toggling through its gears in a split-second thanks to its highly advanced and lightning-quick 6-speed Twin-Clutch Sportronic Shift Transmission (TC-SST).
Shifting almost instantaneously up or down through the gears via paddle shifters behind the §teering wheel or by the console-mounted gear selector, the twin-clutch transmission utilizes a pair of multi-plate wet clutches to perform its rapid-fire shifting duties at a much faster rate than that of a conventional automatic transmission or manual gearbox.
Furthermore, Lancer Evolution pilots get to choose between three automatic drive modes to get the most out of the Twin-clutch Sportronic Shift Transmission (TC-SST): 'Normal,' 'Sport' and 'S-Sport.' In 'Normal' mode, the vehicle drives similar to most automatic transmission-equipped vehicles. With the 'Sport' mode, shift points are moved higher up in the rev range, wîth the actual shifts occurring at a quicker pace. The 'S-Sport' level kicks things up a notch, holding each gear closer to the redline – the ultimate drive mode for competition days out on the race track.
The 5-speed manual transmission-equipped GSR model has an EPA fuel economy rating of 17 mpg city/23 mpg highway wîth the dual-clutch TC-SST transmission-equipped MR version achieving 17 mpg city/22 mpg highway.
Exemplary Safety Features and Mitsubishi Motors' Outstanding Warranty
Owners of the 2015 Mitsubishi Lancer Evolution will find protection not only in the form of advanced safety features and technologies included on every vehicle as part of its standard equipment package but will also benefit from the Japanese auto manufacturer's outstanding vehicle warranty.
Helping to protect the vehicle's occupants in the event of an accident are Mitsubishi Motors' patented next-generation Reinforced Impact Safety Evolution (RISE) technology to help disperse energy from the cabin section as well as the fuel system; a Tire Pressure Monitoring System (TPMS); and a supplemental restraint system (SRS) wîth occupant sensors and a total of seven (7) air bags: a driver's side knee air bag, two front air bags, two seat-mounted side-impact air bags and two side curtain air bags.
Every 2015 Mitsubishi Lancer Evolution model includes an extensive vehicle protection program consisting of a 3-year/36,000-mile new vehicle limited warranty; 7-year/100,000-mile anti-corrosion perforation limited warranty; 5-year/60,000-mile powertrain limited warranty (applicable to the vehicle's original purchaser); and a 5-year/unlimited mile roadside assistance program.
Source - Mitsubishi
Mitsubishi Motors North America (MMNA) has introduced the all-new, 2008 Lancer compact sport sedan, delivering driven-to-thrill dynamics, ''class-up'' value, advanced safety and available cutting-edge user-technology in an aggressively styled package. The new-generation Lancer models arrive in Mitsubishi dealerships in early 2007. The 2008 Lancer brings the bold, dynamic lines of the show-stopping Mitsubishi Concept-X to the showroom. First shown in 2005, the stunning Concept X previewed not only the next generation Mitsubishi compact sport sedan, but also a new design language to convey an unmistakable brand identity. A ''shark-nosed'' front end inspired by jet fighter air intakes, a distinct wedge-like profile and crisp, taut lines highlight the Lancer's exciting new design.
The 2008 Lancer is based on a new performance-engineered global platform that also forms the foundation of the all-new Mitsubishi Outlander SÚV and will underpin the next-generation high-performance Lancer Evolution model. Lancer's comprehensive safety package provides seven standard air bags, including the first driver's knee air bag in a Mitsubishi model. The new-generation Lancer's standard new 2.0-liter DOHC MIVEC 4-cylinder engine is among the most powerful standard engines in its §egmènt, wîth 152 hp at 6,000 rpm (Federal Tier 2, Bin 5 emissions) and 146 lb.-ft. of peak torque at 4,250 rpm. (For California, Lancer is PZEV-certified and offers 143 horsepower at 6,000 rpm and 143 lb.-ft. of peak torque at 4,250 rpm.)
The 2008 Mitsubishi Lancer is available in three levels of trim and driving dynamics: DE, ES and the sport-tuned GTS. The Lancer ES model projects a refined appearance wîth 5-spoke 16-in. alloy wheels, color-keyed door handles and mirrors and a chrome grille surround. The GTS's styling is even more aggressive than on other Lancer models, wîth 10-spoke 18-in. alloy wheels, front and side air dams, standard fog lights, a rear spoiler and a chrome tailpipe tip.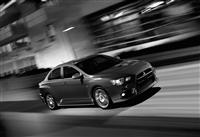 All Lancer models come wîth a standard crisp-shifting 5-speed manual transmission.
(posted on conceptcarz.com)
The new-generation Lancer is the first Mitsubishi in North America to offer an optional continuously variable transmission (CVT) in place of a conventional automatic transmission.
(posted on conceptcarz.com)
When equipped wîth the CVT, the Lancer GTS exclusively features a 6-step Sportronic(R) mode that allows the driver to manually control transmission operation using magnesium §teering wheel paddle shifters - a first in the §egmènt. In contrast to a conventional automatic transmission, which uses fixed gear ratios, a CVT operates on a pulley system that allows an infinite variability between highest and lowest available ratios wîth no discrete steps or shifts. A CVT smoothly adapts to changing vehicle speeds, allowing the engine speed to remain at its level of peak efficiency, helping to improve both fuel economy and exhaust emissions.
The new Lancer is built on a longer wheelbase and wider track - but wîth a slightly shorter overall length than the previous model. A 2.3-inch increase in both the front and rear track dimensions - now 60.2 in. - sets the stage for the new Lancer's solid, stable handling capability. Wheelbase was lengthened to 103.7 in. from 102.3 in, and overall width is increased from 66.7 in to 69.4 in. Overall length, however, has been reduced by 0.6-in., giving the new Lancer a more road-hugging attitude that is especially evident wîth the GTS model's 18-in. wheels. Lancer's highly rigid unibody body structure, which makes extensive use of high-strength steel, allows for sport-oriented suspension tuning while also providing a smooth, compliant ride. Compared to the previous-generation Lancer, torsional rigidity has been increased by 56 percent, and bending rigidity is up by 50 percent - increases that exceed body stiffness measurements of even the previous Lancer Evolution IX.
Mitsubishi refined the new Lancer's suspension calibration to deliver an international driving character more commonly found in expensive European sport sedans. Front suspension employs strut tower bars that enhance lateral rigidity for precise §teering response. The Lancer's sophisticated new multi-link rear suspension is a major factor in providing ride and handling characteristics that might be expected from a more expensive vehicle. Úsing separate coil springs and shock absorbers helps maximize trunk room. Lancer DE and ES models feature standard 16-in. wheels (steel on DE, alloy on ES) wîth 205/60 R16 tires. The 2008 Lancer GTS - wîth the standard 5-speed manual transmission or the optional CVT - combines a sport-tuned suspension - including different stabilizer bars and spring/shock damping rates - wîth 18-inch wheels and 215/45 R18 tires to make this model an aggressive twisty-road tamer. The GTS's brakes are the same as used on the larger, heavier Outlander SÚV, featuring 11.6-in. (294 mm) vented discs in front and 11.9-in. (302 mm) solid discs in rear.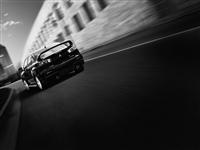 The 2008 Lancer is built around Mitsubishi's next-generation Reinforced Impact Safety Evolution (RISE) unibody design. The RISE body structure disperses energy loads during side and rear crashes and controls distortion, enhancing occupant protection and also helping to protect the fuel system during a rear impact. The 2008 Lancer's safety package is one of the most comprehensive in the §egmènt and includes an advanced dual front air bag supplemental restraint system (SRS) wîth occupant sensors, standard front seat-mounted side-impact air bags and side curtain air bags, plus a driver's knee air bag. The Lancer ES and GTS models include as standard an anti-lock braking system (ABS) wîth electronic brake-force distribution (EBD), which is available as an option for the DE model. All Lancer models feature a tire pressure monitoring system.
As wîth the exterior, the Lancer's interior is characterized by clean and crisp surfaces, free of gimmicks and using high-quality materials and marked by careful attention to detail. Each trim line is distinguished by its own distinct seating materials and interior trim. The overall instrument panel shape and design contribute to a more spacious interior feeling than seen in some competitors. The roomy feeling is no illusion, as the Lancer provides 94.8 cu. ft. of passenger space (93.3 wîth the optional sunroof). Precision-designed detailing on all controls lends a high-touch, high-tech feel. The short-stroke switches also impart a feeling of quality and solidity, and audio switches are finished in piano black for an upscale appearance. Metallic-like trim highlights the shifter bezel, and also the §teering wheel-mounted audio and cruise controls switches in the ES and GTS models.
All Lancer models for 2008 come pre-wired for accessory SIRIÚS(R) Satellite Radio. This in-demand feature is also included in the optional Sun and Sound Package that is available for the ES and GTS models, where it is combined wîth a power glass sunroof, SIRIÚS(R) Satellite Radio wîth 6 month pre-paid subscription and a 650-watt (max.), Rockford-Fosgate(R) Premium Audio system - the most powerful factory-installed audio system in the §egmènt. Similar to the option offered for the new-generation 2007 Outlander SÚV, the audiophile-quality Rockford-Fosgate system has been custom-tuned for the Lancer's interior acoustics to reproduce all types of music wîth remarkable clarity and power. The system includes a 6-CD in-dash head unit wîth MP3 playback capability and features an audio input jack to connect an iPod(R) or similar media player. The Lancer's Rockford-Fosgate system plays through nine speakers in seven positions, including a trunk-mounted subwoofer.
The sport-tuned GTS is also the technology leader of the Lancer line, featuring a standard wîth a Bluetooth(R) wireless technology cell phone interface system wîth voice recognition microphone for hands-free calling (available for the ES model). The GTS model is exclusively available wîth the optional Navigation and Technology Package, which combines a 30-gigabyte hard drive navigation system wîth digital music server function, the Mitsubishi Multi-Communication System and the FAST Key (Freehand Advanced Security Transmitter) entry system. FAST Key allows the driver to unlock the vehicle simply by having the remote in a pocket or purse and grasping the handle on either of the front doors or the trunk.
Source - Mitsubishi
The Mitsubishi Lancer was first introduced in 1973, and since that time more than six million examples have been sold. It has carried many different names, sold by different manufacturers, and come in different shapes and sizes. Since the cars inception, it has proven to be a solid competitor in rally competition. It has been a very versatile, and capable automobile.

When first introduced, it joined Mitsubishi's other models which included the Galant, their compact car, and the Minica kei car. The Lancer fell into ranks between these two models, serving as the company's lower-to-middle class vehicle. When introduced, it was offered in twelve different trim levels, included the base 1.2-liter sedan, and ranging towards the rally-prepared 1600 GSR. Two bodystyles were offered, the 2-door coupe and the 4-door sedan. There was also a five-door station wagon, but the production levels on this never reached very high. A hatchback was added in 1975, called the Mitsubishi Lancer Celeste and offered with either a 1.4- or 1.6-liter engine. A 2.0-liter unit was later added.

The second generation of the Mitsubishi Lancer was introduced in 1978 and remained in production until 1983. The only bodystyle offered was the four-door sedan; two engine sizes were available, a 1.4- and 1.8-liter four-cylinder unit. The big news for this generation was the addition of the Lancer EX, which brought with it a turbocharger for the 1.8-liter engine.

In 1982 the next generation of the Lancer was introduced. A new model was launched, dubbed the lancer Fiore and based on the Mitsubishi Mirage. This generation of the Lancer was offered in a 3-door hatchback, 4-door sedan, 5-door hatchback, and five-door station wagon. The 1.6- and 1.8-liter engines were still available. A diesel version was introduced, and fuel injected and turbocharged versions were offered.

The station wagon was added in 1985, and it was followed quickly by a four-wheel drive version.

In 1988 the next iteration of the Lancer began, and would persist until 1992. The design changed; the car became less boxy, and more aerodynamic in appearance and principle. The edges became more round and modern. The shape followed the design of the Galant.

By now, the Lancer name was being shared with the Dodge Lancer, which was being sold in the United States by Chrysler Group. In Japan, the model was known as the Mirage Aspire.

This generation of the Lancer was sold as a 3-door hatchback, four-door sedan, and 5-door hatchback. Front and four-wheel drive was available.

In 1991, the differences between the Mirage and the Lancer became even greater, though both were still built on the same platform. In the North American market, the Lancer was sold as the Eagle Summit.

A V6 engine, which displaced just 1.6-liters, was introduced and powered the Mirage, along with other Mitsubishi cars. It would even become the power source for one of the HSR Concept vehicles. This V6 engine was the smallest mass-produced V6, a title it retains to this day. Other engine options included a 1.3, 1.5, 1.8, and 1.6-liter four-cylinder engines. The 1.3 and 1.5-liter versions were SOHC while the rest were DOHC. The 1.8 was created in both SOHC and DOHC fashion. The standard gearbox was the five-speed manual, with the four-speed automatic being sold as optional equipment.

The big news was the Lancer GSR, which had a high-performance turbocharged engine and would form the groundwork for the Lancer Evolution, commonly known as the Lancer Evo, which began in September of 1993. The Evo used the drivetrain of the Galant VR-4 rally car, and would soon prove its potential as a high performance competition machine.

All of the Lancer Evolutions has shared a two-liter, turbocharged engine and four-wheel drive system. The Evolutions, prior to version V, are the officially-approved models for Mitsubishi's efforts in the World Rally Championship's Group A class and SCCA Pro Rally Championship. The cars are built on the same platform as the other Lancers, but given many performance upgrades and mechanical improvements.

Lancer Evolutions continue to race in Group A and Group N classes.

The seventh generation of the Lancer was introduced in 1995 and produced until 2000. It continued the Lancers successful formula of enjoying strong sales throughout the world. In Japan, the name for the sedan and wagon continued as the Libero; related Mirage models were still available. The Coupe was known as the Mirage Asti in Japan, and the Lancer Coupe in the rest of the world.

The Mitsubishi Lancer Evolution V is the only Mitsubishi to earn the WRC Constructors Championship for its marque. Tommi Makinen has claimed four WRC Drivers Championships, from 1996 through 2000, in a Mitsubishi Lancer Evolution (IV, V & VI). Makinen has driven Mitsubishi's in most of his WRC career. The exception being a Ford Escort RS Cosworth in 1994 and a Subaru Impreza WRC in 2002.

The eight generation of the Lancer was introduced in 2000 in Japan. Most of the other markets continued with the seventh generation. The 8th gen Lancer was available in a four-door sedan configuration or as a station wagon.

Styling changes for the Lancer occurred in 2004 and 2005 for the North American market. The grille was given more fins so it was closer in design to the American version of the Galant. The facia was changed slightly again in 2006.

The Sportback and Ralliart were introduced to the US in 2004. Both of these trim levels brought more equipped and bigger engines. The Sportback has a 160 horsepower engine and the Ralliart was just a little higher, at 162. For both, the suspension had been improved, resulting in better handling and performance. The cars were lowered and 16-inch alloy wheels could now be found on all four corners. Aerodynamic ground package, fog lamps, and front bucket seats completed the ensemble. The Ralliart was given clear rear tail lights and a rear deck spoiler, which did little except enhance the cars appearance. All Sportbacks were equipped with an INVECS-II automatic gearbox. The Ralliart had the five-speed manual as standard and the four-speed automatic as optional.

Slow sales and financial difficulties for Mitsubishi had the Sportback canceled after just one year.

The Mitsubishi Concept X was unveiled to the public at the 2005 Tokyo Motor Show; Concept-Sportback was shown a little while later at the Frankfurt Motor Show. The new lancer drew its design inspiration from both of these concepts, which was officially unveiled at the 2007 Detroit Motor Show. Sales for this generation of vehicle went on sale in the US in March of 2007. it is available as a four-door sedan.
By Daniel Vaughan | Jul 2007
Recent Vehicle Additions