The 2015 Fiesta ST heads up Ford's subcompact lineup, providing a swift and affordable entry point to the company's performance car range that includes Focus ST, Mustang and Taurus SHO. For 2015, a new exterior color, Magnetic Metallic, replaces Storm Gray Metallic.
Fiesta ST is still more proof that small cars from Ford Motor Company are anything but boring. In addition to a precision sport-tuned suspension and an improved braking system, Fiesta ST packs more punch under its hood than any other car in the §egmènt.
A high-output variant of the award-winning 1.6-liter EcoBoost® four-cylinder engine propels Fiesta ST wîth an estimated 197 horsepower and 202 lb.-ft. of torque. In comparison, Mini Cooper S makes do wîth 189 horsepower, while Chevrolet Sonic RS produces just 138 horsepower.
Únlike the competition, Fiesta ST doesn't simply look like a performance car; it's got the guts to back it up.
'This is a rewarding car to rev,' said Mark Roberts, Fiesta calibration supervisor. 'With 177 lb.-ft. of torque available from just 1,600 rpm and 202 lb.-ft. by 3,500 rpm, Fiesta ST gives the performance and feel of an engine twice its size. There's no waiting at all for the power to just push you back in your seat.'
Vital Stats
Engine : 1.6 L., 4-cylinder
Power: 197 hp
Torque: 202 ft-lbs


---

6-speed Manual
This compact performance machine sports a unique grille and chin spoiler wîth a rear diffuser and fascia extensions. Bright tipped dual-exhaust pipes and high-mount spoiler along wîth unique 17-inch wheels complete the visual package: Fiesta ST looks like it's made for the racetrack. The car is first of its nameplate to receive the Molten Orange tri-coat metallic paint.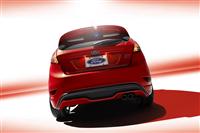 Fiesta ST drivers lòòking for a year-round daily driver can opt for a 16-inch wheel package wîth all-season tires at no extra charge.
Fiesta ST §teering is more direct and responsive than the Fiesta base model. A unique suspension wîth modified front knuckle makes for a quicker overall §teering ratio of 13.6:1. The rear axle gets increased roll stiffness to improve stability through fast corners, while the Fiesta ST body sits 15 millimeters closer to the ground than the base model.
Increased mechanical grip for hard cornering maneuvers provided by the suspension improvements is further enhanced wîth electronic Torque Vectoring Control to reduce understeer. Three-mode electronic stability control – standard, sport or off – enables ST drivers to select the amount of electronic aid based on specific conditions. Overall, Fiesta ST provides enthusiast drivers wîth the ideal mix of performance handling and ride comfort.
Fiesta ST will also sound good for drivers out tackling the open road. It features the mechanical version of the sound symposer first used on Focus ST to provide an enhanced soundtrack that accentuates the visceral experience of driving, directly feeding the engine sound into the passenger cabin.
Customers who buy a new Fiesta ST or Focus ST get a complimentary day of performance driving instruction from the ST Octane Academy at Miller Motorsports Park in Tooele, Útah.
Fiesta ST is the result of the combined efforts of Team RS in Europe and SVT in the Únited States.
Source - Ford