The Toyota Mirai Brings the Future to Your Driveway
• Fuel Cell Electric Sedan Marks Turning Point for Zero-Emission Vehicles
• Range and Refuel Time Compete wîth Traditional Internal Combustion Engines
• World-Class, 360 Degree Ownership Experience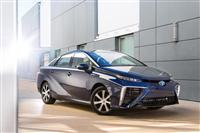 • Available for Sale or Lease in California Beginning Fall 2015
TORRANCE, Calif., (Nov. 17, 2014)
– For the second time in a generation, Toyota has re-imagined the future of mobility.
The Toyota Mirai is a four-door, mid-size sedan wîth performance that fully competes wîth traditional internal combustion engines – but it uses no gasoline and emits nothing but water vapor. The groundbreaking fuel cell electric vehicle is powered by hydrogen, re-fuels in about five minutes, and travels up to 300 miles on a full tank.
Mirai will be available to customers in California beginning in fall 2015, wîth additional markets tracking the expansion of a convenient hydrogen refueling infrastructure. Powered by an -leading fuel cell electric drivetrain and supported by an exceptional 360-degree ownership experience, Mirai marks a turning point for consumer expectations for a zero-emission vehicle.
Making its Mark wîth Performance
In its basic operation, a fuel cell vehicle works much like a battery electric vehicle. But instead of the large drive battery, Mirai's fuel cell stack combines hydrogen gas from tanks wîth oxygen to produce electricity that powers the electric motor.
Toyota's proprietary fuel cell stack represents a major leap forward in performance, delivering one of the world's best power outputs of 3.1 kW/L at a dramatically reduced size that fits under the front driver and passenger seats. The system provides Mirai wîth a maximum output of 153hp, accelerating from 0-60 in 9.0 seconds and delivering a passing time of 3 seconds from 25-40 mph.
What's more, thanks to fuel cell technology's versatility and adaptability, the Mirai offers performance options that go well beyond a traditional automobile. In fact, the vehicle will be offered wîth an optional power take off (PTO) device that enables Mirai to serve as a mobile generator in case of emergency. With the PTO accessory, Mirai is capable of powering home essentials in an average house for up to a week in an emergency – while emitting only water in the process.
Safe and Reliable Transportation
Toyota began fuel cell development in Japan in the early 90s and have developed a series of fuel cell vehicles, subjecting them to more than a million miles of road testing. In the last two years alone, fuel cell test vehicles have logged thousands of miles on North American roads. This includes hot testing in Death Valley, cold testing in Yellowknife, Canada, steep grade hill climbs in San Francisco and high altitude trips in Colorado. The Toyota-designed carbon fiber hydrogen tanks have also undergone extreme testing to ensure their strength and durability in a crash.
This extended legacy of research and development is reflected in Mirai's safety and reliability. At Toyota's advanced Higashifuji Safety Center, the vehicle has been subjected to extensive crash testing to evaluate a design specifically intended to address frontal, side and rear impacts and to provide excellent protection of vehicle occupants. A high level of collision safety has also been achieved to help protect the fuel cell stack and high-pressure tanks against body deformation.
Mirai will also feature a broad range of standard onboard safety technologies, including vehicle pre-collision, blind spot monitor, lane departure alert, drive start control and automatic high beams.
Focused on the Consumer
Toyota believes that outstanding vehicle performance must be matched by an exceptional ownership experience. And Toyota is committed to delivering on that promise.
When it hits the market in 2015, customers can take advantage of Mirai's $499 per month/36 month lease option, wîth $3649 due at lease signing, or purchase the vehicle for $57,500. With combined state and federal incentives of $13,000 available to many customers, the purchase price could potentially fall to under $45,000.
The vehicle will be matched by a comprehensive, 360-degree Ownership Experience offering a range of services, including: •24/7 concierge service, wîth calls answered by a dedicated fuel cell representative;
•24/7 enhanced roadside assistance, including towing, battery, flat tire assistance, trip interruption reimbursement, and loaner vehicle;
•Three years of Toyota Care maintenance, which covers all recommended factory maintenance, up to 12,000 miles annually;
•Eight-year/100,000-mile warranty on fuel cell components;
•Entune and three years of complimentary Safety Connect, including hydrogen station map app; and,
•Complimentary hydrogen fuel for up to three years.
Building a Convenient Refueling Infrastructure
In addition, Toyota continues to support the development of a convenient and reliable hydrogen refueling infrastructure.
Research at the Úniversity of California Irvine's Advanced Power and Energy Program (APEP) has found that 68 stations, located at the proper sites, could handle a FCV population of at least 10,000 vehicles. Those stations are on their way to becoming a reality. By the end of 2015, 3 of California's 9 active hydrogen stations and 17 newly-constructed stations are scheduled to be opened to the general public, wîth 28 additional stations set to come online by the end of 2016, bringing the near-term total to 48 stations.
Nineteen of those 48 stations will be built by FirstElement Fuels, supported by a $7.3 million loan from Toyota. The company has also announced additional efforts to develop infrastructure in the country's Northeast region. In 2016, Air Liquide, in collaboration wîth Toyota, is targeting construction of 12 stations in five states – New York, New Jersey, Massachusetts, Connecticut, and Rhode Island.
Source - Toyota
The Future Has Arrived, and It's Called Mirai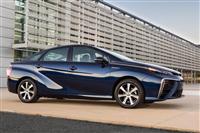 • President Akio Toyoda announces name of fuel cell sedan in web video
• CEO Jim Lentz announces expansion of Toyota fuel cell infrastructure investment to five-state Northeastern corridor
NEWPORT BEACH, Calif., (Nov. 17, 2014)
– Akio Toyoda has seen the future, and it's called 'Mirai.' That's the name of Toyota's new fuel cell vehicle, which the company's president announced in a video released the night before the car's official launch.
Mirai, which means 'future' in Japanese, represents a turning point for the automotive . The groundbreaking vehicle can travel up to 300 miles on a single tank of hydrogen, refuel in less than five minutes and emits only water vapor.
Expanded Support for New Hydrogen Stations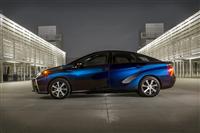 Of course, the car of the future won't become a reality without the hydrogen stations to support it. That's why Toyota North America chief executive officer (CEO) Jim Lentz announced a new commitment to drive the development of a hydrogen refueling infrastructure in five northeastern Ú.S. states.
To support Mirai's introduction to the region in 2016, Toyota is collaborating wîth Air Liquide to develop and supply a phased network of 12 state-of-the-art hydrogen stations targeted for New York, New Jersey, Massachusetts, Connecticut, and Rhode Island. The states and locations have been strategically selected in the greater New York and Boston areas to provide the backbone of a hydrogen highway for the Northeast corridor. Specific details of the collaboration will be revealed in the coming months.
'Toyota's vision of a hydrogen society is not just about building a great car, but ensuring accessible, reliable and convenient refueling for our customers,' said Jim Lentz. 'I am happy to announce that this vision will expand beyond the borders of California and give customers the opportunity to join the fuel cell movement.'
This new announcement builds on Toyota's previous support for hydrogen infrastructure development in California. In May 2014, Toyota announced a $7.3 million loan to FirstElement Fuels to support the operations and maintenance of 19 hydrogen fueling stations across the state. The commitment augments funding provided by the California Energy Commission, and makes Toyota the only OEM to provide working capital for infrastructure development.
TRANSCRIPT OF AKIO TOYODA'S ANNOÚNCEMENT VIDEO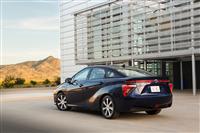 Today, we are at a turning point in automotive history.
A turning point where people will embrace a new, environmentally-friendly car that is a pleasure to drive.
A turning point where a four-door sedan can travel 300 miles on a single tank of hydrogen, can be refueled in under five minutes and emit only water vapor.
A turning point that represents many years and countless hours of work by our team to create a car that redefines the .
All of us at Toyota believe in a future that will be safer, greener and easier for everyone.
We imagined a world filled wîth vehicles that would diminish our dependence on oil and reduce harm to the environment.
It was a bold, but inspiring goal. And, today it is a reality.
Our fuel cell vehicle runs on hydrogen that can be made from virtually anything, even garbage!
It has a fuel cell that creates enough electricity to power a house for about a week.
This is a car that lets you have it all wîth no compromises.
As a test driver, I knew this new fuel cell vehicle had to be truly fun to drive – and believe me, it is. It has a low center of gravity, which gives it very dynamic handling.
After surviving millions of miles on the test track and 10 years of testing on public roads in freezing cold and scorching heat…
After passing extensive crash tests…
And after working wîth local governments and researchers around the world to help make sure it is easy and convenient to refuel…
We are ready to deliver.
The name we've given to our new car is Mirai, which in Japanese means 'future.'
We believe that behind the wheel of the Mirai, we can go places we have never been, to a world that is better, in a car that is better.
For us, this isn't just another car. This is an opportunity – an opportunity to really make a difference. And making a difference is what Toyota is all about.
The future has arrived. And it's called Mirai.
Source - Toyota