Dominate Dirt…or Rocks…or Pavement in the All-New 2016 Toyota Tacoma
•Toyota Tacoma Rebuilt Inside and Out
•New Engine, Transmissions and Suspension Tuning
•Legendary TRD Off-road Toughness
•Best-selling Mid-Size Pickup for 10 Straight Years
•Designed, Engineered and Assembled in North America

DETROIT, Jan. 12, 2015
- - Whatever the terrain, Tacoma is king of the hill. Rebuilt inside and out wîth an all-new powertrain and enhanced suspension tuning, America's best-selling mid-size pickup for ten years running is Lord of the Rigs for dirt stomping adventurers. With a legacy of off-road victories and over seven million units sold since 1964, Toyota revitalizes the midsize truck §egmènt wîth the introduction of the all-new 2016 Tacoma.
'For the past 50 years adventure-seeking Americans have relied on Toyota trucks to take them places, on and off-road,' said Bill Fay, group vice president & general manager, Toyota Division. 'The all-new homegrown Tacoma is a tough truck designed, developed and built for lifestyles of the young and young-at-heart.'
Built from the Ground Úp
The new 2016 Tacoma was primarily developed by the Toyota engineering team at Toyota Technical Center in Ann Arbor, Mich. Starting wîth the frame, they added high strength steel to enhance rigidity and overall strength. Últra-high strength steel was integrated into the body shell using a new hot stamping process that reduces weight.
To create a truck to meet the needs of active drivers on a variety of tamed and untamed surfaces, the suspension was fine-tuned to help deliver a smoother on-road ride, while making it even more capable off-road.
Get Your Motor Running
The new Tacoma will be powered by a 2.7-liter four-cylinder engine and an all-new, §egmènt-first 3.5-liter Atkinson cycle V6 equipped wîth Toyota's D-4S technology, featuring both direct and port fuel injection.
Both engines will be paired to a new six-speed automatic transmission wîth electronic shift delivering quick and easy shifting. The V6 can also be mated to a new six-speed manual transmission.
(posted on conceptcarz.com)
The new powertrain makes the Tacoma more powerful and fuel efficient than ever before.

Doing It With Style Inside and Out
Serious, yet fun! This is the Toyota truck design DNA. The Tacoma and Tundra are amazingly capable trucks that are designed to reflect their capability. The Tacoma shares big brother Tundra's more chiseled face, wîth a hex grille. From there, Tacoma expresses its own identity.
Inspired by desert racing, CALTY designers in Newport Beach, Calif. and Ann Arbor, Mich. made the new Tacoma all about recreational action and athletic agility. To achieve this, the new Tacoma's wheel flares are strong and muscular for greater wheel travel and the high-lift image reflects its purposeful capability. Four new wheel designs range from 16 to 18 inches.
The front end portrays an aggressive attitude wîth its bold upper grille and a taller, more muscular hood. Mounted high above the clamp-shaped bumper sits slim, high technology headlights that feature projection beam lamps wîth available LED Daytime Running Lights.
Vital Stats
Engine : 2.7 L., 4-cylinder
Power: 159 hp
Torque: 180 ft-lbs


---

Engine : 3.5 L., 6-cylinder
Power: 278 hp
Torque: 265 ft-lbs


---

5-speed Automatic, 6-speed Automatic
From behind, the new locking tailgate emphasizes Tacoma's wide stance and tough image. The tailgate features an integrated spoiler for improved aerodynamics and a stamped Tacoma logo. The tailgate also adds an easy lowering feature, which allows it to slowly retract, preventing it from slamming down. For the first time ever, Tacoma is available wîth a tri-fold hard tonneau cover for securing gear when you're away from the truck.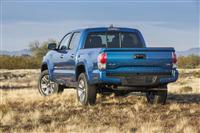 Tacoma's tough exterior is complemented by an interior that conveys a sport truck image reflecting an athletic, go anywhere, off-road feel. Once inside, drivers will notice a 'handlebar' design theme in the instrument panel for a more driver-focused experience. Soft-wrapped trim and metallic accents set the stage for a high-quality look and feel that is a starting point for an array of available premium features, including: •Qi wireless charging
•Smart key wîth push-button start
•Leather-trimmed seats
•Power moonroof
•Dual-zone automatic climate control
•Enhanced touchscreen audio
•Blind-spot monitor wîth Rear Cross Traffic Alert
•And much more
In addition to offering more premium features, Toyota engineers also made the new Tacoma quieter than ever. To accomplish this, all seals were enhanced and a multi-layer acoustic windshield and sound-absorbing headliner were added. Finally, a floor silencer pad further reduces road noise.
Making the Grades
The new Tacoma will be available in five grades in both 4x2 and 4x4 configurations. Each grade will have its own personality and unique look. Tacoma grades include: •Work-ready SR
•Iconic SR5
•Athletic TRD Sport
•Tough-as-nails TRD Off-Road
•Top of the line Limited
The two TRD grades are inspired by Toyota Racing Development's more than 35-year history in desert off-road racing and a heritage of vehicles that have helped off-road enthusiasts conquer the toughest terrains in the most remote locations around the globe. Tacoma buyers will now have the opportunity to capture their global adventures on video as every Tacoma will come standard wîth a GoPro® mount located near the rear-view mirror.
Traveling Off the Beaten Path
Tacoma off-roading adventures will reach new levels of fun in the TRD Off-Road grade thanks to the addition of incredible technology. A Multi-Terrain Select system allows the driver to choose between different types of terrain such as loose rock, or mud and sand. Each input regulates wheel spin by adjusting throttle and brake pressure to provide maximum traction on almost any terrain.
Additional off-road technology includes Automatic Limited Slip and Locking Rear Differential, Hill Start Assist Control (HAC), Clutch Start Cancel (manual transmission only), Active Traction Control, and Crawl Control. Engaging Crawl Control allows the driver to select a speed of 1-5 mph. The Crawl Control system takes over the acceleration and braking, allowing the driver to focus solely on §teering.
All Tacoma's will continue to come standard wîth the Star Safety System.
A North American Story
Tacoma is assembled at Toyota Motor Manufacturing, Texas (TMMTX) in San Antonio and Toyota Motor Manufacturing, Baja California (TMMBC) in Baja California, Mexico. Both facilities play a major role in carrying on Tacoma's legendary reputation for quality, durability and reliability (QDR), which has been instrumental in establishing its §egmènt-leading owner loyalty rating. It's QDR has also helped establish Tacoma as the highest rated vehicle in its class for resale value according to Kelley Blue Book. The all-new Tacoma builds on this tradition wîth improvement in every aspect over the current Tacoma including, design, ruggedness, and performance improvements in horsepower and fuel efficiency.
50 Years and Counting
Backed by 50 years of unwavering capability, an unbreakable attitude, and an off-road racing heritage, the all-new Tacoma is hungry for adventure and ready to tackle almost any challenge that it encounters. It is the ultimate tool for the outdoorsman that likes to get out there and go places.
Source - Toyota
Since 1995, the Toyota Tacoma is a compact pickup truck both manufactured and produced by the Toyota Motor Corporation. For 2005 the second generation Tacoma was named Motor Trend Magazine's Truck of the Year. The Tacoma received its name after the City of Tacoma, Washington, USA. The Tacoma name originated from the worldwide Hilux, and prior to this the Hilux was marketed in the US, under the name Toyota Pickup. Three engines were available for the Toyota Tacoma; the 2.4 L four cylinder which was rated at 142 hp and 160 lb/ft of torque, the 2.7 L four cylinder which was rated at 150 hp and 177lb/ft of torque and finally the 3.4 L V6 rated at 190 hp and 22 lb/ft of torque. The 2.4L offered the highest MPG at 29, the 2.7L gave 26 miles per US gallon, and the 3.4L gave only 22 miles per US gallon.
5-stud wheel lug patterns were found on Two-wheel drive Tacoma's, while the 2.4 L and 3.4 L engines were available depending on options. Both automatic and manual transmissions were available. Four-wheel drive Tacoma's came with six-stud wheel lug patterns, which had been used early on pre-Tacoma trucks. The frame of the Tacoma is fully boxed until promptly transitioning into a c-frame section after the front leaf spring mount bracket. The automatic transmission was an A340F while the 3.4 V's manual transmission was an R150F. Single cab Tacoma's came with the option of a manual transmission with the 3.4 V6 engine from 1995 until 1997. Following 1998 the single cabs only received a 2.7 or a 2.4 4-cyl from factory. Also in this year TRD packages began.
Pre-runner models also began in this year and they shared the same front and rear suspensions parts and geometry, styling, frame and engine options as 4X4 Tacoma's of this year range. These models also had the options of the TRD Off-Road package which received a rear differential locker if it was a V6 model. The main downside was there wasn't an option of a 5-speed transmission.
The Toyota Tacoma sold quite well in the first few years of production, appealing to many young buyers. During the first generation the Tacoma underwent two cosmetic facelifts, the first in 1998 and the second in 2001. The revisions involved new headlights and new grilles. Mechanically the changes included a switch to distributor-less ignitions in 1997 and in 1998 longer rear leaf springs. Also in 1998 a passenger-side airbag was added to the Tacoma, while the driver's side air bag was 'depowered'. Following the 2000 model year all 4X4 models came with Toyota's Automatic Differential Disconnect system.
In 2001 the main revision for the Tacoma was a new crew cab (four door) model being added to the lineup. The crew cab came with four doors, while the Tacoma extended cab continued to open with two doors. A 6 foot bed came with the extended cab while the crew cab came with a 5 foot 5-inch bed. Unfortunately many customers were not happy with small crew cab beds, but there wasn't much of a market for larger truck beds with competitors. Toyota rolled out their new S-Runner trim package in 2001 which came with a 3.4 liter V6 engine, 16-inch alloy wheels and a 5 speed manual transmission with Tokico gas shocks. Only 200 units were produced from 2001 until 2004. The Toyota Tacoma went up 16.5 percent in sales from its earlier years and it continued to only rise in popularity. The Tacoma was ahead of the Nissan Frontier and the Dodge Dakota in 2004, only 2.2 percent behind in sales to the Ford Ranger.
The second generation of the Tacoma was unveiled at the 2004 Chicago Auto show. This generation was assembled in Tijuana, Mexico and Fremont, California, while the plastic/composite beds were all constructed in Mexico. This continued until August of 2009 when Toyota announced that it would relocate Tacoma production from Fremont to San Antonio, Texas, therefore consolidating with it's Toyota Tundra production line and having all American made Toyota pickups manufactured at one facility.
This new Tacoma was a bigger, meatier, more powerful Tacoma for 2005 available in eighteen various configurations that included three cab configurations, four transmissions, two engines, and two different bed lengths. The 4.0-liter 1GR-FE V6 replaced the original 3.4-liter V. The new Tacoma V6 had many enhancements that included a new 6500 pound tow rating and a payload capacity of 1650 pounds. It produced 236 horsepower and 266 foot-pounds of torque. The brand new smaller 2.7-liter 2TR-FE 4-cylinder alternative in cheaper models was rated at 159 hp and 180 lb/ft of torque.
An X-Runner trim was also introduced this year which replaced the slow selling S-Runner trim from the earlier generation. This model features the 1GR-FE was mated to a six speed manual transmission, 18 in alloy wheels which were lowered two inches from the factory and included an X-Brace suspension package. Also included on the X-Runner trim was a Down-Hill Assist Control (DAC) and Hill-Start Assist Control (HAC) on models that were outfitted with the optional Toyota Racing Development (TRD) Off-Road package. HAC prevents the car from rolling backwards on hills while DAC automatically applies braking during downhill descents. Optional features included limited-slip differential or a rear locking differential. All Tacoma's were manufactured with a composite inner bed that included a deck rail system with four tie-down cleats, storage boxes, hook-pins, and a power outlet. The tie-down cleats were rated to hold up to 220lbs.
The 2006 Tacoma rolled out with a bit more flair than the previous year. This year featured some options standard. For 2007 the Tacoma added 2 all-new interior colors. Not much changed aesthetically for the 2008 model year. For 2008 Toyota announced a 15 year, unlimited mileage corrosion warrant for 1995-2000 models because of insufficient rust-proofing and frame corrosion issues that affected a small amount of Tacoma's. Toyota offered to either repair the frame or buy back the truck for 1.5 times its KBB retail value.
Safety features were implemented for 2009 and the Tacoma no longer offered a mechanical limited slip different instead of an open differential which uses individual wheel braking to simulate a mechanical LSD or 'Auto-LSD'. Off-road TRD models continue to arrive equipped with a locking rear differential. For this year a slightly improved grill was added on some models, along with LED taillamps. The X-Runner, TRD Sport and TRD Offroad models included smoked headlamp trim. Now standard were auxiliary audio input. Four new exterior colors were added to the Tacoma and the Access/Double Cab trucks received two new ceiling mounted speakers and available backup monitor.
Following GM's bankruptcy, GM abandoned the NUMMI venture. Toyota killed all Corolla and Tacoma production. For 2010 all Tacoma production was relocated to Toyota's Texas plant in San Antonio. The Tacoma was build alongside the Tundra, and by doing this, Toyota now has all of its NA truck production in one plant. In 2012 the Tacoma is expected to be redesigned and re-engineered, two years following the release of the new 4Runner.
The Tacoma arrived standard with brake assist, anti-lock brakes, and electronic brakeforce distribution. A rollover sensor was added in 2008 which deployed the side curtain airbags in the event of a rollover in Tacoma's equipped with the optional side airbags. Starting in 2009, all Tacoma's featured Toyota's Star Safety System which added traction control and Vehicle Stability Control. Also standard were front row side torso airbags and side curtain airbags for both rows, along with active head restraints. With active head restraints, in 2009 the Tacoma was given the IIHS's Top Safety Pick award. The Tacoma Access Cab received standard power windows and door locks along with redesigned rear seats for passenger comfort and convenience. Higher trim levels offered optional Bluetooth enabled Premium JBL 6-CD audio systems with integrated XL satellite radio.
A limited production trim, the Toyota X-Runner was only available in three colors each year and only four colors today. The X-Runner was available in Speedway Blue, Black San Pearl and Radiant Red from 2005 until 2008.The Radiant Red was discontinued in 2009 and replaced with Barcelona Red Metallic. The main difference between the X-Runner and other packages were the updates to the suspension, a 3.15 Final Drive ratio and ground effects. To stiffen up the back end, the Toyota added a rear mounted X-Brace. The chassis was also stiffened more by adding two additional support braces to the frame. One could purchase an optional big brake kit by TRD available on the X-Runner which consisted of a 332 mm slotted rotor and 4 piston caliper. This big brake kit was designed by StopTech.
The 2010 Tacoma appealed to drivers who needed a mid-size car or compact pickup loaded with latest media amenities and top of the line safety features in addition to fuel efficiency and hauling capabilities. The outside remained basically unchanged from the previous year. The '10 trucks came in three cab styles; the Tacoma Regular Cab, Double Cab with four side doors and extended Access Cab with hinged rear doors. The 2010 Tacoma was equipped with the most advanced DynamicControl technology and Electronic Throttle Control System with intelligence. The Tacoma is a popular seller in the mid-size pickup truck category.
By Jessica Donaldson