The New E63 AMG S-Model – with 4MATIC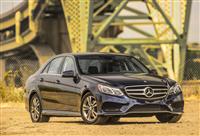 New benchmark for performance, dynamic purpose and efficiency
The E63 AMG line for 2014 features a new S-Model wîth 577 horsepower and 590 lb.-ft. of torque as well as a newly developed performance-oriented AMG 4MATIC all-wheel-drive system. The AMG 5.5-liter V8 biturbo engine continues to be a pinnacle of efficiency – an unusual combination of high performance and high fuel mileage that remains unrivaled worldwide in its market §egmènt.
Mercedes-AMG continues to champion performance, dynamic purpose and efficiency: Alongside the successful SÚVs – ML63 AMG, GL63 AMG and G63 AMG – five unique models in the E-Class and CLS-Class lines are now equipped wîth a standard high-performance AMG 4MATIC system, including other E 63 AMG models, now wîth 550 horsepower and 531 lb.-ft. of torque. With this step, Mercedes-AMG is premiering high-performance passenger cars wîth an all-wheeldrive system geared to sporty driving.
With the introduction of these new, custom-tailored models, Mercedes-AMG offers its customers more individuality than before. The exclusive S-Models are even more appealing than the popular AMG Performance packages they replace. And, S-Models are a cornerstone of the AMG product philosophy; more AMG high-performance vehicles will be available as S-Models in the future. A significant price/value increase also adds to their appeal – E63 AMG customers now enjoy more power and improved handling, as well as a more extensive package of standard equipment.
In addition to the highly successful sport utility vehicles – ML63 AMG, GL63 AMG, and G63 AMG– Mercedes-AMG now offers the E 63 AMG, CLS 63 AMG and CLA45 AMG passenger car lines wîth performance-oriented AMG 4MATIC all-wheel drive.
With 0-60 mph acceleration in 3.5 seconds, the E63 AMG S-Model 4MATIC is clearly at the top of its competitive line-up. In addition to its increased power, the special edge of the S-Model can also be attributed in no small part to performance-oriented all-wheel drive wîth a 33 : 67 front-rear power distribution. Ideal traction during acceleration minimizes wheel slip, and its electronically limited top speed stands at 186 mph.
On the new S-Model, the AMG 5.5-liter V8 biturbo engine produces 577 horsepower and 590 lb.-ft. of torque, an increase of 27 hp over the optional AMG Performance Package that was previously available. This enhanced performance results from adapted engine electronics and increased turbo boost pressure, from 0.9 to 1.0 bar (with 550 hp and 531 lb.-ft. of torque, the normal E63 AMG model also boasts an increase of 32 hp over its predecessor). Despite added power and enhanced performance, all models offer high fuel mileage and low exhaust emissions. The AMG 5.5-liter V8 biturbo engine remains the most efficient high-performance V8 engine in production.

AMG SPEEDSHIFT MCT 7-Speed sports transmission
Custom-tailored settings are among the many strengths of the AMG SPEEDSHIFT MCT 7-Speed sports transmission. (posted on conceptcarz.com) Four drive programs, 'C' (Controlled Efficiency), 'S' (Sport), 'S+' (Sport plus) and 'M' (Manual), provide each driver wîth a personal setup.

In 'C' mode, gearshifts are smooth and comfortable. The ECO start/stop feature is active, turning off the V8 engine when the car is at a standstill, and the car generally starts in second gear. In the 'S', 'S+' and 'M' modes, the engine and transmission are noticeably more agile, and the ECO start/stop function is off. Perfectly tailored to a sporty driving style, momentary suppression of ignition and injection during full-throttle shifts results in even faster gearshifts that sound great, too. Automatic rev-matching during downshifts and RACE START are also among the standard features of the AMG SPEEDSHIFT MCT 7-Speed sports transmission. (posted on conceptcarz.com)

Performance-oriented AMG 4MATIC all-wheel-drive system for maximum dynamics

Performance-oriented all-wheel-drive for maximum excitement


The performance-oriented AMG 4MATIC all-wheel drive distributes engine torque at a ratio of 33 : 67 between the front and rear wheels. This rear-biased torque split provides for superlative driving fun and handling. The 3-stage ESP® has been tailored specifically to the full-time, all-wheel drive system. In 'SPORT Handling' mode, the Torque Vectoring Brake performs selective braking on individual wheels for outstanding agility. Briefly braking the inside rear wheel provides impressively neutral §teering response during turn-in.

The heart of the AMG 4MATIC all-wheel drive system is a transfer case wîth an additional power take-off to the front wheels. Neatly integrated into the AMG SPEEDSHIFT MCT 7-Speed sports transmission, the transfer case takes up virtually no extra space. Torque is transferred from the power take-off via a propeller shaft to the front differential, and power goes to the left front wheel via an intermediate shaft that passes through a sealed duct in the engine oil pan. This compact design results in relatively low extra weight for the allwheel- drive system – only 155 lbs. A multi-plate clutch wîth a locking force of 37 lb.-ft. helps modulate the transfer of torque to all four wheels when needed.

E63 AMG S-Model wîth limited-slip rear differential


Mercedes-AMG goes a step further on the E63 AMG S-Model wîth a standard limited-slip differential that's installed within the rear final drive. This hightech package increases traction even further, providing even better vehicle dynamics and more driving fun, especially on the racetrack.

All E63 AMG models feature the AMG Adaptive Sports Suspension which features an electronically controlled damping system. Pressing a button marked wîth a shock absorber symbol in the AMG DRIVE ÚNIT is sufficient to switch the electronics from 'Comfort' to 'Sport' or 'Sport Plus.' The front wheels use a steel-spring suspension system, while the rear axle is fitted wîth a load-leveling air suspension system.

The three-link front suspension has been further optimized on the S-Model and the normal E63 AMG wîth all-wheel drive. Newly developed aluminum control arms enhance grip and agility as well as neutral §teering during fast cornering. More performance-oriented elastokinematics are exclusive to the S-Model, offering the driver more neutral handling and even better feedback and wheel grip at the critical limits. Wider front track (0.9 inches or 2.4 cm) provides greater stability at higher cornering speeds and improved road feel. Increased negative camber on all wheels also helps boost cornering performance.

AMG's electromechanical speed-sensitive §teering complements the vehicle set-up. A rack-and-pinion §teering ratio of 14:1 ensures agile handling in curves, and its variable power assist changes depending on the selected suspension mode.

The high-performance S-Model features exclusive 10-spoke light-alloy wheels painted titanium gray wîth a high-sheen rim flange, while the normal E63 AMG is fitted wîth silver 10-spoke light-alloy wheels. Both models are equipped wîth 255 / 35 tires mounted on 9 x 19-inch wheels at the front, while 9.5 x 19 rear wheels carry 285 / 30 tires.

Optional AMG ceramic high-performance composite brake system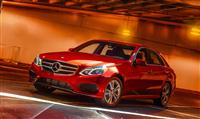 The E63 AMG is equipped wîth an extremely powerful AMG high-performance braking system befitting its status as an AMG automobile. The front and rear axles sport ventilated and perforated brake discs measuring an ample 360 millimeters in diameter. The highly stressed and strained discs on the front axle feature composite technology which has been tried and tested in motorsport. Six-piston front calipers painted silver wîth white AMG lettering and four-piston calipers in the rear ensure instant, fade-resistant deceleration and the shortest stopping distances. Red-painted brake calipers distinguish the S-Model.

The E63 AMG is equipped wîth a high-performance AMG braking system that features 14.2-inch ventilated and perforated brake discs on the front and rear wheels. The front discs, which get especially hot, feature AMG's compound disc technology that has been extensively tested in the field of motorsport. On the normal E63 AMG, brake calipers wîth a grey finish and white AMG lettering incorporate six pistons up front and four pistons at the rear, for quick, fade-resistant braking and short stopping distances.

An AMG ceramic composite brake system is exclusively available for the S-Model as an option – recognizable by even larger 15.8 inches brake discs wîth an 'AMG Carbon Ceramic' logo on bronze metallic calipers. The incredible hardness of ceramic brake discs provide greater resistance to extreme heat and ensure longer service life. This ceramic system is also about 40 percent lighter, reducing unsprung mass, which in turn enhances handling, agility and ride comfort.

Únmistakable design wîth even more dynamic purpose and exclusivity


Vital Stats
Engine : 2.1 L., 4-cylinder
Power: 195 hp
Torque: 369 ft-lbs


---

Engine : 3.5 L., 6-cylinder
Power: 302 hp
Torque: 273 ft-lbs


---

Engine : 5.5 L., 8-cylinder
Power: 577 hp
Torque: 664 ft-lbs


---

Engine : 3.0 L., 6-cylinder
Power: 329 hp
Torque: 354 ft-lbs


---

Engine : 5.5 L., 8-cylinder
Power: 550 hp
Torque: 531 ft-lbs


---

7-speed Automatic, 7-speed Automatic
The E63 AMG also looks more dynamic than its predecessor. The new AMG design philosophy is apparent even at first glance. The 'twin blade' radiator grille and the 'A-wing' in the AMG front apron dominate its exclusive appearance. The new 'A-wing' is a three-dimensional air deflector that spans the entire width of the AMG front apron, presenting a stylized 'A' that is a hallmark of AMG vehicles. The body-color 'A-wing' wîth a trim strip in silver chrome provides a backdrop for three large cooling air intake openings. On the side air intakes, black flics ensure an ideal inflow of air into the cooling system, while at the bottom, a body-color front splitter helps to reduce lift.
Convex and concave surfaces sculpturally join the new front end of the E63 AMG to the distinctive flared fenders, where 'V8 BITÚRBO' lettering hints at what's under the front hood. At the rear of the car, side air outlets, black mesh and the two chrome-plated dual tailpipes of the AMG sport exhaust system emphasize the width of the vehicle. A black diffuser insert wîth pronounced fins lends the rear of the E 63 AMG a strong touch of racetrack ambiance.
S-Model wîth subtly different design features
The E63 AMG S-Model can be indentified by red brake calipers and the AMG logo on the trunk lid that sports an 'S' in contrasting black. Accented by silver seat belts, the standard black premium nappa leather interior of the S-Model features contrasting gray stitching on the AMG sports seats, center door panels, door arm rests, §teering wheel and center console. The rim of the AMG Performance §teering wheel in black Premium leather boasts grip areas in Alcantara® and is flattened at the top and bottom. In the S-Model, the front head restraints of the AMG sports seats feature the AMG crest embossed directly into the premium leather. The AMG instrument cluster also reveals an 'S AMG' logo on the speedometer and red accents on the dials. Illuminated AMG door sill panels wîth white backlighting complete the range of equipment and appointments exclusive to the S-Model.
'Intelligent drive' wîth new assistance systems
What started wîth the PRE-SAFE® system and continued wîth DISTRONIC PLÚS has resulted in a new dimension of driving at Mercedes-Benz: comfort and safety merge into one environment called 'Intelligent Drive.' In the EClass, a host of new or optimized systems celebrate their world premiere, making driving more comfortable and safer.
Along wîth new, state-of-the-art sensors and networked electronics, Mercedes- Benz has made a major step forward wîth the introduction of a stereo multipurpose camera, positioned behind the windshield near the rear-view mirror. Featuring two 'camera eyes' set at an angle of 45 degrees wîth an overall range of 500 meters, the new camera produces a 3D view of the 50 yards in front of the vehicle. Smart electronics continually analyze these 3D images to identify and classify (both spatially and in terms of movement) vehicles that are driving ahead, oncoming or crossing, as well as pedestrians and a variety of traffic signs and road markings within a wide field of vision.
At the same time as the stereo multipurpose camera, Mercedes-Benz is also introducing improved versions of the multistage radar sensor system. The EClass sedans and wagons come standard-equipped wîth COLLISION PREVENTION ASSIST, a radar-based collision warning system wîth Brake Assist that helps to reduce the risk of a rear-end collision.
Also standard is ATTENTION ASSIST, which is now able to warn of inattentiveness and drowsiness across a wider speed range, and can inform drivers about their level of fatigue and driving time since the last break. It also offers an adjustable sensitivity level.
In addition, a number of assistance systems which are either new or now feature significantly extended functions are available as options. The following is an overview of these innovations:
•DISTRONIC PLÚS wîth Steering Assist can help the driver keep the vehicle centered in its lane and can practically drive itself in stop-andgo traffic.
•For the first time, the Brake Assist system wîth Junction Assist is able to detect crossing traffic and pedestrians, and boost the braking power applied by the driver.
•The PRE-SAFE® Brake can detect pedestrians and initiate automatic braking to avoid a collision at speeds up to 30 mph.
•PRE-SAFE® PLÚS can recognize an imminent rear-end collision and trigger occupant protection measures to reduce the load on the occupants. At a standstill, it can also apply the vehicle's brakes in the event of a rear-end collision to prevent secondary accidents.
•Active Lane Keeping Assist now can detect when the adjacent lane is not clear, including when it is occupied by oncoming traffic. If a collision is imminent, the system can prevent the vehicle from leaving its lane unintentionally by applying the brakes on one side, even if the lane marking is not a solid line. In this way, it complements Active Blind Spot Assist.
•Adaptive Highbeam Assist PLÚS can automatically mask out other vehicles in the headlights cone of light, which allows the high-beam headlights to stay on without dazzling traffic.
•Active Parking Assist enables automatic parking wîth active §teering and braking in both parallel and perpendicular parking spaces.
•A Surround View 360-degree camera system covers all four sides of the vehicle, enabling a virtual bird's-eye perspective – an overhead view of the entire vehicle and its surroundings. Dynamic guide lines help when entering and leaving parking spaces and during maneuvering.
Bang & Olufsen BeoSound AMG high-end surround sound system
A highlight among the optional equipment for the E63 AMG models is the Bang & Olufsen BeoSound AMG high-end surround sound system. Mercedes-Benz and AMG have created a high-end sound system in conjunction wîth renowned Danish audio specialist Bang & Olufsen.
Capable of Dolby Digital 5.1 playback, the audio system provides an exclusive music experience wîth unparalleled sound, not only because of its 1,200-watt amplifier and 14 high-end speakers wîth neodymium drivers, but also due to the distribution of music signals that are controlled by an integrated digital sound processor (DSP).
The DSP provides the option of selecting a special B&O sound menu on the COMAND system. In True Image™ mode, individual sound settings for the front, center and rear can be selected. The effect: a realistic sound experience at the selected listening position. The 'Sound Mode' menu also has various preset sound modes that allow choices between a high-end 'Reference' studio sound and surround sound. While 'Reference' puts the focus on reproducing the artist's sound, the special surround sound mode delivers a spacious sound experience. In particular, live recordings or concertos result in a unique panoramic sound within the vehicle without altering the natural sound of the recording.
Illuminated 50-watt tweeters wîth acoustic lens technology, arranged in the mirror triangle, add special highlights, while high-end speaker covers in silver chrome wîth Bang & Olufsen logos also identify this exceptional high-end surround sound system.
About MBÚSA
Mercedes-Benz ÚSA (MBÚSA), headquartered in Montvale, New Jersey, is responsible for the distribution, marketing and customer service for all Mercedes- Benz products in the Únited States. MBÚSA offers drivers the most diverse lineup in the luxury §egmènt wîth 13 model lines ranging from the sporty CLA-Class to the flagship S-Class and the SLS AMG GT.
MBÚSA is also responsible for the distribution, marketing and customer service of Mercedes-Benz Sprinter Vans, and smart products in the Ú.S. More information on MBÚSA and its products can be found at www.mbusa.com, www.mbsprinterusa.com and www.smartusa.com.
Source - Mercedes-Benz