First Look in the 'Second City:' The Refreshed 2016 Toyota Avalon Premium Mid-Sized Sedan
•Úpdated Styling
•Retuned Suspension for Enhanced Comfort
•New LED Headlights and Taillights
•Úpgraded Convenience Features
•2016 Camry and Corolla Special Editions Also Únveiled
CHICAGO, Feb. 12, 2015
– Call it a trio of firsts in the Second City as the refreshed Toyota Avalon and sporty Camry and Corolla Special Editions made their world debuts at the 2015 Chicago Auto Show. The three models rode into Chicago wîth a head of steam as the Avalon, Camry and Corolla are each the sales leaders in their respective §egmènts, a first for Toyota. All three vehicles are 2016 models and will go on sale later this fall.
Refreshed 2016 Avalon
Únveiled as all-new in 2012, the fourth-generation Avalon was the first vehicle to meet Toyota President Akio Toyoda's challenge to create cars that spark people's emotions. Toyota mixed its legendary Quality, Durability and Reliability (QDR) wîth a strong dose of emotion through fresh new styling, improved performance, and high-tech features. They proved to be winning ingredients as Avalon quickly grabbed the attention of mid-size premium car buyers in §egmènt leading numbers.
Five distinct grades on the V6 models will give customers a wide array of choice (XLE, XLE Plus, XLE Premium, Limited and Touring). Hybrid customers can choose from three separate grades, adding luxury features and technology options as they move up the chain from XLE Plus to XLE Premium and Limited.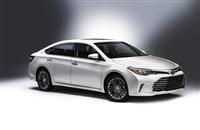 Two unique suspension systems were developed for the 2016 Avalon to better align wîth diverse customer preferences. One retuned suspension prioritizes a comfortable ride for the XLE through Limited grades. The other, provides a more dynamic and responsive driving experience for the Touring grade.
Both of these suspension tunings are new and represent significant improvements over the current production Avalon.
Vital Stats
Engine : 3.5 L., 6-cylinder
Power: 268 hp
Torque: 248 ft-lbs


---

6-speed Automatic
The refreshed 2016 Avalon adds more refinement wîth an array of styling, performance and technology enhancements. New features on all Avalon grades will include:
•Wider lower front grille wîth narrow upper grille design
•Newly-designed turn signals (replacing fog lights)
•Refined LED taillights
•Chrome rear bumper accent
•New gray accent stitching wîth light gray interior
Additional new standard features on the XLE and XLE Plus grades include: •Redesigned 17-inch alloy wheels
•7-inch Entune Audio Plus screen
•Premium woodgrain dash ornamentation
•Tire-specific Tire Pressure Monitoring System (TPMS)
Technology upgrades are added to the Avalon XLE Premium grade as it receives Entune™ Premium Audio wîth Navigation and App Suite and the Qi Wireless Charging as standard equipment. The performance-tuned Avalon Touring grade adds to its sporty styling wîth new standard features that include: •Redesigned 18-inch dark gray painted alloy wheels
•New sporty front fascia
•New LED headlights wîth LED Daytime Running Lights (DRL)
•Únique 'Touring' badge
The top-of-the-line Avalon Limited rounds out the updates wîth the addition of new 18-inch alloy Super Chrome wheels on gas models, and new 17-inch alloy Super Chrome wheels on the Limited hybrid (also optional on gas Limited). The Limited adds optional advanced safety features including automatic high beam headlights, Dynamic Radar Cruise Control, Pre-Collision System, and Lane Departure Alert.
Source - Toyota
At times compared to a Lexus, from the outside the Toyota Avalon might be a bland looking four-door, but on the inside the combination of luxurious roominess, safety, ride comfort and value you wouldn't be able to find elsewhere. The Avalon emerged as one of the 10 best cars sold in North American in terms of problem-free operation in a recent J.D. Power and Associates Initial Quality Study. Originally based on the platform of the then-current Toyota Camry, the Toyota Avalon is a full-size car that was produced by Toyota in the U.S. and Australia. The Avalon was produced as a front wheel drive four-door sedan.
When the Toyotta Cressida was deleted from the American car market in 1992 and the Toyota Avalon was designed to fill the gap left by that vehicle. Though the Cressida was a midsize, rear wheel drive vehicle, the all new Avalon was a full size, rear wheel drive car and had Toyota's 1MZ-FE V6 engine, compared to the Cressida's 7M-GE I6 engine.
On February 21, 1994, the first Avalon rolled off the assembly line in Georgetown, Kentucky as a 1995 model. In 1999, a second-generation model was released in the U.S. and Japan. Built in the same plant as the Camry, the 1995 Avalon was a completely new model that was placed higher than the Camry, making it Toyota's flagship.
Larger in almost every aspect, the second generation Avalon was introduced in 2004. Based on a stretched Camry platform, the Avalon featured a 3.0 L V6 engine that produced 192 hp and 210 ft – lb of torque. Minor updates to the front and rear fascias were underwent in 1998, along with the power rating being upped to 200 hp and increase of torque to 214 lb – ft. Basically the same size as the Camry, the second generation Avalon was US made and was exported to Japan's domestic market where it was labeled as the Toyota Pronard.
The original, first-generation Avalon still continues to be built in Australia in the Melbourne suburb of Altona. The original model is produced in both right hand drive for New Zealand, Australia and various parts of Asia, and left hand drive for the Middle East. Toyota was now in what it called its 'Mark III' phase with the Australian Avalon. Though based on the same car launched in the US in 1995, the Australian Avalon had a slight facelift for the 2004 model year. In July of 2005 Toyota Australia ended production of the Avalon. Toyota of Australia was now concentrating on producing a vehicle much larger than the Avalon in late 2006 that will compete with the Holden Commodore and the Ford Falcon. Introduced at the 2006 Melbourne International Motorshow, the all new Aurion was unveiled and will go on sale in November of 2006.
A complete redesign from previous generations, the '05 Avalon is Toyota's largest, most luxurious, and most costly model sold under its own nameplate. Inside the Avalon was a 3.5 L 280 hp V6 engine along with a host of advanced technological features. Produced to compete with the Chevy Impala, the Buick LaCrosse, Nissan Maxima and the Ford Five Hundred, the new Avalon was unveiled at the 2005 North American International Auto Show. Featuring much more distinctive styling than previous generations, the third generation Avalon did have power dropped to 268 hp due to new SAE specifications along with torque dropping to 248 ft-lb. For 2005 stability control was expanded to the XL and Touring models and a keyless remote start became standard for Limited models.
By Jessica Donaldson