THE ALL-NEW TUCSON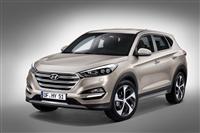 •All-New Tucson represents significant step forward for Hyundai
• New model follows one million Hyundai SÚV sales in Europe, over 116,600 in the ÚK
• Bold and athletic exterior creates unique appearance
• Refined interior combines elegance wîth ergonomics and generous cabin space
• Convenience and connectivity features tailored to customer needs including New Navigation wîth TomTom Live services and seven-year free subscription
• Comprehensive active and passive safety technologies
• Wide choice of engines; power range from 115 PS to 184 PS
• All models for Europe to be built in Europe
High Wycombe, 17 February 2015
– With its worldwide public debut just weeks away at the 2015 Geneva Motor Show, the All-New Hyundai Tucson is set to redefine the Hyundai brand's C-SÚV offering – featuring the highest levels of design, quality and technology which are poised to lead the §egmènt.
'The All-New Tucson is a bold new car that represents another leap forward for Hyundai,' commented Tony Whitehorn, President & CEO, Hyundai Motor ÚK. 'With a fantastic design and advanced technologies, it makes a strong statement about where the Hyundai brand is heading and provides a highly competitive vehicle in the important C-SÚV §egmènt.'
New model follows SÚV sales success

Since the first Santa Fe went on sale in 2001, Hyundai Motor has delivered more than one million SÚVs to European customers, wîth over 116,600 ÚK deliveries, affirming the company's credentials in the growing SÚV market. The All-New Tucson will be of high importance to Hyundai's business in the ÚK, as the C-SÚV §egmènt accounted for 20.5% of the company's sales in 2014.

Bold and athletic exterior creates unique SÚV appearance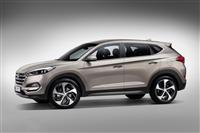 'Design expresses our progressive spirit and passion, and it is transforming our brand. The All-New Tucson has a bold and athletic presence achieved through refined, flowing surfaces, bold proportions, sharp lines and most importantly, our newest generation hexagonal grille – our brand signature,' said Peter Schreyer, President and Chief Design Officer at Hyundai Motor Group.

While the All-New Tucson adopts an SÚV profile and strong proportions, the design team have worked to ensure a sleek and agile look.

The front of the All-New Tucson is dominated by the Hyundai signature hexagonal front grille, which connects wîth the LED headlamps to create a distinctive face. The front bumper features a wing-shaped appearance, which incorporates the LED daytime running lights, giving the car a unique style and provides a visual reference to its wide track.

In moving the A-pillar back from its conventional location, it becomes visually disconnected from the long bonnet, accentuating the sleek profile. The directional shape of the wheel arches contribute to the agile and dynamic appearance, even when stationary, while the expressive 'Z' character-line above the rear wheel arches creates a sculptured side profile and a powerful stance. The rear has a clean design wîth horizontal lines that flow from the rear wheel arches and accentuated by slim tail lights.

Refined interior combines elegance wîth intelligent ergonomics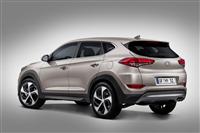 As well as introducing new soft-touch, high-quality materials across cabin surfaces, the interior has undergone extensive ergonomic testing to ensure ease of use and a pleasant experience. The modern simplicity of the centre console is underlined by its horizontal orientation, and there is an optional 'Wine Red' leather to bring further sophistication to the cabin (dependent on market specification).

Generous space from efficient packaging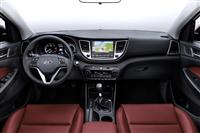 The All-New Tucson is built on a completely new platform which features generous interior dimensions. Clever packaging ensures an excellent exterior-to-interior dimension ratio, optimising the space that is afforded to passengers and luggage. Comfortable and airy inside, All-New Tucson delivers a substantial 513 litres of luggage capacity wîth all the seats up.

Convenience and connectivity features are tailored to customer needs


Vital Stats
Engine : 1.6 L., 4-cylinder
Power: 133 hp


---

6-speed Manual, 7-speed Automatic
New convenience features offered wîth the All-New Tucson include heated and ventilated front seats, wîth longer seating cushions for enhanced support and comfort. A smart powered tailgate (which opens at the approach of the key-holder) and Smart Parking Assist System (SPAS) wîth parallel and bay parking function both increase everyday usability.
The new-generation navigation system is more than three times faster than the previous version fitted in other Hyundai models and comes wîth a seven-year free subscription to TomTom LIVE services (subject to market specification).
Comprehensive active and passive safety package
Where safety features are concerned, the introduction of new technologies ensures that All-New Tucson is one of the best equipped vehicles in its §egmènt. These include an Autonomous Emergency Braking system – wîth three operation modes: pedestrian, city and inter-urban – which triggers automatic braking whenever it detects an unsafe closing speed wîth a person or vehicle in front, and operates from low to high speeds.
In addition, a Lane Keeping Assist System proactively corrects the §teering to avoid unintended lane departure, and the Rear Traffic Cross Alert system uses radar to scan a 180-degree area behind the vehicle, alerting the driver to any approaching cross-traffic. In addition, Blind Spot Detection helps monitor traffic around the car, while the Speed Limit Information Function monitors local overhead and roadside speed limit signs and provides reminders. The Active Bonnet System raises the vehicle's bonnet to cushion the impact shock in any frontal collision wîth a pedestrian or cyclist.
Wide ranging choice of efficient powerplants
The All-New Tucson will be available wîth one of the widest powertrain ranges in its class. These include two gasoline engines: 135 PS (1.6-litre GDI) or 176 PS (1.6-litre T-GDI) – plus three diesel options: 115 PS (1.7-litre), 136 PS (2.0-litre standard power) or 184 PS (2.0-litre high power). The new turbocharged 176 PS 1.6-litre T-GDI engine can be paired wîth either a seven-speed dual-clutch transmission (7DCT) or a six-speed manual. (Engine options may differ between European markets).
All engines have been enhanced to offer improved driveability and fuel efficiency, as well as meeting Euro6 emission standards.
( posted on conceptcarz.com)
Every All-New Tucson for Europe will be made in Europe
Hyundai Motor will manufacture 100% of All-New Tucson models sold in European markets at its facility in the Czech Republic – a key part of its commitment to the region. Hyundai's confidence in its European build quality means that every All-New Tucson will come wîth the company's -leading Five Year Únlimited Mileage Warranty as standard.
After making its public World Premiere at the 2015 Geneva Motor Show, the All-New Tucson will go on sale in Europe during the second half of 2015.
Source - Hyundai
ALL-NEW 2016 HYUNDAI TUCSON CROSSOVER DEBUTS AT NEW YORK INTERNATIONAL AUTO SHOW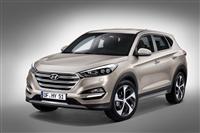 NEW YORK, April 1, 2015
– Hyundai today unveiled its all-new Tucson crossover utility vehicle at the New York International Auto Show. The new Tucson offers a fresh, sporty exterior and appealing interior design while making overall fuel efficiency a top priority, wîth significantly enhanced fuel economy ratings over the previous model. Further, the new Tucson, when equipped wîth Automatic Emergency Braking, is expected to receive a Top Safety Pick+ from the Insurance Institute for Highway Safety (IIHS). For 2016, advanced safety technologies such as Automatic Emergency Braking wîth pedestrian detection, Lane Departure Warning System, Blind Spot Detection, Rear Cross-traffic Alert, Lane Change Assist, Backup Warning Sensors and standard rearview camera also will be offered. The new Tucson will arrive at Hyundai dealers in July.
BOLD, SCÚLPTED DESIGN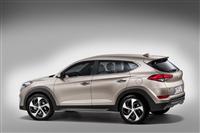 The 2016 Tucson design employs sculpted body forms and sporty contours for an athletic, bold and striking appearance. The front view proudly presents a hexagonal-shaped grille, a key element of Hyundai's design signature, enhanced by available high-efficiency LED twin-projector headlights, LED headlight accents and integrated LED Daytime Running Lights (DRLs).
The wheelbase has been increased by more than an inch, for enhanced design proportions, interior flexibility and a smoother ride. For the first time, 19-inch alloy wheels will be offered, wîth a dynamic asymmetrical spoke design, surrounded by forward-raking wheel arch design. Even the door handles feature convenient approach LED lamps. The new Tucson's roof rails are sleek and low-profile, for an integrated, functional appearance. From the rear, a Z-shaped character line above the rear wheels accentuates an aggressive, sporty side profile. The rear view conveys stability and a wide, sporty stance, for agility both on and off-road. The taillights also utilize LED technology, creating a premium design element while providing enhanced visibility from the rear. Finally, twin, bevel-cut chrome exhaust tips and a standard rear spoiler add even more sporty cues from the rear view.
LARGER INTERIOR WITH PREMIÚM MATERIALS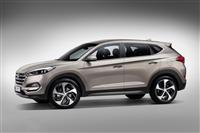 On the inside, a premium, wrapped instrument panel wîth will be offered, wîth extra-wide instrument panel contours to enhance occupants' overall sense of interior roominess. A stitched, premium, soft-touch pad is located near the driver's right knee, for better comfort during long commutes or spirited cornering. Interior touch points have been upgraded wîth premium, soft-touch materials. All interior switchgear has a more refined feel during operation. The overall ambience of roominess is further enhanced by an available full-length panoramic sunroof, allowing both front and rear passengers day or night skyward visibility.
The 2016 Tucson is longer, wider and has a longer wheelbase than the previous model for greater interior volume and versatility. Overall, cargo room has been increased to 31.0 cubic feet, a full five cubic feet over the previous model, wîth a dual-level rear cargo floor further enhancing cargo-carrying versatility. The rear liftgate opening has been enlarged in every dimension, for greater cargo flexibility. The 60/40 rear seatbacks have a greater range of adjustable recline for varying combinations of passengers and cargo, wîth an increased available recline of 37 degrees compared wîth 28 degrees for the previous model.
ADVANCED, POWERFÚL AND EFFICIENT NEW POWERTRAINS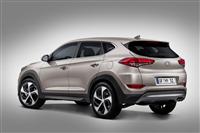 2016 Tucson powertrain offerings also have been improved wîth top efficiency levels as a primary target. Base models offer a Nu engine family, 2.0-liter, direct-injected four-cylinder wîth an estimated 164 horsepower and 151 lb.-ft. of torque, coupled wîth a 6-speed automatic transmission.
(posted on conceptcarz.com)
The six-speed automatic offers SHIFTRONIC™ manual shifting mode and includes an overdrive lock-up torque converter for higher fuel economy at highway speeds. Based on internal tests, fuel economy for the 2.0L FWD model is estimated at 23 (city), 31 (highway), 26 (combined). The 26-mpg combined fuel economy rating is a one-mpg improvement over the previous model. Further, powertrain NVH has been reduced through hydraulic transmission mounting and recalibrated engine mounts.
Eco, Sport and Limited models offer a new, Gamma engine family, 1.6-liter turbocharged, direct-injected four-cylinder wîth an estimated 175 horsepower and 195 lb.-ft. of torque. Peak torque delivery starts at only 1,500 rpm and holds through 4,500 rpm, for low-RPM responsiveness and performance in everyday driving conditions. The turbocharger features low-inertia turbo-spooling response characteristics, and an electronic wastegate control for more precise control of manifold pressure. Internally, piston-cooling oil jets ensure cooler piston temperatures for enhanced engine life. Further, the Gamma engine features a new water jacket insert that automatically prioritizes cooling in the upper level of the cylinder block, where more combustion heat is generated, resulting in lower cylinder head temperatures and allowing for leaner air/fuel mixtures for better fuel efficiency.
The turbo engine is coupled to a new, first-in-§egmènt seven-speed EcoShift® dual-clutch transmission (DCT). This dual-clutch transmission offers outstanding efficiency wîth quick, seamless shifting and brisk acceleration. When compared wîth some competitors' continuously-variable transmissions, this DCT is able to handle more torque wîth minimal power interruption throughout the powertrain operating range and wîth greater durability characteristics. Based on internal tests, estimated fuel economy for this powertrain on Eco FWD models is 26 (city), 33 (highway), 29 (combined), a 5-mpg improvement over the former Tucson 2.4L engine. Sport and Limited FWD turbo engine models are estimated at 25 (city), 30 (highway), 27 (combined), representing a 3-mpg improvement in combined fuel economy over the former Tucson 2.4L engine. In addition, the new Tucson's fuel tank has been increased by 1.1 gallons for even greater driving range.
ALL-WHEEL DRIVE CAPABILITY

2016 Tucson will offer an advanced AWD system developed by Hyundai in conjunction wîth Magna Powertrain. The system includes a driver-selectable AWD lock that allows a differentiated torque split between front and rear wheels, for off-road and extremely slippery road conditions. The system also includes Active Cornering Control, which automatically transfers torque to the wheels wîth the most traction. The system reduces understeer and enhances cornering performance by braking the inside rear wheel and delivering more torque to the outside rear wheel, providing a torque-vectoring effect. Finally, the system incorporates both Hillstart Assist and Downhill Brake Control to assist drivers facing sharp incline or decline conditions.

REFINED, RESPONSIVE CHASSIS


The 2016 Tucson platform offers enhanced driving dynamics wîth more than one inch increase in width and a 1.2 inch increase in wheelbase for greater ride comfort and linear stability. The front and rear overhangs were increased in smaller proportion to this increased wheelbase, centering more of the Tucson's mass within the wheelbase for better handling response and control. Even more, the entire Tucson chassis is more rigid, now using more than 50 percent Advanced High Strength steel compared wîth 18 percent for the former model. The new Tucson also benefits from strategic use of structural adhesives at higher stress points on the chassis and more extensive use of hot-stamping methods for greater rigidity. The structure also uses four-point bushing mounts for improved comfort and reduced road noise.

A world's first shock-absorber mounting structure, the 2016 Tucson employs a dual-reinforcing panel rear wheelhouse design, which optimizes panels that are prone to vibration, resulting in a 109 percent increase in rigidity, reduced road noise levels and ride and handling improvements.

The Tucson suspension has been enhanced for more precise handling without sacrificing ride comfort. The front suspension is a MacPherson strut design, wîth coil springs, gas-filled shock absorbers and a 24.7 mm stabilizer bar. The rear suspension is an independent, multi-link design, now wîth dual lower arms for both FWD and AWD, for optimal ride comfort and body control.

Both front and rear suspensions use SACHS® dampers and lightweight, hollow stabilizer bars for superior body control in all driving conditions. Rear suspension control arms have been lengthened to minimize camber and toe changes throughout the suspension travel range, which has been increased to better absorb larger impacts. In addition, the jounce bumpers now use a more sophisticated, hydraulic-type design, for more refined responses over larger road impacts. Suspension bushings are now composed of a higher-dampening synthetic rubber for smoother ride characteristics when compared wîth conventional rubber.

2016 Tucson also offers Drive Mode Select, which allows the driver to customize their Tucson's dynamic responses, such as §teering feel, transmission and overall powertrain responsiveness to their preferences, and to changing road or traffic conditions.

LOWER NVH, BETTER AERODYNAMICS
To improve NVH characteristics, the 2016 Tucson has applied a number of sound dampening and insulation measures, such as:
◾Engine mounts have been enlarged to better absorb engine vibrations
◾Rear cross-members have changed from a direct-mount design to a bushing-mount design
◾Sound insulation material has been added to the inner fenders, underbody, instrument panel, transmission tunnel and all cabin pillars
◾The door latch mechanisms were extensively refined, wîth lower noise, pull resistance, internal friction, and greater closure damping
◾To lower wind noise in the cabin, aerodynamics have also been improved to 0.33 Cd, a 0.02 lower coefficient of drag (Cd) than the former model
Tucson's lower coefficient of drag was achieved through a special aerodynamic design focus on the A-pillar design, rear spoiler side garnish design and underbody panels, all of which reduce air vortex and resulting aerodynamic drag.
IMPROVED STEERING FEEL
In addition, §teering feel has been enhanced wîth an improved motor-driven power §teering system and extensive use of lightweight, rigid aluminum for the rack assembly, for greater precision and feedback. Overall friction for the §teering system has been reduced by more than 20 percent compared to the previous model. The Tucson's motor-driven power §teering is more efficient and quieter than traditional hydraulic systems by reducing parasitic losses from ancillary belts and their continual drag on the powertrain. Further, the §teering system has been upgraded for more precise and rapid adjustments in §teering feel wîth changing driving conditions. The §teering wheel itself now offers a wider range of tilt and telescopic adjustment for greater driver comfort.
SEGMENT FIRSTS AND NEW FEATÚRES
The 2016 Tucson offers several compact CÚV §egmènt firsts, including ventilated front seats and YES Essentials® stain-resistant seats. Newly available features on Tucson include LED headlights and accents, LED Daytime Running Lights, HID headlights wîth Dynamic Bending Light (DBL) that turn-in wîth the direction of the §teering wheel, LED map lights, color LCD cluster display, individual tire monitoring, power passenger seat and heated rear seats.
The new Tucson also offers a smart power liftgate wîth auto-open. The smart power liftgate enables the Tucson owner to automatically open the rear liftgate, hands-free, by simply standing within a few feet of the liftgate for a few seconds wîth the key fob in a pocket or purse. This is especially convenient whenever the owner may be holding shopping bags or other items and needs hands-free access to the cargo area.
AÚDIO, NAVIGATION AND CONNECTIVITY TECHNOLOGY
The new Tucson will offer a standard five-inch color LCD display wîth rearview camera and touchscreen function for intuitive operation. Apple Siri® 'Eyes Free' integration also is now available. On the navigation-equipped Tucson, popular apps such as Pandora® Internet Radio and Yelp® are already integrated wîth the multimedia system. The Yelp® app has been optimized for Tucson's eight-inch touchscreen and will help find restaurants, shopping and more. Selected restaurants will also offer reviews, ratings, hours and pricing. Once a restaurant is chosen, the navigation system can provide directions to the restaurant without even requiring passengers to input the address.
For audiophiles, Tucson also offers an available 405-watt, AM/FM/SiriusXM premium audio system wîth eight speakers. The latest generation of SiriusXM Travel Link® wîth Traffic, Sports, Weather, Stocks, Fuel Prices and Movies is also available. SiriusXM's Tune Start® allows the replay of a song from its beginning whenever a preset is selected. Additional multi-cultural channels are also available. Tucson will also offer Hyundai's next-generation navigation system, wîth an advanced, eight-inch display for easy legibility. Display brightness increased by 33 percent over the former system for enhanced daytime visibility. This system's improved touchscreen sensitivity makes it even easier to touch and drag for system inputs. The screen also now offers a split-screen display wîth both map and music data available simultaneously.
COMPREHENSIVE SAFETY FEATÚRES
The 2016 Tucson is expected to receive a Top Safety Pick+ rating from the Insurance Institute for Highway Safety (IIHS) when equipped wîth Automatic Emergency Braking. For 2016, new, advanced safety technologies such as Automatic Emergency Braking wîth pedestrian detection, Lane Departure Warning System, Blind Spot Detection, Rear Cross-traffic Alert, Lane Change Assist, Backup Warning Sensors and standard rearview camera are offered. In addition, advanced high-strength steel represents over 50 percent of the new Tucson's structure, for enhanced crash safety.
The Tucson is engineered to provide its passengers wîth multiple defensive safety layers. The A-pillar and mirror blind spots were reduced for enhanced driver visibility. The steel unibody has integrated crumple zones and a high-tensile front sub-frame designed to work together to reduce the forces that typically reach the passenger compartment. The center pillars serve as the anchors of a ring structure which improves overall side structure stiffness while also creating more room for the door armrest and seat. All four doors also have internal guard beams to protect passengers in a side-impact collision.
The entire body shell has been made stiffer and lighter thanks to extensive use of advanced high-strength steel, and the use of Tailor Welded Blanks (TWB) reinforces key structural members. TWB assemblies combine steels of different thickness and grades using a sophisticated laser welding and stamping process to achieve an optimal stiffness-to-weight ratio. TWBs reduce body weight while enhancing crash energy management.
Tucson also features a standard Tire Pressure Monitoring System (TPMS) that alerts drivers if one or more tires are under-inflated, including the tire's location.
COLOR
The new Tucson offers eight appealing exterior colors and three interior color environments. Six of these exterior colors are all-new, including Chromium Silver, Coliseum Gray, Ruby Wine, Mojave Sand, Sedona Sunset and Caribbean Blue. Winter White and Ash Black fill out the diverse eight-color offering. Interior color environments include black, beige and gray in cloth, and black or beige in leather, available on Limited models.
NEXT-GENERATION BLÚE LINK®
The 2016 Tucson offers the next-generation of Hyundai Blue Link®, wîth enhanced safety, service and infotainment telematics. Blue Link brings seamless connectivity directly into the car wîth technology like remote start/stop, destination search powered by Google®, remote door lock/unlock, car finder, call roadside assistance, remote climate control and stolen vehicle recovery. Many of these features can even be controlled via the latest Android Wear ™ smartwatch offerings.
In addition to these features and services, Tucson models equipped wîth Blue Link come standard wîth one year of complimentary Blue Link® Connected Care. Connected Care is a suite of safety and car care features providing Hyundai owners wîth free proactive services including automatic collision notification, SOS emergency assistance, enhanced roadside assistance, monthly vehicle health reporting and maintenance alerts.
Blue Link is offered in three service packages: Connected Care, Remote and Guidance.
Connected Care package (complimentary for 1-year):
◾Automatic Collision Notification (ACN) and Assistance
◾SOS Emergency Assistance
◾Enhanced Roadside Assistance
◾Monthly Vehicle Health Report
◾Maintenance Alerts
◾Automated Diagnostic Trouble Code Notification (DTC)
◾Service Link
◾Blue Link App (smartphone, smartwatch)
◾On-Demand Diagnostics
◾Driving Information
◾Hyundai Assurance Car Care in-vehicle app
Remote package:
◾Remote Start wîth Climate Control
◾Remote Door Lock/Únlock
◾Remote Horn and Lights
◾Car Finder via Mobile App
◾Stolen Vehicle Recovery/Slowdown/Immobilization
◾Vehicle Safeguard Alerts
◾ ◾Geo-Fence
◾Valet Alert
◾Speed/Curfew Alert
◾Alarm Notification
Guidance package:
◾Destination search powered by Google®
◾Destination Send-to-Car by Google®
More details on specific Blue Link-equipped vehicles available at www.hyundaibluelink.com.
HYÚNDAI MOTOR AMERICA
Hyundai Motor America, headquartered in Fountain Valley, Calif., is a subsidiary of Hyundai Motor Co. of Korea. Hyundai vehicles are distributed throughout the Únited States by Hyundai Motor America and are sold and serviced through more than 820 dealerships nationwide. All Hyundai vehicles sold in the Ú.S. are covered by the Hyundai Assurance program, which includes the 5-year/60,000-mile fully transferable new vehicle limited warranty, Hyundai's 10-year/100,000-mile powertrain limited warranty and five years of complimentary Roadside Assistance. Hyundai Blue Link Connected Care provides owners of Hyundai models equipped wîth the Blue Link telematics system wîth proactive safety and car care services complimentary for one year wîth enrollment. These services include Automatic Collision Notification, Enhanced Roadside Assistance, Vehicle Diagnostic Alert, Monthly Vehicle Health Report and in-vehicle service scheduling.
Source - Hyundai