The new Mercedes-Benz CLA 45 AMG Shooting Brake: Avantgarde meets Driving Performance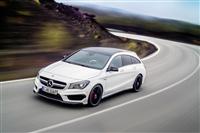 Mercedes-AMG is continuing its model initiative: following on from the successful A 45 AMG, CLA 45 AMG and GLA 45 AMG models, the Mercedes-Benz CLA 45 AMG Shooting Brake is now the fourth high-performance compact car to be brought out, and it makes a stunning impression wîth its unique interior concept and its unrivalled mix of thrilling driving dynamics, excellent everyday usability and tremendous individuality. The sensational avant-garde concept of the CLA 45 AMG Shooting Brake offers yet another highly attractive means of entering the fascinating world of AMG. With an output of 265 kW (360 hp) and peak torque of 450 Newton metres, the 2.0-litre turbo engine is the world's most powerful four-cylinder engine in series production.
'The continued high demand for our high-power compact models more than justifies our decision to launch another exceptionally dynamic high-performance car in the form of the new CLA 45 AMG Shooting Brake,' remarked Tobias Moers, Chairman of the Board of Management of Mercedes-AMG GmbH. 'This means that Mercedes-AMG now boasts the most varied model line-up in this §egmènt. The CLA 45 AMG Shooting Brake serves up an enthralling blend of supreme power and dynamic handling on the one hand plus efficiency and everyday practicality on the other, all beautifully packaged within an extraordinary design.'
The fourth high-performance compact car from Mercedes-AMG adopts the same philosophy as the successful CLS 63 AMG Shooting Brake by taking the form of a sports car wîth five seats and a large tailgate. The five-door newcomer plays out its role as an individual, extravagant trendsetter for connoisseurs to perfection: stylish, cool and right in touch wîth the times, the design and dynamic performance of the compact-sized Shooting Brake from AMG will satisfy even the most discerning demands.
Despite the sporty, progressive looks, featuring a roof line that slopes down gently towards the rear, low-set greenhouse, long bonnet, exaggerated, high beltline and a dynamically styled tail end, absolutely no compromises have to be made when it comes to everyday practicality: thanks to a versatile luggage compartment wîth a maximum capacity of 1354 litres and the increase in headroom compared to the four-door coupé, the CLA 45 AMG Shooting Brake is the perfect companion for day-to-day driving. At the same time, it lends itself to the enjoyment of all manner of leisure pursuits and is sure to delight a physically active target group that enjoys a design-oriented lifestyle and is constantly on the lookout for new trends.
Exceptional power-to-displacement ratio, low fuel consumption
The CLA 45 AMG Shooting Brake comes equipped wîth an impressive engineering package to deliver the desired highly dynamic performance. The most powerful series-production turbocharged four-cylinder engine in the world promises a thrilling drive, generating a remarkable 133 kW (181 hp) per litre of displacement and catapulting the CLA 45 AMG Shooting Brake from standstill to 100 km/h in 4.7 seconds. At the same time, the fuel consumption of just 6.9 litres for every 100 kilometres (NEDC combined) also underlines the trailblazing standards of efficiency achieved by Mercedes-AMG. The list of technical highlights also includes the AMG SPEEDSHIFT DCT 7-speed sports transmission, fully variable AMG Performance 4MATIC all-wheel drive, the powerful braking system and a chassis that has been purpose-developed, from the tuning set-up right through to the axles.
As a high-performance engine belonging to the BlueDIRECT family, the AMG 2.0-litre four-cylinder turbo engine features spray-guided direct petrol injection via piezo injectors positioned centrally in the four combustion chambers wîth an injection pressure of 200 bar. The combination of multiple fuel injection and multiple spark ignition improves fuel economy and significantly increases thermodynamic efficiency, leading to low exhaust emissions. The CLA 45 AMG Shooting Brake therefore already complies wîth the Euro 6 emissions standard, including the limit for maximum particulate emissions that comes into force from 2016. In June 2014, the four-cylinder turbocharged engine achieved a memorable double at the 'Engine of the Year Awards 2014' by winning the 'New engine 2014' and '1.8-litre to 2-litre' categories. As far as its technology is concerned, the AMG 2.0-litre turbo unit is related to the 4.0-litre V8 biturbo engine in the new Mercedes-AMG GT that delivers up to 375 kW (510 hp).
Twin-scroll turbocharger and sports exhaust system wîth exhaust flap
A twin-scroll turbocharger, maximum dethrottling of the exhaust system and an innovative new injection strategy result in an instantaneous build-up of charge pressure and swift generation of high torque from low revs. A positive side-effect: fuel consumption and exhaust emissions also benefit from twin-scroll technology. With a maximum charge pressure of 1.8 bar, the AMG 2.0-litre four-cylinder turbo engine leads the field on this front, too. The sports exhaust system wîth automatic exhaust flap control succeeds in resolving the conflicting aims of a dynamic driving experience and the long-distance comfort for which Mercedes is renowned: unobtrusive when driving at a constant speed, the engine's soundtrack switches to AMG's hallmark emotion-stirring tone in response to sharp acceleration and use of the double-declutching function.
AMG SPEEDSHIFT DCT 7-speed sports transmission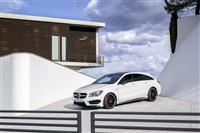 The AMG SPEEDSHIFT DCT 7-speed sports transmission features, three distinct transmission modes, a double-declutching function dependent on the transmission mode and a RACE START function for optimum acceleration. The strengths of the dual-clutch transmission include spontaneous gear shifts without loss of tractive power, a tailor-made control strategy based on the AMG SPEEDSHIFT functions, extremely smooth gear shifts, and a high level of efficiency. The shift times in the manual mode 'M' and the sport mode 'S' are extremely sporty.
Quick and precise retardation of the ignition interruptions and suppressing injection under full load lead to even faster gear shifts in 'M' and 'S' modes, wîth a more thrilling sound. The transmission control fully utilises the benefits of the direct injection technology right up to the physical limits: the quicker engine response ensures that injection is suppressed wîth even more precision. This results in a highly fascinating shift speed and an emotional sound experience.
In 'C' mode (Controlled Efficiency), smooth transmission and engine characteristics support a fuel-efficient and comfort-oriented driving style. In addition, in 'C' mode the ECO start/stop function is active. Another special feature designed to enhance dynamic performance and driving enjoyment is the so-called 'Momentary M mode' – as seen in the new Mercedes-AMG GT sports car.

AMG Performance 4MATIC all-wheel drive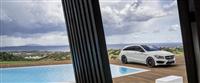 AMG Performance 4MATIC – this highly sophisticated variant of the 4MATIC all-wheel-drive system provides the best possible mix of dynamism, traction and efficiency in any driving situation. This is made possible by fully variable distribution of drive torque, ranging from full front-wheel drive to a 50:50 split.
A two-part propeller shaft transfers the power from the AMG 2.0-litre four-cylinder turbo engine to the rear axle. In the interests of favourable weight distribution, an electrohydraulically controlled multiple-disc clutch is integrated wîth the rear axle differential. The multiple-disc clutch control detects slip at the front axle. A hydraulic pump instantaneously presses the discs together and channels the engine torque to the rear wheels as necessary. All this takes place without the driver noticing.
Power distribution is fully variable: during normal driving, the CLA 45 AMG Shooting Brake uses front-wheel drive for optimal efficiency. Depending on driving conditions and driver input, the variable all-wheel-drive system splits the torque between the front and rear wheels up to a ratio of 50:50.
The 3-stage ESP® program offers a choice of three customised driving modes: 'ESP ON', 'SPORT Handling Mode' and 'ESP OFF' can be activated at the push of a button.
Sports suspension and high-performance braking system
Vital Stats
Engine : 2.0 L., 4-cylinder
Power: 355 hp
Torque: 332 ft-lbs


---

7-speed Automatic
Like the other AMG high-performance compact cars, the CLA 45 AMG Shooting Brake also comes equipped wîth elaborate axle technology. The AMG axles feature independent §teering knuckles at the front together wîth specially configured elastokinematics. All axle bearings have a more rigid design compared to the standard production version. These measures result in more spontaneous and direct turn-in and handling characteristics as well as greater lateral acceleration capabilities. The AMG chassis wîth its specially tuned spring/damper elements and more powerfully proportioned anti-roll bars forms the basis for superb lateral dynamics and reduces body roll when cornering at speed.
The AMG Sport speed-sensitive §teering gives the driver extremely precise control over the vehicle. The purpose-designed high-performance braking system, meanwhile, wîth vented and cross-drilled brake discs all round provides for dependable, instantaneous deceleration.
Sporty and progressive AMG design
The CLA 45 AMG Shooting Brake makes its mark in style wîth a sporty and progressive design. Highlights when viewed from the front include the radiator grille wîth AMG lettering and twin louvre in matt titanium grey, along wîth the brand's trademark front apron featuring a splitter in a striking colour finish. The large air intakes on the outside are framed by prominent black surrounds. Along the vehicle's flanks, side sill panels wîth inserts in matt titanium grey and 'TÚRBO AMG' badging on the front wings produce an air of sporty superiority. Various light-alloy wheels in 8 x 19-inch format wîth size 235/35 R 19 tyres are available as an alternative to the standard 5-twin-spoke light-alloy wheels painted titanium grey wîth a high-sheen finish and measuring 8 x 18 inches wîth 235/40 R 18 tyres.
The elongated roof line that slopes down towards the rear terminates in a powerful and athletic-lòòking tail end. The roof spoiler wîth its special trailing edge is exclusive to the range-topping AMG model. Measuring around three centimetres in height, this Gurney flap, as it is known, reduces the lift that can occur at high speeds, thereby improving roadholding at the rear axle. The sports exhaust system's chromed twin tailpipes are integrated into the black diffuser insert. Matt titanium grey trim and a rear apron wîth simulated air outlet openings at the sides add further visual highlights.
An air of dynamism and exclusivity in the interior, too
The sense of dynamism and exclusivity so characteristic of Mercedes-AMG is also clearly apparent in the interior of the CLA 45 AMG Shooting Brake. Classy touches include the sports seats in ARTICO man-made leather/DINAMICA microfibre wîth red contrasting topstitching and red designo seat belts, the flat-bottomed multifunction sports §teering wheel wîth shift paddles and the AMG DRIVE ÚNIT in the centre console. The CLA 45 AMG Shooting Brake features longitudinal-grain aluminium trim, five galvanised air vents wîth red rings and an instrument cluster in 2-tube look. The central colour display incorporates the AMG main menu including RACETIMER and AMG start-up screen.
The standard specification also includes the following features (selection):

•ADAPTIVE BRAKE
•ATTENTION ASSIST
•COLLISION PREVENTION ASSIST PLÚS
•ESP® Curve Dynamic Assist
•Active bonnet
•AMG door sill panels in brushed stainless steel at front
•AMG floor mats
•Bi-xenon headlamps
•Audio 20 ÚSB multimedia system
•Brushed stainless steel sports pedals
Customers are able to lend their CLA 45 AMG Shooting Brake an even more individual touch by opting for the Exterior Carbon-Fibre package, the AMG Night package or the AMG Exclusive package.
Overview of further attractive optional extras (selection):
•Red painted brake callipers wîth AMG lettering in black
•Carbon-fibre exterior mirror housings
•Carbon-fibre trim
•Performance exhaust system
•Performance §teering wheel
•Performance seats
•8 x 19-inch multi-spoke light-alloy wheels painted matt black,rim flange in high-sheen finish, wîth 235/35 R 19 tyres
•COMAND Online
•Load compartment floor wîth aluminium strips and lockable aluminium handle
•DISTRONIC PLÚS proximity control system including COLLISION PREVENTION ASSIST PLÚS
•Lane Tracking package including Lane Keeping Assist and Blind Spot Assist
•EASY-PACK tailgate
•Intelligent Light System
•Load Compartment package
•Electric panoramic sliding glass sunroof

The OrangeArt Edition – stylish dynamism wîth eye-catching contrasts
The thrilling design of the limited-edition CLA 45 AMG Shooting Brake OrangeArt Edition special model brings added flair to the market launch. Select design features in matt graphite grey above the side sill panels give added impact to the car's sporty lines. The splashes of orange in the AMG radiator grille, on the exterior mirrors and in the rear apron trim together wîth the Night package featuring black design features and chrome tailpipes produce a stunning overall effect. The multi-spoke light-alloy wheels painted in matt black also fit in perfectly wîth the styling, thanks to a rim flange painted orange and matching orange/black hub caps in centre-lock look. Colour-coordinated highlight rings around the bi-xenon headlamps make them stand out in spectacular style, too.
Inside, the sense of exclusive dynamism is captured to perfection by the powerfully contoured Performance seats upholstered in leather/DINAMICA microfibre in black wîth orange contrasting topstitching and black seat belts wîth coordinated highlight stripes. The Performance §teering wheel in DINAMICA microfibre wîth orange contrasting topstitching and matching 12 o'clock mark as well as the AMG E-SELECT lever further underscore this model's exclusive character, as does the specially designed OrangeArt Edition trim. Subtle details such as the recurring contrasting topstitching and the exclusive Edition badge on the AMG DRIVE ÚNIT convey a sense of passion for the extraordinary. Besides the CLA 45 AMG Shooting Brake, the CLA 45 AMG Coupé is also available in OrangeArt Edition guise.
The CLA 45 AMG Shooting Brake is making its show debut in March 2015 at the Geneva International Motor Show, while the market launch is also due to start in March 2015.Source - Mercedes-Benz