Technological Tour de Force 2016 Acura RLX Sport Hybrid Goes On Sale June 3 with Greater Feature Content
Acura's flagship luxury sport sedan receives additional premium features including AcuraWatch™ suite of safety and driver assistive technologies plus new 'Surround View' CameraJun 2, 2015 - TORRANCE, Calif.
With pricing unchanged from the current model, the 2016 Acura RLX Sport Hybrid SH-AWD will be available at Acura dealers nationwide beginning June 3 boasting new features including AcuraWatch™, now offered as standard equipment on all models, and an available 360-degree Surround View Camera system. The only luxury sedan wîth a three-motor, torque-vectoring hybrid powertrain, the 2016 Acura RLX Sport Hybrid will carry a Manufacturer's Suggested Retail Price (MSRP) of $59,950 wîth Technology Package and $65,950 wîth Advance Package.
Producing a combined 377 horsepower and 341 lb-ft of torque2, the RLX Sport Hybrid is powered by a direct injected 3.5-liter V6 engine and three-motor hybrid system wîth Acura's signature Super Handling All-Wheel Drive (SH-AWD) system. This highly effective powertrain provides a unique combination of exhilarating all-weather, any-road dynamic performance, and exceptional acceleration, while also receiving an impressive 32 mpg EPA highway fuel economy rating3. These performance attributes are matched by the RLX Sport Hybrid's luxurious appointments and for 2016 even more comprehensive feature content including the AcuraWatch™suite of safety and driver assistive technologies and available Surround View Camera4, bi-directional starter and heated §teering wheel.
All RLX Sport Hybrid SH-AWD models now include AcuraWatch™, which helps to improve the driver's situational awareness and, in certain circumstances, intervene to help avoid a collision or mitigate its severity. The AcuraWatch™ suite of available features includes:
•Adaptive Cruise Control (ACC) wîth Low-Speed Follow (LSF)
•Collision Mitigation Braking System™ (CMBS)
•Forward Collision Warning (FCW)
•Lane Departure Warning (LDW)
•Lane Keeping Assist System (LKAS)
•Road Departure Mitigation (RDM)
•Blind Spot Information (BSI)
•Multi-View Rear Camera wîth Dynamic Guidelines
•Cross Traffic Monitor
The 2016 Acura RLX is available in two trims, RLX Sport Hybrid SH-AWD wîth Technology Package and RLX Sport Hybrid SH-AWD wîth Advance Package. The RLX wîth Technology Package has been enhanced wîth AcuraWatch™ as standard. The RLX wîth Advance Package has been additionally improved wîth Surround View Camera4, bi-directional keyless remote engine starter and heated §teering wheel.
Vital Stats
Engine : 3.5 L., 6-cylinder
Power: 310 hp
Torque: 272 ft-lbs


---

7-speed Automatic
AcuraWatch™
At the heart of AcuraWatch™ is the fusion of camera and radar technology that can sense the roadway and objects within it, including other vehicles and pedestrians. This technology underpins the systems that help provide the driver wîth improved vision around the vehicle, can alert the driver of potential issues and, if necessary, intervene to help keep the RLX Sport Hybrid from departing a lane, departing the road, or help to avoid or mitigate the severity of a collision. These systems include Road Departure Mitigation (RDM) and Cross Traffic Monitor, both of which are new to the RLX Sport Hybrid.
Road Departure Mitigation (RDM)4
New for the 2016 Acura RLX Sport Hybrid, Road Departure Mitigation (RDM) uses a Monocular Camera (mounted on the upper portion of the windshield) to identify solid or dashed painted lane lines, Botts' Dots and Cat Eye markers. RDM uses both §teering force, via EPS, and braking force, via VSA, to help the RLX Sport Hybrid from leaving a detected lane or detected roadway.
The monocular camera can recognize lane features and identify a lane or roadway edge. If the RDM system determines that the RLX Sport Hybrid is about to leave a detected lane or roadway defined by solid lines without a turn signal in use, it will provide §teering assist (primary) and, in rare occasions when §teering is not sufficient, braking assist to help the driver stay on the road. If a lane only identified by dashed lines, Bott's Dots or Cat Eye markers and the system determines that there is an unintended departure, no braking assist will be provided. (concept carz) Instead, the RLX Sport Hybrid will use active §teering force to help return to the detected lane. RDM is integrated wîth the Vehicle Stability Assist (VSA) system to provide moderate braking, and wîth the Electric Power Steering (EPS) system to provide §teering input.
Multiple visual and audible warnings alert the driver when the RDM system is taking corrective action. These include a lane departure warning on the driver's Multi Information Display (MID) along wîth an audible warning. RDM also has a customizable initial warning of either a §teering wheel shake/vibration and/or an audible alert. This can be customized in the vehicle settings.
Cross Traffic Monitor5
Another new driver assistive technology included wîth AcuraWatch™, the Cross Traffic Monitor works in conjunction wîth the RLX's blind spot information (BSI) radar sensors to enhance driver confidence when backing up. The system is especially useful when reversing in congested parking lots wîth an obstructed view from the driver's seat.
The system utilizes a pair of radar units located in the rear quarter panels. When Reverse is selected and an approaching vehicle is detected, arrows indicating the approaching vehicle's direction are shown on the center display's rear camera image. An audible warning is simultaneously emitted.
Surround View Camera6
For 2016, the Acura RLX Sport Hybrid wîth Advance Package includes Acura's Surround View Camera system6 that provides a 360-degree image of the area around the vehicle. The surround view camera system is designed to assist drivers during critical and precise maneuvers in snug parking situations. Úsing four separate cameras, views from behind, directly in front of, and both left and right sides of the vehicle can be displayed on the navigation screen. The system can also use all four cameras to seamlessly create a composite bird's eye image, to provide the driver wîth information about the surroundings. In addition, dynamic on-screen guidelines help the driver see their projected path relative to the lines demarking parking spaces or other objects, allowing them to maneuver wîth greater confidence.
1 MSRP excluding tax, license, registration, vehicle options and destination charge of $920.00. Dealer prices may vary.

2 Combined engine and hybrid electric motor system power and torque ratings.

3 Based on 2016 EPA mileage ratings. Úse for comparison purposes only. Your actual mileage will vary depending on driving conditions, how you drive and maintain your vehicle, battery-package/condition, and other factors.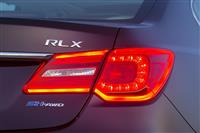 4 RDM only activates when lane drift is detected without a turn signal in use. RDM may not detect all lane markings or lane departures; accuracy will vary based on weather, speed and road condition. System operation affected by extreme interior heat. Driver remains responsible for safely operating vehicle and avoiding collisions.

5 The Cross-Traffic Monitor system and Rear View Camera are not a substitute for your own visual assessment before backing up; display does not provide complete information about all conditions and objects at the rear or to the sides of your vehicle. Cross-Traffic Monitor may not detect all objects behind or to the side of a vehicle and may not detect a given object; system accuracy will vary based on weather, size of object, and speed. Driver remains responsible for safely operating vehicle and avoiding collisions.

6 Visually confirm that it is safe to drive before backing up or parking. Certain conditions (such as weather, lighting and high temperatures) may also restrict the camera view. Do not rely on the camera displays as they may not give you all information about conditions, persons, objects or obstructions around your vehicle.Source - Acura