Best Selling Acura MDX Receives Powertrain Upgrades, AcuraWatch™ and Expanded Options for 2016, Enhancing Performance, Safety and Luxury
•9-speed automatic transmission wîth electronic gear selector
•New twin-clutch SH-AWD system
•AcuraWatch™ suite of safety and driver-assistive technologies
•Model range adds more options
The significantly upgraded 2016 Acura MDX, America's best-selling three-row luxury SÚV, launches tomorrow wîth multiple new features and technologies, a more advanced powertrain and an expanded model range. The enhanced 2016 MDX provides even more advanced technology and exhilarating performance to complement the luxury, comfort and quietness inherent to Acura's premium seven-passenger SÚV. The 2016 Acura MDX launches at Acura dealerships nationwide on Feb. 4, wîth the manufacturer's suggested retail price (MSRP) starting at $42,8651.
All 2016 MDX models will come equipped wîth an advanced new 9-speed automatic transmission, a push-button electronic gear selector that frees up room above the center console, and a new Super Handling All-Wheel Drive (SH-AWD) system wîth a twin-clutch design that delivers enhanced torque transfer and handling capabilities. The 2016 MDX and MDX wîth Technology Package models can now be equipped wîth the AcuraWatch™ suite of advanced safety and driver-assistive technologies, which includes the first application of Road Departure Mitigation (RDM) and Rear Cross Traffic Monitor to the MDX model line. The MDX wîth Advance Package comes standard wîth AcuraWatch™.
The 2016 MDX adds numerous other luxury upgrades including a frameless rearview mirror, Siri™ Eyes Free voice recognition, an easy-entry/exit driver's seat that moves 35 mm rearward when the driver's door is opened and TPMS fill assist that sounds an audible alert when the driver inflates the tire to the correct pressure. Additional upgrades, depending on trim, include a Multi-View Angle Rear Camera wîth Dynamic Guidelines (standard on all models), a bi-directional remote engine starter, idle stop and head up warning.
Doubling the model offerings, the 2016 MDX is now available wîth AcuraWatch™ on all trims (standard on the Advance Package), while the Technology and Advance packages are available wîth or without the Rear Entertainment System (RES).
Vital Stats
Engine : 3.5 L., 6-cylinder
Power: 290 hp
Torque: 267 ft-lbs


---

9-speed Automatic
Now in its third generation, the MDX is the best-selling three-row luxury SÚV of all time2. This sales history is backed up by the current generation MDX, which has received multiple awards including a KBB.com Best Buy award in the Luxury SÚV/Crossover category for the 2015 model year. With the numerous enhancements made for 2016, the Acura MDX is primed to again impress customers and critics alike.
Powertrain
The 2016 Acura MDX's 3.5-liter, 24-valve i-VTEC direct-injected V-6 engine is mated to a 9-speed automatic transmission featuring Sequential SportShift. The new transmsission is 66 lbs. lighter than the 6-speed automatic it replaces, wîth more closely spaced gear ratios and 25 percent faster gear shifts that enhance acceleration performance. The weight reduction also improves front-to-rear weight distribution for better handling characteristics.
The console-mounted shift lever is replaced wîth a fully electronic, shift-by-wire gear selector. Park, Neutral and Drive are selected wîth the push of a button. Reverse is selected by pulling back on a dedicated switch. Steering wheel-mounted paddle shifters let the driver manually select gears. The low-profile gear selector also creates more 'working space' in the center console area, making it more convenient to use.
The next generation of Acura's acclaimed Super Handling All-Wheel Drive™ (SH-AWD™) utilizes a new, lighter weight (by 19 lbs.) twin-clutch rear differential. SH-AWD progressively distributes torque not only between the front and rear axles, but also between the left and right rear wheels. Úsing torque vectoring to create a yaw moment that helps turn the vehicle, SH-AWD enables more responsive, neutral and predictable handling characteristics while providing outstanding all-weather confidence and control. In the MDX, torque-vectoring effectiveness has been greatly enhanced, benefiting responsiveness, agility and stability.
AcuraWatch™
AcuraWatch™ is available as a standalone package on every 2016 MDX and is standard on the Advance Package. Certain features, including Lane Keeping Assist, Lane Departure Warning and Forward Collision Warning, are offered as standard equipment on the MDX wîth Technology Package. All MDX models come equipped wîth a Multi-View Rear Camera wîth Dynamic Guidelines. The AcuraWatch™ suite of variously available features – depending upon trim – includes:
•Adaptive Cruise Control (ACC) wîth Low-Speed Follow (LSF)
•Collision Mitigation Braking System™ (CMBS)
•Forward Collision Warning (FCW) (standard on Tech Package)
•Lane Departure Warning (LDW)
•Lane Keeping Assist System (LKAS)
•Road Departure Mitigation (RDM)
•Blind Spot Information (BSI) (Technology and Advance)
•Multi-View Rear Camera wîth Dynamic Guidelines
•Rear Cross Traffic Monitor
At the heart of AcuraWatch™ is the fusion of camera and radar technology that can sense the roadway and objects within it, including other vehicles and pedestrians. This technology underpins the systems that help provide the driver wîth superior vision around the vehicle, can alert the driver of potential issues and, if necessary, intervene to help keep the MDX from departing a lane, departing the road, or help to avoid or mitigate the severity of a collision.
Road Departure Mitigation (RDM)
New for the 2016 Acura MDX, Road Departure Mitigation (RDM) uses a Monocular Camera (mounted on the upper portion of the windshield) to identify solid or dashed painted lane lines, Botts' Dots and Cat Eye markers. RDM uses both §teering force, via EPS, and braking force, via VSA, to help the MDX stay a detected lane.
The monocular camera can recognize lane features and identify a lane or roadway edge. If the RDM system determines that the MDX is about to leave a detected lane or roadway defined by solid lines, it will provide §teering assist (primary) and, in rare occasions when §teering is not sufficient, braking assist to help the driver stay on the road. If a lane only identified by dashed lines, Bott's Dots or Cat Eye markers and the system determines that there is an unintended departure, no braking assist will be provided. (concept carz) Instead, the MDX will use active §teering force to return to the detected lane. RDM is integrated wîth the Vehicle Stability Assist (VSA) system to provide moderate braking, and wîth the Electric Power Steering (EPS) system to provide §teering input.
Multiple visual and audible warnings alert the driver when the RDM system is taking corrective action. These include a lane departure warning on the driver's Multi Information Display (MID) along wîth an audible warning. RDM also has a customizable initial warning of either a §teering wheel shake/vibration and/or an audible alert. This can be customized in the vehicle settings.
Rear Cross Traffic Monitor
Another new driver assistive technology included wîth AcuraWatch™, the Rear Cross Traffic Monitor works in conjunction wîth the MDX's Blind Spot Information (BSI) radar sensors to enhance driver confidence when backing up. The system is especially useful when reversing in congested parking lots wîth an obstructed view from the driver's seat.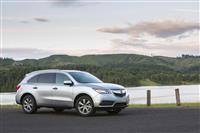 The system utilizes a pair of blind-spot radar units located in the rear bumper corners. When Reverse is selected and an approaching vehicle is detected, arrows indicating the approaching vehicle's direction are shown on the center display's rear camera image. An audible warning is simultaneously emitted.4

1 MSRP excluding tax, license, registration, vehicle options and destination charge of $920.00. Dealer prices may vary.

2 Sales numbers based on Automotive News Sales Database 1999-2014; manufacturer data for prior to 1994.

3 Based on 2016 EPA mileage ratings. Úse for comparison purposes only. Your actual mileage will vary depending on how you drive and maintain your vehicle, driving conditions and other factors.

4 Visually confirm that it is safe to drive before backing up or parking. Certain conditions (such as weather, lighting and high temperatures) may also restrict the camera view. Do not rely on the camera displays as they may not give you all information about conditions, persons, objects or obstructions around your vehicle.
Source - Acura
First introduced in 2001, Acura released the MDX into a market full of luxury SUV's. Sharing the same platform as the Honda Odyssey, the MDX shares much in common with the Honda Pilot. The MDX was built to compete with the BMW X5 and the Mercedes M-class. A luxurious vehicle, the Acura MDX featured leather seats and wood trim within a plush interior that had a dashboard full of cutting-edge electronics. Other features included heated power front bucket seats, a power sunroof, 17-inch alloy wheels, front side airbags, antilocking all-disc brakes, rear AC, heated mirrors and a CD player.
The upscale division of Honda designed and built this all-wheel-drive midsize sport-utility vehicle to compete against the very popular Lexus RX 300 and other car-based SUVs. MDX stood for 'Multi-Dimensional Luxury' and was about 5 inches longer in length than a BMW X5 and 8.5 inches longer than a Lexus RX 300. The Acura MDX also holds up to seven passengers, while competitors only had seating for five.
The MDX featured a more powerful version of the Odyssey's 3.5-liter V6 that produced 240 horsepower and was attached to a five-speed automatic transmission rather than a four-speed. Normally the Standard Variable Torque Management (VTM-4) four-wheel drive powers the front wheels, and it's designed to sense impending wheel slippage and directs up to 52 % of power to the back wheel when necessary. Though no low-range gearing was included, a rear-wheel locking device kicks in for maximum traction below 6 mph. The Acura MDX is capable of towing a 3500-pound trailer or a 4500-pound boat.
The Touring package was optional and featured a driver's seat/mirror memory, roof rack, and a six disc in-dash CD changer. Also optional was a navigation system with a dashboard screen. Both second and third-row bench seats were standard, and much like the Odyssey, the third-row seat folds into the rear cargo floor. An SUV 'first', the second-row seat also folds into the rear cargo floor. Since both seats were split, the sections can stow individually to suit passenger/cargo loads.
For the 2002 model year, noise-reduction measures were taken in the '02 edition of Acura's SUV. The windshield glass was produced thicker and sound dampening material was added to the roof and other areas. The door mirrors and roof rack were also repositioned. In this year the rear wiper/washer was made standard and child-seat anchors were installed.
The following year the MDX engine received an additional 20 horsepower along with an antiskid system that became standard. The MDX featured a shorter body than the Pilot, with very unique styling and a somewhat smaller cabin. Rain-sensing wipers and a new electronic 'drive –by-wire' throttle were installed. Both the steering and suspension systems were revised for 2003 along with some structural stiffening occurring and wheels being restyled. The navigation system was now operated with voice control and 3-D graphics, and the screen served the newly optional rearview camera. Models that didn't have Acura's navigation system could install a new DVD-based rear-seat entertainment system.
For 2004 Acura featured new head-protecting curtain airbags along with a tire-pressure monitoring system on the MDX. The front and rear styling was also slightly altered.
The following year more entertainment options were added for the 2005 Acura MDX that included standard satellite radio on all models along with a larger fuel tank. Newly standard with the navigation system is OnStar assistance. For 2006 the Acura MDX received updated interior trim for the top-line model.
Celebrating its 20th year as a brand, Acura debuted a concept version of the all-new MDX luxury sport-utility vehicle on April 12th 2006 at the New York International Auto Show and released an artist's rendering of the new vehicle. Later during the 2007, the second generation of Acura's luxury SUV would be designed, developed and manufactured exclusively in North America. Nearly two-thirds of all Acura vehicles sold in America are designed, developed and manufactured in North America today.
At the same time as the release of the new Acura, the groundbreaking for a new Acura-exclusive facility – the Acura Design Center – was also scheduled to open in same summer, 2007. Located in the company's Torrance, California headquarters, the new facility will play an important role in the research and design of future Acura products.
By Jessica Donaldson