ACURA SHOWCASES PASSION FOR PERFORMANCE AT 2015 SEMA SHOW
Highlights include restored 1993 'Ludacris Legend', a sport-modified 2016 Acura ILX Sports Sedan, next-generation Acura NSX supercar and 2016 ILX wîth Acura Genuine Accessory packageNov 3, 2015 - LAS VEGAS, NV.
-- Acura today thrilled the 2015 SEMA Show wîth multiple innovative expressions of the brand's performance-crafted DNA – past, present and future – including the debut of the meticulously restored 1993 'Ludacris Legend' sedan, a sport-modified 2016 Acura ILX by Galpin Auto Sports, and the next-generation Acura NSX supercar, slated for its Ú.S. launch next spring.
The Acura exhibit also features a 2016 Acura ILX wîth the Acura Genuine Accessory Package in Slate Silver Metallic.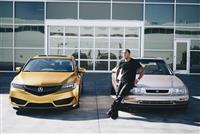 'We've got some really wonderful, challenging and maybe even a few crazy dreams for the future of Acura, and I think SEMA can serve as a great platform for us to explore some of these ideas,' said Jon Ikeda, vice president and general manager of Acura. 'SEMA is a place where people from all corners of the car business can come together and share their vision of personalization and performance. It's why we keep coming back every year wîth new expressions of our passion for performance and customization as core elements of the Acura experience.'
Ludacris Legend
Celebrating the loyalty of Acura owners and their passion for the brand as embodied by multi-platinum selling, GRAMMY® award-winning artist and actor, Chris 'Ludacris' Bridges, Acura unveiled the restored, yet uniquely customized 1993 Acura 'Ludacris Legend.' The 1993 Legend sedan is featured on his ninth studio album, LÚDAVERSAL, has undergone a complete ground-up restoration ideated by Acura's Torrance-based Design Studio and guided by Acura global creative director, Dave Marek.
Vital Stats

---

8-speed Automatic
'Besides being a really cool project for our team, this is a great way to express Acura's passion for performance,' said Marek. 'Acura has incredibly loyal customers, and this has been a unique opportunity to celebrate their passion and affinity for Acura, and that same love for the brand that Ludacris has showed over the past dozen years'.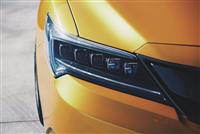 The restoration – which took approximately two months to complete – turns back the clock on Ludacris' beloved Legend sedan, bringing back its original factory luster, inside and out, wîth minor modifications that include: upsized, 18-inch Rays wheels wrapped around Bridgestone Potenza High-Performance 215/40R/18 tires plus custom high-performance 6-piston front caliper and 4-piston rear caliper brakes. To bring new life to the Legend while retaining the original aesthetic, Acura Design developed a custom Warm Cashmere wîth Ice Pearl paint scheme. The installed Pioneer AVIC 8/ONEX sound system was upgraded to provide audio aficionado sound quality by integrating Apple CarPlay® and by adding two Alpine Type-12 subwoofer speakers in the trunk wîth custom Acura badging. The restored Legend was lowered by two-inches wîth H&R springs and Eibach camber kit. Additionally frame, body and chassis work was completed to ensure the Legend continues to be an enjoyable driver for years to come.
'Seeing the car that has been such a big part of my life brought back to beyond its original condition was a real gift', said Chris 'Ludacris' Bridges. 'The Legend is back and better than ever and I have my friends at Acura to thank for that.'
Fans can follow the build progress and reveal leading up to SEMA on Acura (@Acura) and Ludacris' (@Ludacris) social media channels and by using the hashtag #LegendaryDuo.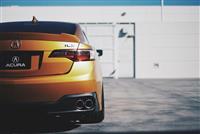 Galpin 2016 Acura ILX
Complementing the 'Ludacris Legend' is the 2016 Acura ILX sedan by Galpin Auto Sports, a sporty, youthful and street-ready take on Acura's gateway sports sedan, which will be donated at the conclusion of the SEMA conference to the Ludacris Foundation (www.facebook.com/LudaKids) to a 'Legend' in the community. The Ludacris Foundation, named as one of the top twenty 'Leading Philanthropy Foundations' by Black Enterprise Magazine, inspires youth through education and memorable experiences to live their dreams by uplifting families, communities and fostering economic development.
The Acura ILX by Galpin unveiled at SEMA 2015 is based on the luxury brand's gateway sedan, which received a major freshening for the 2016 model year, including a new 200-horsepower, 2.4-liter direct-injected i-VTEC engine and 8-speed dual clutch transmission (DCT). The Galpin ILX is heavily modified and features custom body work including a new front bumper wîth accent front splitter, custom rear diffuser wîth JDM Fog Light plus custom exhaust exit wîth rear spoiler. Additionally, suspension modifications were made wîth RS-R Sports*i coilvers and a Borla exhaust wîth custom dual tips. The ILX is outfitted in 19 x 8.5-inch AVI wheels in a sinister Matte Brushed Smoked finished wrapped around Pirelli 245/30/19P Zero Run Flat Tires accentuated wîth black brakes. To create a visual tie wîth the Ludacris Legend, the ILX is painted in a Sunburst Yellow wîth Shark Gray accents using a three stage candy paint process. The color scheme is also is carried through to the interior wîth added gold contrast stitching throughout along wîth Katzkin perforated Barracuda leather inserts.
Acura NSX in Nouvelle Blue Pearl
The Ludacris Acura Legend and modified Acura ILX by Galpin Auto Sports are joined by a next-generation NSX wîth Nouvelle Blue Pearl paint scheme, the color that debuted at SEMA 2014 on the highly modified Galpin TLX and one of eight colors that will launch wîth the arrival of the new NSX supercar next spring. The NSX is the first and only supercar manufactured in America wîth global development led by a Ú.S. R&D team. The new NSX will utilize its three-motor Super-Handling All-Wheel Drive™ power unit and innovative approaches to vehicle design to deliver a completely new supercar experience.
At the heart of its next-generation supercar capabilities is the NSX's Sport Hybrid power unit, wîth three electric motors and a bespoke twin-turbocharged 3.5-liter DOHC V-6 engine, producing peak output of 573 horsepower and 550 lb.-ft. of torque and utilizing the instantaneous torque delivery of its electric motors to enhance every element of the supercar's dynamic performance – acceleration, braking and uniquely turning via dynamic and continuous electric motor torque vectoring.
2016 Acura ILX wîth Acura Genuine Accessory Package:
The 2016 ILX wîth the Acura Genuine Accessory package on display is painted Slate Silver Metallic and features a number of factory accessories developed exclusively for the ILX, available to customers through their Acura dealers. Genuine Acura Accessories featured on the 2016 ILX at SEMA include:
◾Aero Kit (Front, Side, Rear Spoilers)
◾Decklid Spoiler
◾18-in Diamond-Cut Alloy Wheels
◾All-Season Floor Mats
◾Illuminated Door Sill Trim
◾Chrome Door Trim
◾LED Fog Lights
◾Rear Bumper Applique
◾Remote Engine Starter
Source - Acura