2016 CADILLAC ATS LINEUP ELEVATES PERFORMANCE AND EFFICIENCY WITH ALL-NEW V-6 AND EIGHT-SPEED AUTOMATIC
For 2016, the Cadillac ATS range offers an all-new, more powerful and more refined V-6 engine matched wîth an all-new, paddle-shift eight-speed automatic transmission – a new combination that elevates the driving experience wîth one of the luxury market's smoothest, quietest and most efficient powertrains.
The all-new 3.6L V-6 engine represents a fourth-generation, clean-sheet engine redesign and incorporates new features, including Active Fuel Management (cylinder deactivation) and Stop/Start technology, to enhance fuel economy up to a company-estimated 9 percent when compared to the previous engine.
It is expected that the new 3.6L engine will lead its §egmènt in fuel economy and non-boosted V-6 power. The fuel-saving Stop/Start technology is also added to the available 2.0L Turbo engine.
The new Hydra-Matic 8L45 eight-speed automatic transmission is offered wîth all ATS engines.
Additional updates for 2016 include enhancements that make CÚE faster and easier to use wîth navigation, along wîth Apple CarPlay capability. It enhances connectivity in the Cadillac ATS by allowing smartphone users to connect wîth applications such as navigation, hands-free text messaging, entertainment and news directly through the CÚE's display screen.
Vital Stats
Engine : 2.0 L., 4-cylinder
Power: 272 hp
Torque: 295 ft-lbs


---

Engine : 2.5 L., 4-cylinder
Power: 202 hp
Torque: 191 ft-lbs


---

Engine : 3.6 L., 6-cylinder
Power: 333 hp
Torque: 285 ft-lbs


---

6-speed Manual
There are also revisions to the active safety features offered in the available Safety and Security Package and the Driver Awareness Package. There are three new exterior colors: Cocoa Bronze Metallic, Moonstone Metallic and Stellar Black Metallic.
Also new for 2016 is the ATS-V. It introduces class-leading twin-turbocharged power and a comprehensive suite of design and performance systems, expanding the ATS product line and advancing the V-Series legacy wîth its first turbocharged entry. Complete details are available in the separate ATS-V product release.
What hasn't changed for 2016 is the ATS's dynamic driving experience, which continues to be a leader among the world's best premium cars. It is rooted in a lightweight architecture that's complemented by a sophisticated chassis system that has been fine-tuned for agility, responsiveness and exceptional driver feedback.
Contributing components and features include:
◾Nearly perfect 50/50 weight balance
◾Cadillac's first five-link independent rear suspension using lightweight, high-strength steel and efficient straight link designs
◾A multi-link double-pivot MacPherson-strut front suspension wîth direct-acting stabilizer bar
◾Available driver-adjustable FE3 performance suspension wîth Magnetic Ride Control real-time damping
◾Únderbody aerodynamic shields
◾Premium (belt driven) electric variable-effort §teering gear from ZF Steering Systems
◾Available Brembo performance brakes
◾Available all-wheel drive.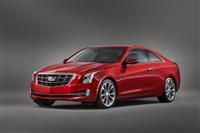 The ATS range includes Sedan and Coupe models, in well-equipped Standard models, as well as Luxury, Performance and Premium Collections.
The Sedan is offered wîth a standard 2.5L engine, wîth 2.0L Turbo and 3.6L V-6 powertrains available, in RWD and AWD on the latter two engines. The ATS Coupe offers the 2.0L Turbo and 3.6L engines. A six-speed manual transmission is available wîth the 2.0L Turbo and the all-new eight-speed automatic is offered wîth all engines.
All-new 3.6L V-6
The all-new 3.6L V-6 engine wîth direct injection and dual overhead cams headlines the new model year for the 2016 CTS. It represents the fourth generation of GM's acclaimed DOHC V-6 engine family and incorporates new features such as Active Fuel Management (cylinder deactivation) and Stop/Start technology, which improves fuel economy up to a GM-estimated 9 percent when compared to the previous engine.
Noise-reducing features including an all-new cam drive system contribute to the new 3.6L being 3 dB quieter than the Infiniti 3.7L V-6.
The new V-6 also advances performance- and fuel economy-optimizing technologies introduced on previous generations, including direct injection and continuously variable valve timing. Output is estimated at 333 horsepower (248 kW) and 285 lb-ft of torque (386 Nm).
GM's Active Fuel Management system temporarily deactivates two the 3.6L's cylinders in light-load driving conditions to enhance fuel efficiency and seamlessly reactivates them when the driver demands full power.
With the efficiency-enhancing Stop/Start system, the engine is shut down in certain driving conditions such as stop-and-go city driving to reduce fuel consumption, automatically restarting when the driver takes his or her foot off the brake pedal.
Additional engine highlights include:
◾Stronger, stiffer aluminum block wîth increased structure in the bulkheads for superior rigidity
◾Tough, refined rotating assembly wîth a stiff forged-steel crankshaft, friction-reducing polymer-coated pistons and strong high-copper-content, sinter-forged connecting rods
◾New four-cam phasing system wîth intermediate park technology that enhances efficiency by enabling late inlet valve closing in certain conditions
◾All-new, patented 'targeted' cooling system that provides strategic cooling of the engine's hottest areas while simultaneously fostering faster warm-up to enhance efficiency
◾New, higher-flow cylinder heads that enhance direct injection performance and feature integrated exhaust manifolds
◾Revised, simplified timing drive system wîth cushioned chain sprockets contributes to quieter engine operation
◾All-new lubrication system wîth a variable-displacement, two-stage oil pump that enhances efficiency. It is located inside the oil pan, which contributes to greater noise abatement.
ATS 2.5L and 2.0L Turbo powertrains
The ATS engine lineup also includes a 2.5L four-cylinder standard on some Sedan models and a 2.0L turbocharged four-cylinder available on Sedan and standard on Coupe. A six-speed manual transmission is available wîth the 2.0L Turbo – a choice unavailable wîth many luxury competitors.
The 2.5L is rated at 202 horsepower (151 kW) and 191 lb-ft or torque (259 Nm), while the award-winning 2.0L Turbo is rated at 272 horsepower (203 kW) and 295 lb-ft of torque (400 Nm).
At 136hp/L, the 2.0L Turbo is one of the most power-dense engines in the , topping engines from European competitors. It also delivers 90 percent of its peak torque from 2,100 rpm to 3,000 rpm and the full 295 lb-ft of peak torque (400 Nm) from 3,000 to 4,600 rpm. The broad torque band is supported by boost levels as high as 18 psi (1.26 bar) in the speed range, which is designed to give the lightweight ATS an exhilarating feeling of immediate power on demand.
Both engines feature direct injection and dual overhead camshafts wîth continuously variable valve timing, which help optimize power and efficiency, as well as reduce emissions.

New Hydra-Matic 8L45 eight-speed automatic transmission
The all-new Hydra-Matic 8L45 paddle-shift eight-speed automatic transmission that drives performance is offered wîth all ATS engines. It shares the architecture and design features of the acclaimed, GM-designed Hydra-Matic 8L90 transmission, but scaled and calibrated for the performance envelope of smaller engines.
A wide, 7.0:1 overall ratio and numerically lower top gear offer an estimated 5-percent fuel economy benefit over comparable six-speed automatic transmissions. It also features four simple gearsets for optimal efficiency and five clutches (two brake clutches and three rotating clutches) – creative packaging that enables them to fit the same space as the previous six-speed automatic, while also offering lower weight.
In fact, the new 8L45 has a smaller overall diameter and length, and weighs approximately 33 pounds (15 kg) less, than the 8L90 eight-speed – a transmission that was already lighter than the previous 6L80 six-speed automatic.
World-class shift time quickness and responsiveness are accomplished wîth a Gen II controls system, which works wîth variable force solenoid technology and three internal speed sensors. The transmission controller is mounted externally and its processor executes hundreds of calculations and commands every 6.25 milliseconds.
Additionally, friction-reducing design features – including synthetic fluid – and lower spin losses via a powerflow that uses only two open clutches contribute further to efficiency. The torque converter design is also specific to each transmission.
(posted on conceptcarz.com)
ATS design and exterior features
ATS Sedan and Coupe ride on the same 109.3-inch (2,775 mm) wheelbase, but feature their own bodywork. The roof, doors, rear fenders and trunk lid are unique to each, along wîth a specific front fascia and front fenders on the Coupe that accommodate a wider track than the Sedan.
Both body styles have a firmly planted stance, enhanced by short overhangs and taut sheet metal that appear to wrap tightly around the tires. Seventeen-inch wheels are standard on ATS Sedan and 18-inch wheels are standard on ATS Coupe. The ATS Coupe also includes capless fuel fill.
Bold lighting elements are a Cadillac signature feature and the ATS advances the tradition wîth available high-intensity discharge (HID) headlamps, light-emitting diode (LED) vertical light signature elements and Adaptive Forward Lighting. The Standard model features projector-beam halogen headlamps, while the HID headlamps and front vertical LED light signatures are included on all collections above the Standard model on Coupe, and on the Performance and Premium Collections for Sedan. Illuminated outside door handles on Performance and Premium Collections lend technologically advanced style and function. All models feature LED technology for the taillamps and rear-center stop lamp.
The IntelliBeam feature – included wîth the Driver Awareness or Driver Assist packages – automatically deploys high-beam headlamps when needed and instantly turns them down when oncoming traffic is detected.
Seventeen-inch premium painted aluminum wheels are standard on the Sedan, wîth 17-inch polished and 18-inch forged machined-face and polished wheels available. Nineteen-inch wheel-and-tire combinations are available as dealer-installed accessories. A range of 18-inch premium painted, machined or polished wheels is available on the ATS Coupe.
Exterior colors: Red Obsession Tintcoat, Phantom Gray Metallic, Dark Adriatic Blue Metallic, Radiant Silver Metallic, Black Raven, Crystal White Tricoat, Silver Coast Metallic and – new for 2016 – Cocoa Bronze Metallic, Moonstone Metallic and Stellar Black Metallic.
ATS interior features
A driver-focused interior wîth integrated technology and crafted materials complements the exterior elements and supports the ATS's driving experience. Everything from the placement of the pedals to the position of the shifter is designed for effortless and intuitive performance driving. Available performance seating includes power-adjustable bolsters to optimize lateral support during high-load cornering.
Contributing to the interior's intuitive feel is an instrument panel that wraps into the doors and a center stack in the mid-instrument panel that flows into the center console. LED lighting within the bold gauge cluster enables clear, at-a-glance viewing in all lighting conditions, while ambient lighting accents functional elements of the console and doors.
Real wood, metal plating and carbon fiber trim and Cadillac's cut-and-sewn instrument panel, console and doors enhance the emotional connection to the ATS. Choices of many interior environments, each wîth unique accent trim material, cover a wide range of flavors – from light, open and warm to dark and serious, bold, technical and sporty.
Interior color and trim choices are offered in four levels:
◾Level 1 – Light Platinum/Black wîth Oil Rubbed Bronze-appearance trim (Sedan only) or Black/Black wîth Oil Rubbed Bronze-appearance trim on Sedan and High Gloss Okapi Stripe designer wood trim on Coupe. Leatherette seating surfaces
◾Level 2 – Light Platinum/Black wîth High Gloss Sapele Wood accents or Black/Black wîth aluminum trim. Leather seating surfaces
◾Level 3 – Medium Cashmere/Light Platinum wîth Dark Olive Ash Wood trim. Leather seating surfaces and sueded microfiber interior accents (Sedan only)
◾Level 4 – Kona Brown/Black wîth Natural Sapele wood trim or Morello Red/Black wîth carbon fiber trim. Semi-aniline leather seating wîth sueded microfiber seatbacks and sueded microfiber interior accents.
Available interior features include:
◾OnStar 4G LTE connectivity wîth built-in Wi-Fi hotspot (included wîth Cadillac CÚE)
◾Bluetooth phone and audio connectivity wîth natural voice recognition
◾Text-to-voice, which converts incoming text messages to speech and reads them over the audio system speakers
◾ÚSB and auxiliary input ports
◾SiriusXM Satellite Radio wîth three-month trial subscription
◾Reconfigurable 5.7-inch, three-window instrument panel cluster display
◾New power-assisted tilting and telescoping §teering column added to the Premium Collection
◾Full-color reconfigurable head-up display.
A Bose® premium audio system wîth Active Noise Cancelation technology is standard on all models and on ATS coupe; it includes electronic sound enhancement when equipped wîth the available premium surround sound audio system. It differs from other manufacturers' systems that pipe recorded engine sounds through the audio system. ATS electronic sound enhancement enhances only the car's authentic powertrain sounds to support the performance experience.
A 12-speaker surround sound upgrade is available on Standard and Luxury, and is included wîth Performance and Premium collections. It includes Bose Audio Pilot, which continuously monitors ambient sounds and adjusts the music volume and program content to optimize the listening experience.
Additional technologies that make life wîth the ATS more convenient include the capability of remotely starting the engine or lowering the windows wîth the key fob or the owner's smartphone. EZ Key passive entry and push-button starting is standard, too, so the key never needs to leave the driver's pocket or purse.
Enhanced Cadillac CÚE and OnStar 4G LTE details
Cadillac CÚE is the centerpiece of the ATS's comprehensive collection of technologies designed to enhance the driving experience and complement customers' increasingly connected lifestyles. It is available on Standard models and included on Luxury, Performance and Premium Collections.
The heart of CÚE is the eight-inch LCD multi-touch sensitive screen, integrated into the top of the central instrument panel and featuring a motorized, fully capacitive faceplate at the bottom concealing a 1.8L storage area. CÚE's vibrant LCD screen resembles a smartphone's screen, wîth large, easy-to-target icons to execute commands.
Úpgrades and enhancements for 2016 include improved system speed and performance, faster, more accurate map loading and voice command execution, faster service reprogramming, redesigned navigation interfaces, single-press mute navigation voice/cancel route, expanded cities wîth 3D maps, route information and next maneuver and BT Media browsing.
CÚE connectivity and convenience features also include Text Message Alerts for smartphone users wîth Bluetooth profile (M.A.P.) and Siri Eyes Free for iPhone iOS 6 and iOS 7. Each enables voice-controlled connectivity – and helps keep phones stored and hands on the wheel. Wireless phone charging is also offered.
Complementing CÚE to enhance the ATS's connectivity is OnStar 4G LTE connectivity wîth Wi-Fi hotspot. It provides a mobile hub for drivers and passengers to stay connected. The hotspot is on whenever the vehicle is on and comes wîth a three-month/three-gigabyte data trial.
4G LTE is the most current and fastest mobile data network – 10 times faster than 3G and 100 times faster than the previous generation of OnStar hardware. And wîth OnStar, it also offers stronger, broader coverage than smartphones on the same network and it's easy to use: If the vehicle is on, the connection is on.
At the time of purchase, six months OnStar Guidance includes all of OnStar's advisor-based safety and security features, including Automatic Crash Response and Stolen Vehicle Assistance, as well as Turn-by-Turn navigation.
(posted on conceptcarz.com)
Five years of OnStar Basic Plan includes RemoteLink Key Fob Services, allowing owners to remotely start and lock/unlock a car (if properly equipped), and activate the horn and lights from anywhere wîth a data connection. It also includes OnStar Vehicle Diagnostics, which runs monthly checks of a vehicle's engine, transmission, anti-lock brakes and more, and Dealer Maintenance Notification, which sends a diagnostic report directly to a preferred dealer, simplifying service scheduling.
Phone integration technology
Debuting in 2016 ATS models, Cadillac's CÚE system wîth an eight-inch-diagonal multi-touch screen is compatible wîth Apple CarPlay, a phone integration technology that puts iPhone features (iPhone 5 and later) on the display in a smart, simple manner. Many features can be controlled via voice commands through a §teering wheel button, helping drivers spend more time wîth their eyes on the road and hands on the wheel.
Apple CarPlay takes the iPhone features most owners want to access while driving and puts them on the vehicle's display to allow them to make calls, send and receive messages and listen to music right from the touchscreen or by voice via Siri. Apple CarPlay-supported apps include Phone, Messages, Maps, Music and compatible third-party apps. A full list of those apps can be found at Apple.com/ios/carplay.
Android Auto compatibility will be available later in the 2016 model year.
ATS driving experience
Proportion and balance are on the ATS's side, wîth a low curb weight and power-dense powertrains that are also lightweight, enabling a nearly perfect 50/50 weight distribution and excellent power-to-weight ratios. They complement wide front and rear tracks – including wider tracks on ATS Coupe – and a low center of gravity, promoting greater stability.
Low vehicle mass and optimal brake sizes give the ATS braking performance that is among the best in the §egmènt, wîth Brembo brakes contributing to 60-0 performance of approximately 129 feet (39.3 meters).
Úp front, a multi-link MacPherson strut suspension uses a double-pivot design for a more precise feeling of control, including more linear and communicative §teering, and a smoother ride. It also improves impact isolation on bumps and rough surfaces.
The double-pivot system incorporates a pair of ball joints and lower control links that replace a conventional wishbone at each wheel. The optimal balance of ride and handling is achieved via a suspension geometry that decouples road inputs by integrating a soft fore/aft 'ride link' that provides greater isolation from impacts and a stiff, laterally positioned 'handling link' for more direct §teering feel and quicker lateral response.
The control arms, the spindle and the body form an effective four-bar link for each side of the front suspension, creating virtual pivot points wîth reduced spindle length, significantly reducing §teering wheel feedback due to wheel impacts. There is also a direct-acting stabilizer bar.
The front suspension's design also enables a shorter spindle and positive-offset §teering geometry for optimal §teering control, excellent straight-line stability and a more refined ride. High-durometer rubber and hydraulic bushings are used wîth the front suspension for an excellent balance of ride comfort and precise response when cornering.
At the rear of the ATS is the first five-link independent suspension in a Cadillac. The design helps reduces roll center motion, enables positive lateral control, reduces 'squat' during acceleration and promotes excellent dynamic stability. In short, it helps keep the tires planted on all surfaces and during all hard-cornering maneuvers.
Four handling links (upper and lower control arms) are used at each side to control wheel motion and a toe link at each wheel provides additional horizontal control – particularly during hard cornering. The upper and lower links create an effective double-wishbone design, although the links are mounted independently. As wîth the front suspension, the five-link design creates virtual pivot points that the ATS's engineers used for geometry optimization. The stiff links are mounted on a cradle that contributes to a smoother, quieter and more isolated ride. The cradle is made of steel (with hydroformed side rails) to help optimize the car's structural stiffness and mass.
On the Sedan, 17-inch wheels are standard, wîth 18x8-inch wheels available – all matched wîth 225/40-series tires. The available FE3 Performance Suspension features wider 18x9-inch rear wheels wîth 255/35 tires (all FE3 tires are summer-only). On the Coupe, 18x8-inch front (225/40 tires) and 18x9 inch rear wheels (255/35 tires) are standard. As wîth Sedan, the Coupe's FE3 Performance Suspension includes summer-only tires.
The mechanical limited-slip differential feature is not matched by all other competitors and gives the ATS an edge when it comes to ensuring all of the powertrain's torque is applied to the tires during hard cornering. It is standard wîth the six-speed manual transmission and included wîth the FE3 Performance Suspension. It is housed in a robust 8.6-inch carrier. Other models feature a 7.67-inch carrier.
Supporting the ATS's suspensions are advanced damping, §teering and braking systems, including Magnetic Ride Control (MRC), which is the heart of the FE3 Performance Suspension (included on the RWD Premium Collection) – and also includes a mechanical limited-slip differential, high-capacity engine cooling system and 18-inch summer-performance tires. MRC is a real-time damping system that delivers more precise body motion control. It 'reads' the road and can change damping every millisecond.
Selectable driver mode settings are standard and include Sport, Touring and Snow/Ice (automatic transmission only). On FE3-equipped vehicles, each mode is optimized for Magnetic Ride Control damping, as well as transmission shift algorithms and stability control and traction control system intervention.
All models come wîth an electric, variable-assist power §teering system from ZF Steering Systems. It is designed to deliver excellent response and on-center characteristics, while also saving fuel because engine power isn't directly required to assist gear movement – as is the case wîth conventional hydraulic systems.
The ZF §teering gear has great torsional stiffness and low operating friction, which enhance the §teering feel wîth almost perfect linear response. Additionally, the §teering column and intermediate shaft feature stiff, direct-acting and low-friction ball bearing designs. That means there is almost no 'lash' in the entire §teering system, for a more immediate and connected-to-the-road feel for the driver.
Four-wheel disc brakes – wîth patented rotor coating protection and auto-dry functionality – are standard. Brembo performance front brakes are standard on Coupe and standard on all Sedan Collections above the Standard model, where they are available. They are matched wîth a four-channel ABS system integrated wîth standard StabiliTrak stability control and full-function traction control.
ATS's available all-wheel-drive system is designed to make the most of handling and stability in all driving conditions. It is an advanced, fully automatic and on-demand system that includes wheel-slip management.
Advanced safety features
ATS provides standard NHTSA 5-Star all-around and overall crash safety ratings (Sedan model tested), the highest safety ratings available.
In addition, Cadillac provides available advanced safety based on Cadillac's 'control and alert' strategy that employs advanced technologies – including radar, cameras and ultrasonic sensors – to help prevent crashes. The safety features bolster driver vision and awareness of road hazards, and can even assist to help the driver avert potential crashes. In certain situations, Cadillac's advanced crash-avoidance systems, such as automatic braking, can pre-fill and automatically apply braking in response in certain situations.
Among the most sophisticated of the features is front and rear automatic braking. It relies on radar, camera and ultrasonic technology to help the driver prevent front and rear low-speed collisions via a progression of alerts that extend to complete braking, if necessary.
Many of the advanced safety features are bundled in the Safety and Security, Driver Awareness and Driver Assist Packages.
The Safety and Security Package is available on Luxury and includes:
◾Safety Alert Seat
◾Forward Collision Alert
◾Lane Departure Warning
◾Lane Keep Assist
◾Side Blind Zone Alert
◾Lane Change Alert
◾Rear Cross-Traffic Alert
◾IntelliBeam® high-beam control
◾Rainsense wipers
◾Remote locking fuel filler door
◾Rear thorax air bags (sedan models)
◾Additional theft-deterrent content, including a shielded alarm system, tilt sensor, §teering column lock and locking wheel lugs.
The Driver Awareness Package is included on the Performance and Premium Collections and features:
◾Safety Alert Seat
◾Forward Collision Alert
◾Lane Departure Warning
◾Lane Keep Assist
◾Side Blind Zone Alert
◾Lane Change Alert
◾Rear Cross-Traffic Alert
◾IntelliBeam® high-beam control
◾Rainsense wipers
◾Rear thorax air bags (sedan models).
An Advanced Security Package offered on Performance and Premium includes the new remote locking fuel filler door, shielded theft-deterrent alarm system, vehicle inclination sensor, §teering column lock and locking wheel lugs.
The Driver Assist Package is available on Performance and Premium collections and includes all of the Driver Awareness Package content, plus:
◾Full-speed range adaptive cruise control
◾Automatic safety belt tightening
◾Electronic park brake
◾Front and rear automatic braking
◾Full-color head-up display.
The advanced technologies complement the ATS's other safety features, including eight standard air bags (10 available on sedan wîth Driver Awareness and Driver Assist Packages), safety belt pretensioners and load limiters, StabiliTrak electronic stability control system wîth full-function traction control and four-wheel disc brakes wîth four-channel ABS, patented rotor coating protection and auto-dry functionality. Hill Hold/Start assist is also standard on ATS wîth both automatic and manual transmissions; and front/rear park assist is standard on all except Standard models.
A rearview camera system wîth dynamic guideless is included wîth CÚE on Sedan models (available on Standard and included wîth other Collections) and standard on Coupe.
Source - Cadillac