Those who prefer to blaze a trail of their own don't need to follow the lead of others. We're thinking specifically about cars known as compact SÚVs, characterised by five doors, five seats, all-wheel drive – and, of course, a higher sitting position. But aren't they lacking a certain something?
Something that adds a little life, lets us enjoy a more intimate relationship wîth the road and delivers intense driving pleasure. A concept that boasts plenty of space for hobbies, leisure and sport. But no room for compromise. Compact, concentrated and intense, but still powerful. Practical but never ordinary.
It is by these standards that we created the new Macan, and saw it emerge wîth three distinct guises. Each one a sports car. Each one unmistakable in its own §egmènt. Each one a genuine Porsche – from design and driving dynamics to equipment specification. From the ultra sporty S variant to the Turbo – which sets new performance standards in its vehicle class.
All Macan models were developed, tested and built in keeping wîth the Porsche philosophy. That's where we take sporty style and performance from the racetrack and inject it into everyday driving. We make it as efficient as possible – and, of course, just as safe and comfortable. No efforts were spared until our engineers achieved their overriding development objective: the first sports car among compact SÚVs.
The new Macan – built for an intensive life in which the thirst for experience and thrills and spills are ever-present, and in which new challenges are a permanent driving force. Built for a life that refuses to be hemmed in by conventions and feels all the more authentic for it. Direct and intimate.
A sports car that gives us what we're lòòking for, even in our everyday life: that feeling of being alive.
The new Porsche Macan. Life, intensified.
Macan Principle
Let's begin at the heart. All engines are characterized not only by their impressive performance and high efficiency but, above all, by the typical resonance of their sound. The power of the new Macan models is transmitted to the road by active all wheel drive. This system sets standards for driving dynamics and stability. Staggered tires are fitted as standard – as seen on the 911 – to deliver even greater traction and agility.
Fitted as standard, 7-speed Porsche Doppelkupplung (PDK) lets you experience motorsport-style gear changes, which take place in milliseconds and wîth no interruption in the flow of power. The system also features a coasting mode, which reduces fuel consumption and emissions where the driving situation allows. To this end, the Auto Start Stop function, intelligent thermal management and many more efficiency-enhancing measures make a decisive contribution.
The steel spring suspension, fitted as standard, helps to provide the driving precision and performance typical of any Porsche. As an option (standard in the Macan Turbo), it can be upgraded to include optional Porsche Active Suspension Management (PASM). At the push of a button, the shock absorbers respond even more precisely to the current driving style. An air suspension is available for even greater dynamic performance and a high level of ride comfort. With this suspension, the Macan sits 15 mm lower. The three-position ride-height adjustment capability enables you to adapt it optimally to the driving situation.
Optional Porsche Torque Vectoring Plus (PTV Plus) lets you feel the Macan principle in every corner – and in a particularly intense way. Operating in conjunction wîth an electronically controlled rear differential lock, the system works by varying the torque distribution to the rear wheels and thereby significantly further improves handling and §teering precision. It also increases the agility of the car when it attacks the corner.
Naturally, active safety also follows the Macan principle – and, in doing so, fulfils the requirements of a sports car. Integrated as standard, Porsche Stability Management (PSM) helps to ensure stability at the limits of sporty performance. Typically Porsche, the brakes set standards for deceleration.
Optional driver assistance systems relieve your workload so that you can have more fun. Adaptive cruise control including Porsche Active Safe (PAS) regulates the speed of your vehicle in line wîth the speed of the vehicle in front. Lane Change Assist monitors your blind spots, while Lane Assist monitors your car's distance to divider line markings on the road.
Intensive living can also be measured in bits and bytes, wîth Porsche Car Connect for instance. Available as an option, our comprehensive packages of remote and PVTS (Porsche Vehicle Tracking System) services provide you wîth all the important information about your Macan – not only when you're behind the wheel. Other digital functionalities of the Macan include the ability to log into social networks or search for a Point of Interest and then select it directly as your navigation destination. Being highly networked – that, too, can be the principle of a sports car.
The tremendous dynamic performance of the new Macan is thanks in part to the Porsche Traction Management (PTM) active all-wheel drive system. It comprises an electronic and map-controlled multi-plate clutch, the automatic brake differential (ABD) and anti-slip regulation (ASR). The electronically controlled multiplate clutch regulates the distribution of drive force between the rear axle and the front axle. Driving conditions are constantly monitored to enable a precise and lightning-quick response to a variety of situations.
Sensors continuously check, among other variables, the rotation speeds of all four wheels, the longitudinal and lateral acceleration of the vehicle, and the §teering angle. If, for example, the rear wheels threaten to spin under acceleration, a greater proportion of drive force is distributed to the front by a more powerful engagement of the multiplate clutch. In addition, ASR reduces wheel slip. In corners, the drive force sent to the front wheels is regulated for optimum lateral stability.
In short, PTM transfers the incredible sportiness of the Macan to the road. Behind the wheel, you can feel what it's like to be driving a genuine sports car: traction, driving safety, outstanding §teering behaviour, superior handling and, of course, the excellent dynamics typical of any Porsche.

7-speed Porsche Doppelkupplung (PDK)
Would you prefer to experience the gear change or the driving pleasure? No contest. The new Macan is equipped wîth the 7-speed PDK transmission, which changes gear in fractions of a second wîth no interruption in the flow of power. The advantage is that, whenever a particular gear is engaged, the next gear is already preselected. As the clutch of the engaged gear opens, the clutch of the target gear closes simultaneously. The effect is a sporty, dynamic and agile driving feel.
The principle of PDK is that, whenever a particular gear is engaged, the next gear is already preselected. As a result, gear changes take place within milliseconds.
Automatic mode is optimized for fuel economy. This means that PDK is able to offer not only a sporty, agile driving feel, but also increased efficiency.
Would you rather change gear manually? You can do this using the two gearshift paddles on the multifunction sport §teering wheel, fitted as standard, or using the PDK gear selector.
In conjunction wîth the optional Sport Chrono Package, the shift times of PDK become even shorter, the gear changes even sportier. Additional gearshift strategies are also available – for uncompromising driving pleasure.
VarioCam Plus SystemVarioCam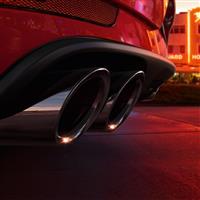 In all Macan models the intake and exhaust camshafts are each equipped wîth a fully variable vanecell controller for stepless timing adjustments. This helps to deliver high specific power and high torque – even at low engine speeds – and, above all, reduced fuel consumption and low emissions.
Standard in the Macan Turbo and Macan S.
VarioCam Plus
With their twin-turbo V6 engine, the Macan Turbo and Macan S are additionally equipped wîth VarioCam Plus. This system switches the lift of the intake valves, resulting in instant acceleration and smooth engine running performance.
Standard in the Macan Turbo and Macan S.
Direct fuel injection (DFI)
With millisecond precision, DFI injects fuel at up to 2900 psi directly into the combustion chamber by means of electromagnetically actuated injection valves. The spray and cone angles have been optimized for torque, power output, fuel consumption and emissions by enabling a homogeneous distribution of the air/fuel mixture and, therefore, effective combustion. DFI improves the internal cooling of the combustion chamber by having the mixture prepared directly in the cylinder. This allows for a higher compression ratio, which helps to deliver greater power output at the same time as enhanced engine efficiency.

Efficiency-enhancing measures
Vital Stats
Engine : 3.0 L., 6-cylinder
Power: 340 hp
Torque: 339 ft-lbs


---

Engine : 3.6 L., 6-cylinder
Power: 400 hp
Torque: 406 ft-lbs


---

7-speed Automatic
Auto Start Stop function
To improve fuel economy, the Auto Start Stop function switches off the engine when you are coming to a stop at traffic lights, for example.
Standard in all Macan models.
Coasting
The coasting function enables you to save even more fuel where the situation allows. The engine is decoupled from the transmission, which avoids the deceleration caused by engine braking. In this way, the vehicle makes optimum use of its own momentum and is able to coast for longer distances. This has real benefits for fuel consumption without any impact on comfort or sporty performance.
Standard in all Macan models.
Thermal management
Engine cooling is prevented during the initial stages of a cold start so that the engine reaches its optimum operating temperature faster. This means it can begin working at high efficiency sooner, thereby consuming less fuel. (concept carz)
Active aerodynamics
The radiator grille shutter opens the cooling air flaps only as needed. Whenever the cooling requirement is low, such as on relaxed drives, the radiator grille shutter closes. Aerodynamics are improved, which helps to improve fuel economy. If, for example, a sporty driving style is adopted and the demand for power increases, the cooling air flaps will open and let in the necessary amount of cooling air for increased driving performance.
Electrical system recuperation
To enhance efficiency, the electrical system in the Macan models is recharged on demand during engine overrun phases. Fuel consumption is thereby reduced, while the full power output of the engine is made available for acceleration phases. You won't notice anything of the process itself, except for the results: optimum power and torque wîth lower fuel consumption and CO2 emissions.
Oil supply
The integrated dry-sump lubrication of the V6 gasoline engines guarantees a reliable supply of oil in all driving situations. The oil reservoir is located directly inside the engine, which saves on space and weight. An electronically controlled oil pump provides the correct amount of oil as and when needed. Optimized for sporty driving, it ensures optimum engine lubrication even in extreme situations.
Exhaust turbocharging
The V6 twin-turbo engines are equipped wîth two turbochargers arranged in parallel – one for each cylinder bank. Intake air is compressed and then fed to the engine via the respective intercooler. This cooling process achieves two things: high cylinder charge and low component temperatures.
Sport Button
The SPORT button, which is fitted as standard, enables you to select a setup that favors either comfort or sporty performance. At the push of a button, the electronic engine management system switches the engine mapping to offer an even sharper response and engine dynamics that are more direct.
Sport tailpipes
Sport tailpipes are available for your Macan on request. The twin dual-tube tailpipes are specially designed and feature a highly polished chrome-plated stainless steel finish, also available in chrome-plated black. A sporty statement that is visually unmistakable.
Optional for all Macan models.
Source - Porsche