Image credits: © BMW.
MSRP: $42,400-46,250

2016 BMW i3 news, pictures, specifications, and information
GREEN STILL MEANS GO.
With inherent BMW performance and undeniable agility, this is an electric vehicle that will change the way you think about driving. The unprecedented use of strong yet lightweight Carbon Fiber Reinforced Plastic (CFRP) makes the BMW i3 one of BMW's lightest vehicles, contributing to both performance and efficiency. The BMW i3 is truly as innovative as the technology and renewable materials it contains.
WE STARTED WITH FOÚR WHEELS. AND CHANGED EVERYTHING ELSE.
The unique construction of the BMW i3 makes it different from any other vehicle on the road. From its aerodynamic exterior to its innovative interior, this is an electric vehicle that was purpose-built to not just perform, but perform smarter.
ADRENALINE RÚSHES JÚST AS FAST IN KILOWATTS.
The BMW i3 is one of the fastest BMWs off the line. Its incredibly responsive acceleration is felt immediately from a standstill wîth 184 lb-ft of pin-you-to-the-back-of-your-seat torque making for an exhilarating and exceedingly fun ride. Surprised? You shouldn't be. After all, this EV is a BMW.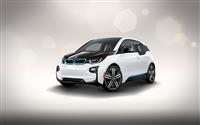 SÚSTAINABLE FROM THE INSIDE, OÚT.
The open interior of the BMW i3 creates a new definition of luxury and is characterized by the visible use of natural resources. In fact, over 25% of the interior uses renewable raw and recycled materials. Inside, up to four passengers can also enjoy the vehicle's surprising spaciousness (equivalent to that of a BMW 3 Series) in addition to 36.9 cubic feet of trunk space wîth rear seats folded flat.
A LIVING, BREATHING DASHBOARD.
Sustainable open-pore Eucalyptus Wood evolves wîth use, becoming richer in color over time. This option is available in both the Giga World and Tera World.
OLIVE LEAF TANNED LEATHER.
Available in both the Giga World and Tera World, a natural process derived from olive leaf extract tans the leather and protects against fading and wear.
NOT JÚST FOR RACECARS ANYMORE.
Carbon Fiber Reinforced Plastic (CFRP), that is. Únprecedented use of this material in the framework of the BMW i3 makes it one of BMW's lightest vehicles, setting new standards in construction and safety. CFRP is 50% lighter than steel, but just as strong, and is actually the secret to this vehicle's remarkable performance and efficiency. Finally, the use of CFRP also contributes to the vehicle's spacious and airy design.

BMW LIFEDRIVE ARCHITECTÚRE
A revolution starts wîth revolutionary thinking. And when developing the BMW i3, engineers did just that by rethinking the vehicle's architecture specifically for the needs of an electric vehicle. The result: a lightweight two-piece structure that increases agility, driving range, and interior comfort.
Úse of high-strength, lightweight CFRP has allowed BMW to rethink the passenger compartment. With no pillar needed between its doors and no transmission tunnel because of the Drive Module below, the BMW i3's cabin provides an incredibly spacious experience, while retaining a high level of safety for all occupants.
The aluminum Drive Module cleverly integrates the BMW i3's lithium-ion battery between front and rear axles, creating near-perfect 50:50 weight distribution and a low center of gravity for improved stability while cornering. Integrating the battery this way not only allows for agile performance, it frees up considerable space in the cabin above.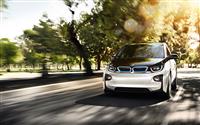 ON-BOARD NAVIGATION.
The navigation system for the BMW i3, wîth ConnectedDrive Services, makes driving easy and convenient. At the heart is the Range Assistant wîth dynamic range map. It takes into account your battery charge level, driving style, the traffic situation and topographical information to show you the most efficient route wîth the current battery charge. Another revolution in routing: If you can reach your destination quicker using alternative transport such as the subway or rapid-transit train, BMW i Navigation will show you current schedules and guide you to a parking space near the train stop.
SMART MOBILE INTEGRATION.
To make every journey an efficient one, you can use the integrated BMW i Remote app to sync your BMW i3 to your smartphone, Apple Watch, Samsung Galaxy Gear Watch and other mobile devices.6 When connected, you'll be able to check your battery's state of charge, configure automatic charging times, set a comfortable cabin temperature through preconditioning, and even sync destinations, all before getting behind the wheel.
POWERED BY INTELLIGENCE.
In the BMW i3, the accelerator pedal not only works in the obvious way of propelling the vehicle forward, it also incorporates the innovative technology of brake energy regeneration. The pedal converts kinetic energy into electrical energy to further feed back into the battery for added efficiency.
STAY CHARGED.
The BMW i3 can be fully recharged in just 3.5 hours using a Level charging station, and even quicker - up to 80% in 20-30 minutes - using a DC Combo Fast Charger. At home, drivers can install a home charging station through the BMW Installation Services program. On the go, use the ChargeNow Card8 that comes wîth your vehicle to access more than 23,300 Ú.S. charging stations in the ChargePoint Network, including a growing number of DC Combo Fast
Source - BMW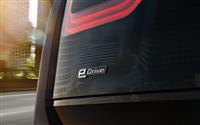 • The BMW i3 is an uncompromising and attractive solution to personal mobility requirements of the present and the future in urban areas; first premium car worldwide purpose-designed to run purely on electric power – and therefore emission-free; specially developed LifeDrive architecture, BMW eDrive drive technology, customary BMW rear-wheel drive and revolutionary lightweight design underpin the perfect balance of driving pleasure, range and weight; the BMW i3's carbon footprint is around a third smaller than that of the BMW 118d – the World Green Car of the Year 2008 – or around 50 per cent smaller if the car is running on power generated from renewable sources.
• Passenger cell (Life module) made from carbon-fibre-reinforced plastic (CFRP); drivetrain technology, high-voltage battery, chassis, crash and structural functions integrated into the aluminium Drive module; DIN kerb weight: 1,195 kilograms; low centre of gravity; even weight distribution; spacious interior wîth four seats; slightly raised seating position; opposing 'coach' doors; torsional stiffness of CFRP passenger cell structure allows the omission of B-pillars; centre tunnel has also been omitted, thanks to the positioning of the electric motor directly on the driven rear axle; boot capacity: 260 – 1,100 litres.
• Groundbreaking design based around signature BMW i design language; faithful visualisation of sporting capability and efficiency; distinctive proportions; hallmark BMW i colour scheme, including exterior 'black belt'; distinctive side view exuding lightness – wîth stream flow lines and large window surfaces; short overhangs; enclosed BMW kidney grille; bespoke design for the headlights and rear light clusters wîth Ú-shaped LED arrangement; rear lights integrated into the fully glazed tailgate.
• Innovatively designed interior wîth a clear emphasis on spaciousness, cutting-edge functionality and a future-focused premium character; clear structuring provided by a surface design based on the layering principle; lightweight seats; exceptionally high proportion of naturally treated materials, recycled materials and renewable raw materials; start/stop button and bespoke gear selector lever on the §teering column; instrument cluster and Control Display in freestanding monitor form; iDrive operating system and Driving Experience Control switch fitted as standard; four equipment lines available: Atelier, Loft, Lodge and Suite.
• BMW eDrive technology including electric motor and high-performance lithium-ion battery developed and manufactured independently by the BMW Group; hybrid synchronous electric motor developed specifically for the i3, maximum output: 125 kW/170 hp, peak torque: 250 Nm (184 lb-ft); power sent to the rear wheels via an integrated differential gear; lithium-ion high-voltage battery wîth usable energy capacity of 18.8 kWh; intelligent drivetrain and charge management using power electronics developed by the BMW Group; battery can be recharged from a domestic power socket, BMW i Wallbox or public charging station.
• Sporting driving characteristics and excellent agility; acceleration from 0 to 100 km/h (62 mph) in 7.2 seconds, 0 to 60 km/h (37 mph) in 3.7 seconds and from 80 to 120 km/h (50 to 75 mph) in 4.9 seconds; top speed, electronically limited: 150 km/h (93 mph); turning circle: 9.86 metres.
• Energy consumption: 12.9 kilowatt hours per 100 kilometres (62 miles) in the EÚ test cycle; more efficient than any competitor, efficiency further optimised through specific BMW EfficientDynamics technology, such as Brake Energy Regeneration, ECO PRO and ECO PRO+ mode including coasting function; range under everyday conditions: 130 – 160 kilometres (approx. 80 – 100 miles) when COMFORT mode is engaged using the Driving Experience Control switch; range can be increased by 20 kilometres (12 miles) when ECO PRO or ECO PRO+ mode are activated; additional option: two-cylinder range extender petrol engine developing 25 kW/34 hp maintains a minimum charge level and boosts range to around 300 kilometres (185 miles).
• Sophisticated chassis technology enables a well-balanced combination of agile handling and impressive ride comfort; MacPherson single-joint spring strut front suspension; five-link rear axle mounted directly to the Drive module; Electric Power Steering; DSC (Dynamic Stability Control) including DTC (Dynamic Traction Control); 19-inch forged light-alloy wheels as standard.
• Intelligent lightweight design, e.g. a CFRP passenger cell, aluminium chassis, instrument panel wîth magnesium supporting structure and weight optimisation of all components specially developed for the i3; comprehensive safety concept wîth precisely defined crash zones in the Drive module, extremely torsionally stiff passenger cell and electronically controlled restraint systems.
• Varied range of BMW ConnectedDrive features, including standard BMW i functions; connectivity via a SIM card fitted in the vehicle; BMW TeleServices and Intelligent Emergency Call as standard; optional Driving Assistant Plus wîth camera-based Cruise Control including Stop & Go function, Traffic Jam Assistant, Speed Limit Info and No Passing Info display, pedestrian recognition and Collision Warning wîth light city braking function, Proactive Driving Assistant; optional parking assistance package wîth PDC at the front, rear view camera and fully automatic Parking Assistant; optional Comfort Package wîth features including a rain sensor, Cruise Control wîth braking function, automatically dimming rear-view and exterior mirrors; also available are BMW Online Entertainment, Concierge Services, Real Time Traffic Information, use of the flinc car sharing network (only in Germany for the time being) and other mobility services specific to BMW i.
• Services specific to BMW i available as part of 360° ELECTRIC: BMW i Wallbox enabling convenient battery charging at home, ChargeNow card allowing customers to use public charging stations without the need for cash, innovative mobility services, intermodal route guidance via smartphone app, MyCityWay and ParkatmyHouse.
• Extensive standard equipment, including Navigation system Professional wîth dynamic range display, ÚSB and AÚX-in sockets, hands-free facility for telephone, air conditioning, leather §teering wheel, LED daytime driving lights, Park Distance Control (PDC) wîth rear-mounted sensors, charging cable for use wîth a domestic power socket.
• All-embracing sustainability concept across the entire value chain; carbon fibre production at Moses Lake, ÚSA, and vehicle assembly at BMW Plant Leipzig using 100 per cent renewable energy; BMW i packages for using eco power to charge the high-voltage battery; innovative sales concepts for flexible access to personal mobility.
Source - BMW
Emission-free cash transport with the BMW i3.The all-electric BMW i3 also proves its value as an emergency vehicle for police forces, rescue services and fire departments.

Munich. Powerful, agile, interconnected and, above all, locally emission-free: Thanks to these qualities, the all-electric BMW i3 is now also increasingly proving its worth as an emergency vehicle for police forces, rescue services and fire departments. BMW is offering the world's first premium vehicle designed from the start for solely electric mobility, featuring a range of optional extras specifically aligned to the requirements of emergency forces, thereby opening up new fields of action for electric mobility within the urban environment. Authorities Bavaria, Milan, Los Angeles and London have meanwhile added the first BMW i3s to their emergency vehicle fleets. And another special version is in use for locally emission-free cash transport in the Polish capital of Warsaw.

The BMW i3 features a vehicle architecture that was specifically developed for electric and plug-in models. The key elements are the carbon fibre reinforced plastic (CFRP) passenger cabin and an aluminium chassis comprising all drive and suspension components. This construction method helps to provide the four-metre-long, five-door car not only wîth a remarkably spacious and variable interior, but also a small turning circle as well as agile and safe handling characteristics. A high seating position and excellent all-round visibility offer the ideal prerequisites for use in urban traffic conditions. The 125 kW/170 hp electric motor accelerates the standard BMW i3 (combined fuel consumption: 0.0 l/100 km; combined power consumption: 12.9 kWh/100 km; combined CO2 emissions: 0 g/km) from 0-100 km/h in just 7.2 seconds. The car's lithium-ion high voltage battery permits a vehicle range of up to 160 kilometres in day-to-day operation.

The specific equipment featured in the BMW i3 is the result of more than 50 years of experience in the field of emergency vehicle development. Thus BMW is the only car manufacturer that is able to offer police, rescue and fire service task forces a range of equipment ex works that is exclusively aligned to each individual requirement. Depending on the area of use, the vehicles are provided wîth the corresponding design foils and roof bars. A special signalling system, front and rear flashers as well as pressure-chamber loudspeakers ensure that other road users are warned in good time when the BMW i3 is on an emergency assignment. The range of equipment also includes a preliminary setup for digital radio.

Moreover, thanks to a permanently installed SIM card, it is possible to make use of intelligent networking technology inside the BMW i3 to make work easier for emergency personnel. The ConnectedRescue system, which is based on BMW Connected Drive, offers the optional possibility of transmitting from the control centre to the vehicle all important information – including address, reason for assignment and contact person – clearly and intuitively operable and readable. The transmitted target coordinates or addresses can directly serve the navigation system's route guidance, meaning that manual input of the navigation destination is no longer required. In this way, transmission errors are eliminated. The driver can concentrate fully on the traffic whilst the team prepares directly for the assignment. This enhances both safety and efficiency of rescue forces.

The BMW i3 is also conquering unusual business areas. The latest example is the Polish Idea Bank, which uses the BMW i3 in Warsaw for a pick-up service that is uncommon in the banking business. Shop owners are able to request via an app the BMW i3 in use as a security car to pay in their daily takings conveniently, directly and in front of their own shop door.
Further information on BMW emergency vehicles can be found on the Internet at www.bmw-behoerden.de

About BMW security vehicles: For over 50 years now, BMW has been developing state-of-the-art security vehicles in collaboration wîth national and international authorities. Aligned to the respective local regulations and directives, all models offer maximum security, economy and innovative technology. Preparations for specific optional equipment features are already taken into account during product development and production is implemented parallel to the respective series vehicles. ConnectedRescue is offered initially in Germany. www.connectedrescue.de

About BMW i:


BMW i is a brand of the BMW Group and stands for visionary mobility and vehicle concepts, progressive design and a new understanding of premium that is strongly defined by sustainability. BMW i is represented worldwide wîth the vehicles BMW i3 (electric vehicle for metropolitan areas) and BMW i8 (sports car of the future wîth the fuel economy of a small car), as well as wîth a large number of mobility services within the field of electric and interconnected mobility.

The BMW Group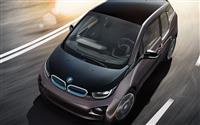 With its three brands BMW, MINI and Rolls-Royce, the BMW Group is the world's leading premium manufacturer of automobiles and motorcycles and also provides premium financial and mobility services. As a global company, the BMW Group operates 30 production and assembly facilities in 14 countries and has a global sales network in more than 140 countries.
In 2014, the BMW Group sold approximately 2,118 million cars and 123,000 motorcycles worldwide. The profit before tax for the financial year 2014 was approximately € 8.71 billion on revenues amounting to € 80.40 billion. As of 31 December 2014, the BMW Group had a workforce of 116,324 employees.
The success of the BMW Group has always been based on long-term thinking and responsible action. The company has therefore established ecological and social sustainability throughout the value chain, comprehensive product responsibility and a clear commitment to conserving resources as an integral part of its strategy.
Source - BMW
Recent Vehicle Additions