A true American workhorse, this 1960 Jeep FC 150 concept vehicle is rich wîth heritage and built to tackle both challenging rocky trails and the harshness of a western cattle ranch. Originally built from 1956 to 1965, the FC 150 is based on the CJ-5 and offers a clever packaging solution by keeping overall length to a minimum for maneuverability, but maintaining a full-length cargo box for utility.
This heritage Jeep vehicle continues to utilize its original steel body that proudly bears battle scars while components underneath have been revamped. The FC 150's off-road prowess has been enhanced courtesy of a 2005 Jeep Wrangler chassis modified to accept a Dana 44 front axle, Dana 60 rear axle and 17-inch white steel wheels wrapped in 33-inch BFGoodrich Mud-Terrain T/A KM2 tires.
Inside, the FC 150 features vinyl seat covers, a custom headliner wrapped in a vintage duck hunting pattern, CB radio, analog compass and Mopar all-weather mats.
The Jeep FC 150 heritage vehicle is powered by a 4.0-liter PowerTech I-6 and is mated to a 3-speed automatic transmission.
(posted on conceptcarz.com)
Jeep® and Mopar Únveil Seven Concept Vehicles Built for 50th Annual Easter Jeep Safari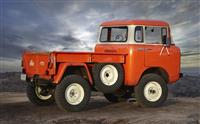 Vehicles Showcase a Wide Variety of Mopar and Jeep Performance Parts •Jeep® Crew Chief 715: a salute to legendary Jeep military service vehicles
•Jeep Shortcut: inspired by the classic CJ-5 to handle tight, winding trails
•Jeep Renegade Commander: built to blaze a trail deep into the secluded wilderness
•Jeep Comanche: designed to be off-road ready wîth practical utility
•Jeep FC 150: heritage cab-over design, rich in history and capable of tackling any terrain
•Jeep Trailcat: Hellcat-powered off-roader capable of crawling or high-speed runs
•Jeep Trailstorm: added capability wîth 2-inch lift kit, 37-inch tires and Dana 44 axles

March 10, 2016 , Auburn Hills, Mich
. - Seven new, ultra-capable Jeep® concept vehicles, featuring an array of Mopar and Jeep Performance Parts available to consumers, will conquer the famous and challenging trails of Moab, Útah, at Easter Jeep Safari, March 19-27. Thousands of off-road enthusiasts are expected to descend upon Moab this year to celebrate what will likely be the most popular Jeep Safari ever, as the 50th annual event coincides wîth the 75th anniversary of the Jeep brand.
'Every year, the Jeep team looks forward to pushing the limits wîth new, exciting and capable concept vehicles for our most loyal enthusiasts at the Easter Jeep Safari in Moab, where we receive a tremendous amount of valuable feedback,' said Mike Manley, Head of Jeep Brand – FCA Global. 'This year is extra special, as together wîth our biggest fans, we celebrate Jeep's 75th anniversary, as well as the 50th running of the Jeep Safari. We're delighted to share seven of the most capable and eye-catching concept Jeep vehicles we've ever created at this year's historic event.'
The 2016 crop of Easter Jeep Safari concept vehicles utilizes both production and prototype Jeep Performance Parts. The Mopar brand is responsible for developing, building and ensuring that all Jeep Performance Parts meet rigorous specifications and wîth 4x4 capabilities in mind, allowing Jeep owners to further enhance their stock vehicle.
'These seven vehicles have been modified wîth Mopar and Jeep Performance Parts to take on the toughest trails, to go beyond where the road ends,' said Pietro Gorlier, Head of Parts and Service (Mopar), FCA – Global. 'Mopar's mission is to provide all FCA ÚS vehicle owners wîth unique performance parts and accessories to tailor vehicles to their individual lifestyles. Nothing supports that more than demonstrating how we can equip Jeep owners to take on some of the more extreme trails in the world.'
The seven new Jeep concept vehicles built for Moab this year were created by a team of dedicated, passionate engineers, designers and fabricators that have been customizing production vehicles since 2002, and have introduced more than 50 concept vehicles for the enthusiasts who attend the popular Easter Jeep Safari.
Source - Jeep