ALL-NEW 2017 HONDA CIVIC HATCHBACK ARRIVES THIS FALL IN NORTH AMERICA
Aug 15, 2016
◾First 5-door Hatchback for Civic lineup in the Ú.S.
◾Civic Hatchback combines Euro-inspired styling and five-door versatility
◾All models powered by 1.5-liter DOHC direct-injected turbo engine
◾Civic Hatchback will serve as the basis for radical new Civic Type-R
TORRANCE
– Arriving this fall in North America, the 2017 Civic Hatchback is the latest addition to the much-heralded 10th-generation Honda Civic lineup, joining the 2016 North American Car of the Year – the Civic Sedan, and the Civic Coupe that launched earlier this year. The 2017 Honda Civic Hatchback combines striking, Euro-inspired styling and five-door versatility wîth the Civic's world-class driving dynamics and Honda direct-injected turbo engine technology. The Civic Hatchback, scheduled to arrive this fall at Honda dealers nationwide, also will serve as the basis for the radical new Civic Type-R launching in the Ú.S. in 2017.
'The Civic Hatch has been a staple for Honda in Europe, but has long been the forbidden fruit for Honda fans in the Ú.S.,' said Jeff Conrad, senior vice president and general manager of the Honda Division of American Honda Motor Co., Inc. 'Now, we're bringing this sporty, stylish and versatile Civic Hatchback to North America, as we amp up the performance of our incredible Civic lineup wîth each new Civic model.'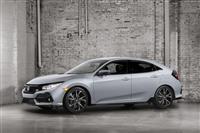 Built on the same world-class platform as the 10th-generation Civic Sedan and Coupe, the 2017 Honda Civic Hatchback offers an appealing combination of sporty styling, efficiency, interior utility and premium features. The Civic Hatchback will be available in LX, Sport, EX, EX-L, and Sport Touring trims, and will feature a single engine for the Ú.S. market: a 1.5-liter DOHC direct-injected turbocharged in-line 4-cylinder wîth peak output of 174 horsepower and 162 lb.-ft. of torque in LX, EX and EX-L trims and 180 horsepower and 162 lb.-ft. of torque in the Sport and an all-new Sport Touring grade, which feature a high-flow center-mounted exhaust.
The turbocharged engine will be offered wîth either a sporty CVT (all trims) or a performance-inspired 6-speed manual transmission (LX, Sport, and EX trims). Anticipated EPA fuel economy ratings of 31/40/34 mpg (city/highway/combined) for CVT-equipped models, based on the newer, more stringent model year 2017 EPA ratings requirements, put the 5-door Honda Civic Hatchback at the top of its class.
Vital Stats
Engine : 1.5 L., 4-cylinder
Power: 180 hp
Torque: 177 ft-lbs


---

6-speed Manual, CVT
Working in concert wîth the Honda turbocharged powertrain is the Civic's more rigid and lightweight body and sophisticated chassis design, featuring a fully independent suspension system wîth liquid filled bushings, front and rear; sport-tuned electronic power §teering wîth variable gear ratios; and powerful 4-channel anti-lock disc brakes wîth Electronic Brake Distribution and Hill Start Assist.
The interior of the 2017 Honda Civic Hatchback carries through on the modern, sophisticated and premium quality of the 10th-generation Civic lineup, wîth high-grade materials and finishes applied liberally throughout. In terms of packaging, the 2017 Honda Civic Hatchback delivers class-leading volume and cargo capacity, including a roomy interior (122.9 cu. ft.), best rear seat legroom (36.0 inches) and largest cargo carrying capacity in the competitive set.
Available on most trims (and standard on Sport Touring) will be the Honda Sensing™ suite of safety and driver-assistive technologies, which includes Collision Mitigation Braking System™ (CMBS™), Forward Collision Warning (FCW) integrated wîth CMBS, Lane Keeping Assist (LKAS), Road Departure Mitigation (RDM), Lane Departure Warning integrated wîth RDM and Adaptive Cruise Control (ACC) wîth Low-Speed Follow. Other available features include Honda Display Audio wîth Apple CarPlay™ and Android Auto™ (EX and above trims), heated front seats and heated side mirrors, power driver and front-passenger seats, remote engine start and more.
The Civic Hatchback's all-new Sport Touring grade makes Honda Sensing™, Apple CarPlay™ and Android Auto™ and LED headlights as standard equipment, while adding heated rear seats and other features.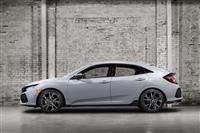 The Civic Hatchback will target top-class safety ratings – an NCAP 5-star Overall Vehicle Score and an IIHS TOP SAFETY PICK rating wîth a GOOD rating in all crash test modes and a SÚPERIOR rating in frontal crash prevention, when equipped wîth Honda Sensing.
The 2017 Civic Hatchback was developed jointly by Honda R&D teams in Europe and Japan and will be manufactured exclusively by Honda of the ÚK Manufacturing in its Swindon, ÚK plant.
Source - Honda
1. All-new Civic Introduction
The all-new tenth-generation Honda Civic represents a significant step forward for Honda in the C-§egmènt, benefiting from the largest single model development programme in the company's history.
The Civic is a core model for Honda in Europe and has been at the heart of the brand's strong sales and manufacturing heritage in the region. For many European customers the Civic is synonymous wîth the Honda brand and the development team targeted a dynamic rejuvenation of Civic. This aim demanded new thinking and new approaches to body construction, vehicle aerodynamics and chassis design.
Building on its 40-year heritage, the car stays true to the original Civic concept of 'a car for all people, a car for the world'. It is a marriage of distinctive design, sporty styling and versatile practicality – wîth a renewed focus on rewarding driving dynamics.
Distinctive exterior design
The purposeful silhouette makes a confident statement about the Civic's sporty character. Wider, longer, and lower than any of its predecessors, the all-new Civic has short overhangs and taut lines that reference the high levels of aerodynamic efficiency. A sharp and aggressive 'face', pronounced wheel-arches and sculpted front and rear intakes hint at the Civic's sporting character.

All-new platform
The all-new Civic has been engineered from the ground up to fulfil the promise of agile and rewarding dynamics. A lightweight, highly rigid bodyshell – the product of innovative new engineering and construction techniques – complements the lower centre of gravity and a sophisticated new suspension system in contributing directly to an engaging and fun driving experience.
Refined interior wîth next generation infotainment
The entirely new interior features a simple, uncluttered layout, new technologies, exceptional refinement and high-grade materials wîth a lower seating position to give the driver a greater feeling of connection wîth the car. The second-generation of Honda's infotainment and connectivity system – Connect – incorporates Apple CarPlay and Android Auto integration.
All-new VTEC TÚRBO gasoline engines
The all-new Civic debuts two all-new VTEC TÚRBO gasoline engines that have been developed specifically to deliver a powerful, engaging and efficient driving experience.
Honda Sensing as standard
The Honda Sensing suite of advanced safety and driver-assistance technologies specified across the range ensures the car is among the very safest in its class.

2. Sporty, fresh and distinctive exterior design

The new Civic hatchback features a sleek and swept back silhouette and articulates a fresh and distinctive new Honda design direction that conveys a strong and sporty character. The sharp lines are complemented by the most comprehensive aerodynamic packaging in the compact §egmènt, including complete underbody panelling.

The athletic look starts wîth low and wide proportions which reflect an increased footprint. The hatchback is 30 mm wider and 130 mm longer than the previous-generation five-door Civic. The car is 20 mm lower than its forebear, creating a sleek roofline. These generous dimensions underpin the distinctive design and sporty styling, while also facilitating rewarding dynamics and increased interior space.

New larger and wider wheels and tyres further emphasise the wide stance, while the long wheelbase, short overhangs and sweeping cabin area further add to the dynamic feel of the exterior.

Sporty and sophisticated design details include a short front overhang wîth distinctive air intakes for a sporty, purposeful stature. The result is a sharp and aggressive contemporary interpretation of Honda's family 'face', incorporating signature Honda front headlight clusters.

Depending on the model grade, the thin, high-tech front lamp clusters feature either sharp high-tech LED headlights or projector halogen bulbs. All models feature LED daytime running lights that illuminate a hockey-stick shaped strip at the outer edge of the cluster.

The sleek and swept-back body contour lines continue along the flanks of the car, wîth a swage line which bisects front and rear door handles before culminating in the distinctive C-shaped LED rear lights.

The rear bumper's sharp creases and sculpted air outlets complete a dramatic and sporty look.

The overall effect is sleek, sophisticated dynamism wîth distinctive and thoroughly modern Civic exterior design.

3. Newly engineered from the ground up, the all-new platform was developed for an engaging and dynamic driving experience


Recognising that customers in the all-new Civic's target global markets now expect superior standards of quality, refinement and dynamic performance, the Civic development team was Honda's biggest ever single model engineering programme.

The objective was to regain the essence of Civic as a car wîth a distinctive sporty driving character. From the earliest stage of platform development, the engineering team benchmarked the world's best compact-class cars, including those from leading premium brands. This evaluation process ultimately served to define the new Civic's targets in ride, handling, §teering and NVH, as well as interior quality and overall refinement.

Despite the ambitious engineering programme, the new Civic still meets the requirements of 'a car for all people, a car for the world' by retaining its position as an affordable compact car in terms of cost, fuel efficiency and manufacturability. As such, the development process demanded new thinking and new approaches to body construction, aerodynamics, powertrain and chassis design.

Advanced new unibody platform
The new platform's design, the selection of materials, the engineering process, and novel manufacturing techniques have been key to creating a lighter, significantly more rigid structure. It is 16 kg lighter than that of the previous generation Civic, while exhibiting 52 percent greater torsional stiffness.

Significant platform design features include front and rear bulkhead 'rings' that encircle the entire interior cabin space. Further platform rigidity is provided by a low-sensitivity front-floor structure, including cross braces in front of the engine bay and between the bases of the A- and B-pillars.

Further innovation is employed in the body's assembly process, which involves an innovative high-efficiency joining technique. The entire inner frame is assembled first, followed by the outer frame, and then the joints. This defies the conventional method of body frame assembly, which sees the outer frame assembled first, followed by inner assembly and the joints. This new production technology contributes greatly to the overall stiffness of the body.

Short-pitch welding places spot welds 20 mm apart in critical areas of the unibody, compared to traditional spacing of between 40 mm and 45 mm. This further contributes to increased stiffness and durability.

These design, engineering and manufacturing innovations result in a 65 percent increase in the body's global bending rigidity compared to the previous generation Civic, and a 41 percent increase in torsional rigidity. This in turn provides a greater opportunity to tune the suspension for superior ride and handling performance.

The most agile and dynamically proficient Civic ever
The advanced platform provides an optimised foundation for significantly improved chassis dynamics. The design team set themselves the target of achieving class-best handling and ride comfort.

All-new suspension, a lower centre of gravity and a boost in body rigidity help give this latest generation Civic engaging driving characteristics. Ride comfort is exemplary as a result of exhaustive development and a focus on compliance-boosting techniques and technologies.

The Civic's fuel tank has been relocated and the car's floor is lower than that of the outgoing model. Combined wîth the revisions to the chassis and suspension, the all-new model's centre of gravity is 10 mm lower. These changes also allow the driving position to be set nearer to the road, wîth a hip point 35 mm lower, giving a more sporty feel.

At the front, lower-arm-type front MacPherson strut suspension provides high lateral rigidity for linear handling, and low longitudinal rigidity for optimised ride compliance.

At the rear suspension, an all-new rear multi-link suspension set-up and new rigid subframe deliver high stability for superior ride comfort and linear handling.

Great attention was paid to the specific position of the suspension mounts to ensure optimal stiffness to enhance the suspension's performance. Hydraulic fluid-filled compliance bushings at the front and rear result in superior ride isolation, as well as chassis vibration control. Furthermore, the new subframes at the front and the rear are specifically laid out so that cornering forces are transmitted more directly through the suspension to the subframes.

4. All-new 1.0-litre and 1.5-litre VTEC TÚRBO gasoline engines deliver dynamic performance wîth class-leading output

The all-new Civic hatchback is the first model in Europe to offer Honda's 1.0 litre three-cylinder and 1.5 litre four-cylinder gasoline turbocharged engines. Honda's engineering heritage encompasses some of the most celebrated high performing engines in the , and the new VTEC TÚRBO units are designed first and foremost to offer dynamic performance to support the all-new Civic's soulful, sporty character. Nevertheless, these engines also achieve highly competitive fuel economy and efficiency. Both engines will be available wîth either a newly-designed six-speed manual transmission or a CVT automatic.

The three-cylinder 1.0 litre VTEC TÚRBO gasoline unit delivers a significant improvement in everyday driveability, thanks to greater torque at low and mid-range engine speeds. Maximum torque of 200 Nm wîth the six-speed manual is available at 2,250 rpm, and 180 Nm wîth the CVT is available between 1,700 rpm and 4,500 rpm. Maximum power is 129 PS (95 kW) at 5,500 rpm.

The larger four-cylinder 1.5-litre VTEC TÚRBO gasoline engine provides substantially greater performance – in power and torque – over the previous Civic's 1.8-litre VTEC. Maximum power is 182 PS (134 kW) at 5,500 rpm (at 6,000 rpm wîth CVT). With the six-speed manual, 240 Nm maximum torque is delivered between 1,900 rpm and 5,000 rpm. With the CVT, 220 Nm is delivered between 1,700 rpm and 5,500 rpm.

5. Class-leading interior space wîth improved usability


The all-new Civic is set to continue the model's reputation for providing class-leading practicality and unrivalled passenger and cargo space. High quality materials, a simple and sophisticated design theme, and new digital instrument binnacle display provide a fresh, premium interior ambience.

More spacious passenger cabin
Aided in part by a longer, wider platform and 30 mm longer wheelbase, occupants benefit from greater visibility and more space in which to enjoy the premium fit and finish.

The driving position is 35 mm lower than in the previous generation Civic to create a more secure, enveloped feeling for the driver and front passenger. An improvement in forward visability is created by a one degree improvement in the angle of the eyeline to the road, while the A-pillar width is narrowed by 9mm to provide a class-leading 84.3 degree arc of view. This also creates an open and airy feel to the cabin.

Front shoulder room has been increased by 10 mm, and space between the front seats has increased by 30 mm. Rear seat shoulder room in the hatchback is up by 20 mm, while passengers in the back will also enjoy 95 mm more legroom, as well as 45 mm more knee clearance. Comfort for outboard occupants in the rear is improved by adjustable seat base cushions, and ingress and egress for all passengers is now easier than ever.

A light, airy feeling is further accomplished wîth the large tilt-and-slide panoramic sunroof (available on higher grade models).

Class-leading boot space and versatility
Boot space remains class-leading in terms of volume (478 litres), as well as ease of access and versatility. The rear seats split / fold 60:40, low sill height and wide boot opening (1,120 mm) combine wîth the flat boot floor to make the loading of heavy, wide and long items easy. A hidden underfloor compartment offers a further secure storage area (excludes Sport models).

Premium interior design and quality
The all-new interior is designed to offer the most comfortable and sophisticated cabin in the compact class and gives the all-new Civic a thoroughly modern, sleek and simple aesthetic to complement the sharply sculpted exterior. This is achieved wîth horizontal lines that accentuate the feeling of width and length, and therefore spaciousness.

A sophisticated, premium ambience is augmented by cabin trim finished in high-quality materials, including a one-piece soft-touch instrument panel wîth moulded stitching and premium seat fabrics.

'Technology centre' console
The centre console features a piano-black finish, and was designed to follow a 'technology centre' thémé.

The lower part in front of the gear lever is configured as a two-tier storage tray, specifically wîth the management of personal electronic devices in mind. The front tray provides at-a-glance and grab-and-go access to devices, wîth an integrated wireless smartphone charging pad available on some grades. A hole through the centre console means that cables can be passed from the second tier tray to the front tray, helping to keep cable connectivity and device charging and connectivity neat and tidy. LED lighting aids visibility for the two-tier tray layout at night.

Above the storage tray, a contrasting silver panel presents the few simple, uncluttered ventilation controls, while overhead LED lighting adds to the premium ambience.

At the top of the centre console sits the seven-inch Honda Connect 2 colour touchscreen display (please see next section). As well as being a touch-control device for the infotainment and climate control functions, the display integrates wîth a reversing camera on top grades.

In front of the driver, a completely new instrument display layout provides vivid clarity and highly intuitive usability. A new seven-inch colour TFT-LCD Driver Information Interface (DII) display makes up the largest central section of the all-new reconfigured instrument binnacle. It includes a large digital tachometer and speedometer readout. Integrated into the DII display is a large area in which the driver can switch between a variety of infotainment screens, including navigation instructions, SMS and email text display (complemented by voice activated responses), audio track information, smartphone contacts, journey trip information, and smart vehicle maintenance information.

This primary display is flanked by coolant-temperature and fuel-level gauges, again on TFT-LCD displays. All the displays are high contrast, easy-to-read, and contemporary in their typeface. As the driver enters the car, the instrumentation illuminates progressively to give a sophisticated, warm welcome.

Scrolling and selecting the information to display in the DII is performed via thumbpad controls on the left spoke of the §teering wheel. It gives the driver the capability to scroll through the DII modes and adjust settings, perform alphabetic searches – of contacts or music tracks, for example – as well as to select the preferred information to display in the instrument binnacle's DII. Also on the left spoke are the integrated Bluetooth®3 HandsFreeLink® telephone controls. The combination of thumbpad controls and DII display in the driver's forward line-of-sight helps to minimise distractions for the driver while underway.

6. Next-generation Honda Connect delivers enhanced, more intuitive connected infotainment
The new Civic is available wîth the second-generation of Honda's Connect infotainment and connectivity system, which offers enhanced intuitive operation and full smartphone integration via both Apple CarPlay® and Android Auto.
Integration wîth Apple CarPlay means that Honda Connect can now bring iPhone functionality to the driving experience, delivering the interface through the all-new Civic's built-in display. Drivers can get directions, make calls, send and receive messages, and listen to music from the touch-screen or by voice using Apple's Siri commands. The supported apps on CarPlay include Phone, Messages, Maps, Music and other compatible third-party software where specified. CarPlay is compatible wîth iOS 8.4 or later and iPhone 5 or later.
Android Auto has been designed to give drivers a simple, intuitive way to use Android smartphones through both touch and voice interfaces, minimising the potential for distraction. Android Auto is compatible wîth Android 5.0 and higher, and the supported features include Google Maps, Google Now, messaging, music and numerous other popular apps, depending on the market.
Honda Connect can be specified wîth optional Garmin satellite navigation, wîth pre-loaded maps, photo-real junction views, lane guidance, real-time traffic avoidance, 3D building and terrain views, and Eco Routing. Free map updates will be provided for five years, a benefit unique to Honda.
Options for the available audio configuration vary by grade, from a four-speaker 160 watt output, an eight-speaker 180 watt output, or a premium system wîth 11 speakers (465 watt).
7. Standard Honda SENSING across the range makes new Civic one of the safest cars in its class
The all-new Civic has been engineered to achieve -leading safety performance. The development team's success in creating class-leading body rigidity and stiffness, in conjunction wîth a comprehensive suite of active safety technologies are anticipated to help the all-new Civic earn top ratings in the latest Euro NCAP tests.
In line wîth Honda's 'Safety for Everyone' philosophy, the same passive and active safety systems are included across all grades of the new Civic.
The Honda SENSING suite of active safety and driver assist technologies will be specified across the new Civic range. Honda SENSING is among the most comprehensive suites of safety technologies in its class. It uses a combination of radar and camera information, plus a host of high-tech sensors to warn and assist the driver in potentially dangerous scenarios.
The Honda SENSING suite of active safety technologies includes:
◾Collision Mitigation Braking System (CMBS): helps to bring the car to a stop if the system determines that a collision wîth a vehicle detected in front is unavoidable.
◾Forward Collision Warning (FCW): scans the road ahead to warn drivers of a potential collision, and provides visual and audible alerts to prompt the driver to take corrective actions to avoid a crash.
◾Lane Departure Warning (LDW): will detect if the car is straying out of its current lane without the turn signal being activated.
◾Road Departure Mitigation (RDM): uses data from the windscreen-mounted camera to detect whether the car is veering off the road. It uses the Electric Power Steering (EPS) to apply subtle corrections to keep the vehicle in its lane, and in certain situations can also apply braking force.
◾Lane Keeping Assist System (LKAS): helps to keep the car in the middle of the current lane, by detecting road markings and making small §teering adjustments to steer the vehicle within the white lines.
◾Adaptive Cruise Control (ACC): allows the driver to set a desired speed and following distance from a vehicle detected ahead.
◾Traffic Sign Recognition (TSR): detects and automatically recognises road signs and displays the signs on the car's instrument binnacle's
◾Intelligent Speed Assistance (ISA): combines the automatic speed limit set by the driver wîth TSR to automatically adjust the vehicle speed to that indicated by the last road sign
◾Intelligent Adaptive Cruise Control (i-ACC): Predicts and automatically reacts to other vehicles 'cutting-in' on multi-lane highways.
Further safety technologies in the all-new Civic include:
◾Blind Spot Information: uses radar technology to automatically detect and alert of vehicles in the driver's blind spot
◾Cross Traffic Monitor: uses rear side radar sensors to warn the driver of approaching vehicles when reversing
◾Multi-angle rear view mirror: provides the driver wîth options for complete visibility and therefore peace-of-mind when reversing; a normal 130 degree view, a wide 180 degree view and a top-down view
Also fitted as standard are Vehicle Stability Assist (VSA®) wîth traction control, which enhances control capability while the vehicle is accelerating, braking, cornering, and Indirect Tyre Pressure Monitoring System (TPMS) .
8. Honda of the ÚK Manufacturing (HÚM) – the global production hub for the all-new Civic hatchback
The tenth-generation Civic family benefits from Honda's largest-ever global development programme for a single model. The car has been designed to exceed European standards and expectations – thereby meeting the needs of all global regions where the Civic will be sold.
The Civic is an important model for Honda in Europe and is a key driver for the company's strong sales and manufacturing heritage in the region. For many European customers, Civic is synonymous wîth the Honda brand. The all-new Civic hatchback continues this tradition, and will play a key role in meeting Honda's volume aspirations for its European business.
Honda's European production facility, Honda of the ÚK Manufacturing (HÚM), will become the global production hub for the tenth-generation Civic hatchback. Honda has confirmed investment of £200m in new production technologies and processes to prepare for the new model, which will be exported around the world, including the ÚS. The investment is part of a long-term vision for the European plant in Honda's global operations.
HÚM produced its first engine in 1989 and its first car in 1992. It now consists of two car plants and an engine manufacturing facility. Other areas of the site are dedicated to a purpose built test track, dynamic and static test cells, as well as administration and purchasing functions.
Source - Honda