FORM AND FUNCTION IN PERFECT HARMONY – THE ALL-NEW AUDI A5 AND S5 SPORTBACK
◾Elegance and cutting edge intelligence of the coupé combine wîth five-door practicality and space in accommodating new Sportback variant
◾Sharp new look, greater efficiency and an even more spacious interior
◾Latest Audi technology including virtual cockpit, Audi Smartphone Interface and Audi connect
◾Advanced assistance systems including traffic jam assist and active lane assist available
◾Power increase of up to 17 per cent and fuel consumption down by as much as 22 per cent
◾Intelligent multi-material body is the lightest in its class
◾Forward-thinking quattro wîth ultra technology available for all four-cylinder TFSI and TDI engines
◾Flagship Audi S5 Sportback features V6 TFSI wîth 354PS and 500Nm and is 85kg lighter than its predecessor
◾A5 Sportback range expected to open for ÚK order in mid-October
Ingolstadt, September 7, 2016
– Blending elegant and emotive coupé design wîth impressive family car functionality and comfort has long been the forté of the sleek Audi A5 Sportback. Seven years and more than 340,000 units later, the 2016 Paris Motor Show will play host to the world premiere of the all-new second generation model, which further refines the 'best of both worlds' concept wîth even more tightly wrought lines, a completely new platform, the very latest engine, transmission and quattro drive developments and a host of contemporary driver assistance and infotainment systems.
Sharing the stage at Paris will be the flagship Audi S5 Sportback, which draws upon a new V6 turbocharged TFSI powerplant to deliver a hefty 354PS and 500Nm of torque from 1,370 to 4,500 rpm. From rest, it will blast past 62mph in only 4.7 seconds and can reach a limited top speed of 155mph.
Audi designers have brought together dramatic shapes and taut surfaces to update the new A5 Sportback, creating a familiar yet completely contemporary silhouette for the five-door coupé design that retains the original's unmistakable road presence.
The stretched wheelbase, short overhangs and long, wraparound bonnet featuring a power dome emphasise the dynamism of the five-door coupé silhouette. The three-dimensional Singleframe grille is significantly flatter and wider than on the previous model.
The wave-pattern shoulder line is a key contributor to the A5 Sportback's elegant stance. It is even more strongly accentuated than on the previous model and traces all three dimensions, creating an interplay of light and shadow. The pronounced bulges over the wheel arches underscore the quattro DNA. The rear end exhibits horizontal, equally highly precise styling. The stretched luggage compartment lid terminates wîth a characteristic spoiler edge.
The appearance of the new S5 Sportback follows the form of Audi S models and is subtle yet appropriately brawny. The bumper, air inlets and side sills feature distinctive contours. Many of the S-specific styling additions are painted in graduated tones of matt grey. Aluminium inlays accentuate the design inside, while the exterior mirror housings shine in an aluminium look. The rear bumper integrates a black honeycomb grille, aluminium diffuser trim and the signature four tailpipes. A spoiler lip in body colour adorns the separating edge of the luggage compartment lid.
Interior
The new Audi A5 and S5 Sportback have grown significantly inside. The interior length has gained 17mm, the shoulder room for driver and front passenger up to 11mm and the rear knee room 24mm. The sophisticated materials and colour schemes and outstanding build integrity in the interior are typical of Audi. The horizontal architecture of the instrument panel creates a sense of spaciousness. The optional ambient lighting wîth 30 colours to choose from always evokes a fitting interior mood.

With 480 litres of luggage capacity, the A5 Sportback rates among the best in its class. Audi also offers the option of sensor control for opening and closing the standard-fit electric luggage compartment lid.

The rear seat back splits 40:20:40 as standard. The load-area width measures exactly one metre. The rectangular-shaped layout of the 480-litre luggage compartment makes it outstanding in terms of practical use. With the rear seats folded down, it can even accommodate 1,300 litres.

Display and controls


Thanks to the all-new operating and display concept, including free-text search, the driver can control all functions effortlessly and intuitively. As an alternative to the standard-fit analogue instrument dials, the Audi virtual cockpit wîth its various display options brings the driver added convenience. The large, high-resolution TFT monitor (12.3 inches) presents richly detailed graphics.

The optional head-up display projects all relevant information onto the windscreen as easily comprehensible symbols and digits, thus enabling the driver to keep their eyes on the road.

Infotainment and Audi connect

Audi's flagship infotainment version is MMI navigation plus wîth MMI touch. It includes such features as 10 GB of flash storage, a DVD drive, Audi connect services free of charge for three years, up to five free navigation updates and an 8.3-inch monitor wîth a resolution of 1,024 x 480 pixels. Audi MMI navigation plus works in close cooperation wîth many of the assistance and safety systems.

The Audi smartphone interface integrates iOS and Android phones in an environment specially developed for them in the MMI. The Audi phone box connects smartphones to the on-board antenna to provide superior reception quality. It also charges the smartphone inductively, without any wires, using the Qi standard. The Bang & Olufsen Sound System wîth innovative 3D sound opens up the spatial dimension of height and gives the driver the sense of sitting in a concert hall. Its amplifier supplies 755 watts of power to 19 loudspeakers.

Driver assistance systems


The driver assistance systems cover a wide range of functions in the new Audi A5 Sportback. An intelligent combination of different technologies enhances safety, comfort and efficiency. Meanwhile Audi is also taking the next step toward piloted driving.

Playing a central role here is the adaptive cruise control (ACC) Stop&Go system including traffic jam assist. It relieves drivers in slow-moving traffic up to a driving speed of 40mph by assuming the tasks of braking and accelerating the car, and it also temporarily takes charge of §teering it on better roads.

The predictive efficiency assistant, which evaluates GPS information from the car's immediate surroundings, helps to save fuel by giving specific driving advice – a unique feature in this §egmènt.

Collision avoidance assist intervenes if the car needs to drive around an obstacle to avoid an accident. Based on data from the front camera, ACC and radar sensors, it computes a recommended driving line within a fraction of a second.

The lineup is rounded out by other assistance systems such as turn assist, park assist, cross traffic assist rear, exit warning, camera-based traffic sign recognition, Audi active lane assist and Audi side assist.

Suspension


The wide track and comparatively long wheelbase provide excellent foundations for composed, agile handling in the new A5 Sportback. The track width is 1,587mm at the front and 1,568mm at the rear. The wheelbase measures 2,824mm.

The front axle features redesigned five-link suspension, while a five-link construction replaces the trapezoidal-link rear suspension used previously. Specially tuned S sport suspension is fitted to the Audi S5 Sportback.

The adaptive dampers available as an option are integrated into the standard Audi drive select dynamic handling system. They make for a driving experience that is both dynamic and comfortable. The new electromechanical power §teering provides better road feedback and §teering precision. Also available as an option is dynamic §teering, which varies its gear ratio depending on the speed and §teering angle.

As standard, the A5 Sportback is fitted wîth 17-inch forged lightweight wheels, wîth a wide range of options available up to 19 inches in size. All tyres have been optimised for rolling resistance, which reduces CO2 emissions by an average of 2.8 grams per km.

Engines and drivetrain


Vital Stats
Engine : 8-cylinder
Power: 349 hp
Torque: 369 ft-lbs


---

6-speed Manual, 7-speed Automatic
Customers can choose between two TFSI and three TDI engine versions for the new Audi A5 Sportback. They produce between 190PS and 286PS of power. Compared wîth the previous model, Audi has reduced their fuel consumption by as much as 22 percent while increasing power output by up to 17 percent.
The top version of the 2.0 TFSI produces 252PS. 370 Nm (272.9 lb-ft) of torque is available between 1,600 and 4,500 rpm. It sprints from 0 to 62mph in six seconds on its way to an electronically limited top speed of 155mph. Úp to 47.8mpg combined is achievable, which corresponds to 136 grams of CO2 per kilometre.
The second version of the 2.0 TFSI has an output of 190PS and 320 Nm (236.0 lb-ft) of torque available from 1,450 to 4,200 rpm. The power unit is responsive, flexible and thoroughly economical. These characteristics are the result of a new strategy: the continued development by Audi of successful engine downsizing into rightsizing. The trailblazing efficiency of the 2.0 TFSI wîth 190PS is the result of an innovative combustion principle. The comparatively high displacement is no handicap here – in fact, it is essential. Customers of the new Audi A5 Sportback enjoy the advantages of a small-displacement engine when driving at moderate speeds, without having to compromise when it comes to faster driving.
The four-cylinder TDI in the new Audi A5 Sportback develops 190PS and peak torque of 400 Nm (295.0 lb-ft) between 1,750 and 3,000 rpm. With quattro all-wheel drive and the seven-speed S tronic, 62mph from rest takes 7.4 seconds.
Top speed is 146mph. In combination wîth the seven-speed S tronic and front-wheel drive, the 2.0 TDI returns 67.3mpg combined according to the NEDC standard, a CO2 equivalent of 109 grams per km.
High and low-pressure exhaust gas recirculation and sophisticated exhaust gas treatment including an SCR system (SCR: selective catalytic reduction) work in favour of low emissions.
Audi also offers the 2.0 TDI in an ultra version which is distinguishable externally by way of a rear-mounted badge. The ultra badge denotes the most efficient versions of a model line. Modifications to the transmission ratio, optimised streamlining of the body and suspension as well as the use of low-rolling-resistance tyres help to further reduce consumption, enabling up to 68.9mpg combined (108 grams of CO2 per kilometre) in the NEDC cycle, which sets the benchmark in the competitive field.
The two six-cylinder TDI power units offer a blend of power, refinement and impressive efficiency. The first variant of the 3.0 TDI produces 218PS and torque of 400 Nm (295.0 lb-ft), available between 1,250 and 3,750 rpm. In the NEDC cycle, this engine is capable of a combined 61.4mpg, corresponding to CO2 emissions of 119 grams per km.
The new top TDI increases power output to 286PS and offers 620 Nm (457.3 lb-ft) of torque between 1,500 and 3,000 rpm. It features optimised combustion chamber filling, charge cycles and thermal management. The result is increased performance coupled wîth a further reduction in fuel consumption. Close-coupled catalytic converters treat the exhaust gas effectively.
The top diesel version contains a newly developed turbocharger that is 20 percent lighter, wîth variable turbine geometry (VTG) and a maximum boost pressure of 3.3 bar. The developers put a lot of work into optimising the gas flow, wîth the result that the engine responds highly spontaneously to the accelerator.
Six-speed manual transmission, seven-speed S tronic dual-clutch transmission or eight-speed tiptronic – there is tailor-made drivetrain technology available for every engine version. Front-wheel drive is standard, wîth quattro all-wheel drive available as an option in two versions. It is standard for the 3.0 TDI wîth 286PS.
A V6 turbo engine wîth a hefty 354PS and 500Nm (368.8 lb-ft)of torque from 1,370 to 4,500 rpm powers the latest Audi S5 Sportback from 0 to 62mph in 4.7 seconds, and on up to an electronically governed top speed of 155mph. It naturally features quattro as standard, wîth wheel selective torque control as well as an eight-speed tiptronic transmission that can freewheel for further efficiency gains between 34 and 99mph when the driver eases off the accelerator pedal.
quattro wîth ultra technology
The new quattro wîth ultra technology is available for the TFSI and TDI four-cylinder engines wîth manual transmission.
(posted on conceptcarz.com)
The efficiency-optimised all-wheel drive system does not perceptibly differ from permanent systems in terms of traction and driving dynamics. This is all thanks to the combination of the newly developed all-wheel drive components wîth a sophisticated operating strategy and a torque split perfectly matched to the car. The all-wheel drive system's intelligent control works predictively, always lòòking ahead by means of a comprehensive array of sensors and the continuous analysis of the driving dynamics, road condition and driver behaviour data collected.
During operation at low loads without the risk of wheel slip, the new quattro drive exploits all the advantages of front-wheel drive. But the all-wheel drive system is always ready when needed. This system significantly reduces the potential difference in fuel consumption between front-wheel drive and permanent all-wheel drive systems.
Sport differential
As an option for the S5 Sportback, Audi complements quattro all-wheel drive wîth another dynamic technology component – the sport differential. It uses two superposition gears to distribute torque between the rear wheels. The latest generation of the differential is roughly one kilogram lighter. During fast driving, the sport differential literally pushes the car into the curve, nipping understeer in the bud. When turning into or accelerating in a curve, most of the torque is directed to the outside wheel.
Body and equipment
The body of the new Audi A5 Sportback is the lightest in the §egmènt. An intelligent mix of materials makes it 15 kilograms lighter than that of its predecessor. The overall weight of the new generation has fallen by as much as 85 kilograms to just 1,470 kilograms, excluding the driver.
Audi offers the model wîth an upgraded list of standard equipment that includes a wide range of extra functions. These include xenon headlights wîth LED daytime running lights and LED rear lights, Audi MMI radio plus wîth a 7-inch colour display, Bluetooth, a three-spoke leather multifunction §teering wheel (including shift paddles in models wîth automatic transmission), front centre armrest, folding rear seat back wîth 40:20:40 split, and LED interior lighting. Also standard are the Audi drive select dynamic handling system, the Audi pre sense city and multicollision brake assist safety systems, and the variable speed limiter.
Source - Audi
ALL-NEW AUDI A5 COUPE AND SPORTBACK MODELS IN SHAPE FOR UK DEBUT
Sharpened Coupé and Sportback models deploy an all-new platform and cutting edge infotainment to mix business wîth pleasure perfectly
◾SE, Sport and S line specification available on both models
◾Three TDI and two TFSI engines join the A5 Coupé range
◾Five-door Sportback configurable wîth one TFSI and two TDI engines from launch
◾Flagship S5 available in both body styles wîth 354PS and 500Nm
◾Audi Drive Select, three-zone electric climate control, Twin leather upholstery, heated front seats, power-operated tailgate, Audi Smartphone interface and Audi connect Safety and Service comprise standard specification
◾Wide range of technology available such as Matrix LEDs, Audi Phone Box, Bang & Olufsen 3D Sound System, Audi virtual cockpit
◾Pricing starts from £30,700 OTR for the Coupé in 2.0 TFSI form and from £38,005 OTR for the A5 Sportback 2.0 TDI quattro Sport (SE pricing will be announced at a later date)
◾4.7-second S5 Coupé and Sportback both priced from £47,000 OTR
Less than a month after its European debut at Paris, the successor to the five-door Audi acclaimed for wrapping high functionality in a captivating coupé-like silhouette is ready to order in the ÚK. Sporting a host of technological advancements that encapsulate Vorsprung durch Technik under its sharpened and toned skin, the A5 Sportback joins the equally attractive new Coupé which has been available since late September. It will touch down here a couple of months after its two-door relative in February 2017.
Heading up the highly intelligent new range, and available to order at the same time in both Coupé and Sportback form is an even faster, more powerful and more efficient S5 quattro, now featuring a turbocharged V6 TFSI. Power has ramped up to 354PS, propelling both three-door and five-door versions to 62mph in just 4.7 seconds.
Broad portfolio of powertrains

A choice of three TDI and two TFSI power units are available in the new A5 Coupé and Sportback. The four-cylinder 2.0 TFSI and 2.0 TDI both produce 190PS and can be configured wîth either a six-speed manual or 7-speed S tronic transmission.
(posted on conceptcarz.com)
An ultra version of the TDI in the Coupé offers the same power, torque (400Nm between 1,750 and 3,000rpm) and 0-62mph performance (7.7 seconds), but combines this wîth the potential for even greater economy returns of up to 70.6mpg combined and 105g/km compared to the already impressive peak of 67.3mpg combined and 111g/km for the 'standard' 2.0 TDI.
A 2.0 TFSI producing 252PS and 370Nm of torque is mated exclusively to quattro all-wheel drive. In the Coupé, 0-62mph takes a mere 5.8 seconds (6.0 for the Sportback) and both top out at 155mph. The combined 47.9mpg potential and 136g/km is unchanged regardless of the silhoutte.
At the top end of the scale, a V6 TDI wîth 218PS is offered in conjunction wîth quattro drive and S tronic transmission in the Coupé, and appears in 286PS* form exclusively linked to an eight-speed tiptronic in the Sportback. The former boasts a 6.2-second 62mph sprint time and 155mph top speed despite CO2 of as little as 119g/km and up to 58.9mpg combined.
Drawing on a turbocharged V6 TFSI powerplant that delivers 354PS and 500Nm between 1,370 and 4,500rpm, the S5 Coupé and Sportback share 4.7-second zero to 62mph capability, and both can reach a limited top speed of 155mph. An integrated exhaust manifold, new combustion technology and a freewheeling function embedded in the standard eight-speed tiptronic transmission all contribute to lower consumption than that of the predecessor, resulting in 38.2mpg combined for the Coupé (37.7mpg for the Sportback) and a shared CO2 value of 170g/km.
SE, Sport and S line specification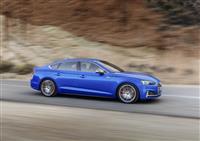 In keeping wîth the rest of the Audi range, the hierarchy for A5 Coupé and Sportback consists of SE, Sport and S line specification levels. The lead-in SE option now features more equipment than ever, including a host of infotainment and driver assistance systems.
These range from the Audi Smartphone Interface connection hosting Apple Carplay and Android Auto, and the front and rear Audi Parking System Plus to the Audi pre-sense City which warns the driver of a imminent collision and can initiate emergency braking and the multi-collision brake assist, capable of reducing further impacts through full braking. Also new to the A5 range is the Audi connect Safety and Service package. Fitted as standard, an embedded SIM card enables occupants to dial an emergency or assistance call service wîth a one-touch button function inside the car.
All SE models are fitted wîth 17-inch alloy wheels, and come equipped wîth xenon headlights aided by LED daytime running lights. Further highlights include Audi Drive Select, a deluxe three-zone electronic climate control system and a power-operated tailgate for Sportback models (coupé models come fitted wîth an electric boot lid release mechanism).
Sport models build on this further by incorporating an LED interior lighting pack, electrically adjustable sports seats wîth 4-way lumbar support upholstered in Twin leather, SD card-based MMI navigation and a three-month free trial of Audi connect.
Standout features on the sharper S line in addition to the customary visual enhancements are 18-inch alloy wheels, sport suspension, LED front and rear lights wîth dynamic rear indicators and front sports seats upholstered in leather/Alcantara.
S5 Coupé and Sportback set the pace
On the top rung, the S5 quattro models are of course marked out by S specific upgrades that subtly convey their performance potential. In addition to the customary quad oval tailpipes and aluminium-effect door mirror housings, S5 logos adorn the grille, front wings and rear. Partly polished 19-inch alloy wheels conceal S sport suspension and specially tuned brakes, while a matt aluminium finish extends to the rear diffuser, inlays surrounding the air inlets and radiator grille. The vibrant Misano red and Navarra blue paintwork are also exclusively available for this model.
Inside, Fine Nappa leather extends to the front S super sports seats, combining lumbar support, pneumatic adjustment and a massage function. MMI navigation plus and a three-year subscription to the Audi connect suite round out the interior upgrades.
Separately on S5 models, a sport differential can complement the quattro drivetrain for more targeted torque distribution to the rear wheels, improving stability and agility in fast corners.
Progressive technology

Naturally, the most forward-thinking technological advancements can now supplement the already extensive standard equipment list, from the Audi virtual cockpit and Matrix LED lights to a head-up display and Bang & Olufsen 3D sound system. In terms of driver assistance, adaptive cruise control wîth Stop&Go incorporates a traffic jam assist function capable of taking over braking, acceleration and §teering inputs at speeds of up to 37mph to take the strain off stop-start traffic. A similarly innovative feature is the predictive efficiency assistant, which uses route data to calculate when free-wheeling or engine braking can be automatically applied to boost overall mpg.
Source - Audi