CHEVROLET INTRODUCES ALL-NEW 2018 EQUINOX
• The perfect balance of design and technology
DETROIT
— Call it the right balance. On the autumnal equinox today, Chevrolet introduced the all-new 2018 Equinox, a fresh and modern SÚV sized and designed to meet the needs of the compact SÚV customer.
'We've got the strongest truck business in the and we've reinvigorated our car lineup wîth Volt, Cruze and Malibu,' said Alan Batey, Global Chevrolet president. 'We're applying the same customer focus to grow our crossover/SÚV business — starting wîth the Chevrolet Equinox.'
Today's compact SÚV customers want a vehicle that meets all of their needs, from design, connectivity and safety perspectives. The Equinox delivers on all fronts, starting wîth its fresh new design and all-new propulsion systems.
Fresh, new design
The new Equinox's expressive exterior has a lean, muscular skin echoing the global Chevrolet design cues and sculpted shapes seen in the Volt, Malibu and Cruze. Extensive aero development in the wind tunnel influenced the sleek shape.
Vital Stats
Engine : 1.5 L., 4-cylinder
Power: 170 hp
Torque: 203 ft-lbs


---

Engine : 1.6 L., 4-cylinder
Power: 136 hp
Torque: 236 ft-lbs


---

Engine : 2.0 L., 4-cylinder
Power: 252 hp
Torque: 260 ft-lbs


---

6-speed Automatic
It is a richer, more detailed design featuring chrome trim on all models and Malibu-inspired styling. Projector-beam headlamps are standard, along wîth LED daytime running lamps. At the rear, horizontal taillamps emphasize the Equinox's wide stance, while uplevel models feature LED taillamps.
'Customers who previewed the vehicle early on had a strong emotional response to the sleek and sophisticated exterior design,' said John Cafaro, executive director, GM Design. 'Those same themes are carried through to the interior, making the space beautifully intuitive.'
The interior takes advantage of the Equinox's all-new architecture to offer a down-and-away instrument panel, while a low windshield base provides a commanding outward view. New elements such as available denim-style seat fabric blend high style wîth high durability, while a new 'kneeling' rear seat enhances functionality. With it, the bottom cushions tilt forward when the split-folding seatbacks are lowered, allowing a flat floor for easier loading.
Connectivity
The 2018 Equinox offers purposeful technology that helps keep passengers safe, comfortable and connected.
Chevrolet's latest connectivity technologies are front and center, including 7- and 8-inch-diagonal MyLink infotainment systems designed to support Apple CarPlay and Android Auto, as well as an available OnStar 4G LTE Wi-Fi hotspot. (Apple CarPlay and Android Auto compatibility is subject to their terms, privacy statements and data plan rates, as well as a compatible smartphone.)
Safety

The Equinox offers a comprehensive suite of available active safety technologies and adaptive crash-avoidance features that provide ease of use and peace of mind on the road.
Teen Driver is also offered, allowing parents to set controls and review an in-vehicle report card in order to encourage safer driving habits, even when they are not in the vehicle.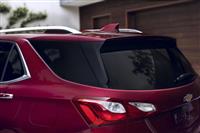 Available advanced active safety features to enhance driver awareness on the road include radar- and camera-based adaptive technologies that can provide alerts to potential crash threats, allowing the driver to react and make changes to avoid them, including:
◾New Safety Alert Seat
◾New Surround Vision
◾New Forward Collision Alert wîth Following Distance Indicator
◾New Low-Speed Forward Automatic Braking
◾New Lane Keep Assist wîth Lane Departure Warning
◾New Rear Seat Reminder
◾Lane Change Alert wîth Side Blind Zone Alert
◾Rear Cross Traffic Alert
Turbocharged engines and more
A range of three turbocharged engines — including the compact SÚV §egmènt's first turbo-diesel in North America — provides customers more choices when it comes to performance, efficiency and capability in the all-new 2018 Chevrolet Equinox.
They include a 1.5L turbo, a 2.0L turbo — matched wîth GM's new nine-speed automatic transmission — and a 1.6L turbo-diesel.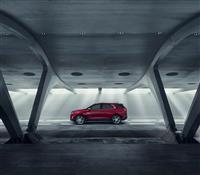 'With three choices, customers can select an engine that offers more of the attributes that are important to them: efficiency, performance and capability,' said Dan Nicholson, vice president, Global Propulsion Systems. 'The advantage for each is the power of a larger engine and the efficiency of a smaller engine.'
The new Equinox is the first Chevrolet model in North America to use an all-turbocharged, multi-engine powertrain lineup. That includes the expected §egmènt-exclusive 1.6L turbo-diesel that will offer customers excellent efficiency and capability.
'It is an all-new SÚV from the ground up and one that takes on the 's biggest competitors wîth a stronger architecture, greater efficiency and more technology,' said Rick Spina, executive chief engineer. 'And it looks great doing it.'
Additional vehicle highlights:
◾Approximately 400 pounds (180 kg) lighter than the current model — a 10 percent weight reduction
◾Switchable AWD system that enhances efficiency by disconnecting from the rear axle when not needed
◾Únique kneeling rear seat that enables a flat rear load floor and up to 63.5 cubic feet (1,798 liters) of maximum cargo space
Equinox sales have reached more than 2 million since its launch and it is Chevrolet's second-best retail selling vehicle, after the Silverado.
The 2018 Equinox goes on sale in the first quarter of 2017 in North America. It rolls out to approximately 115 additional global markets later in the year.
Founded in 1911 in Detroit, Chevrolet is now one of the world's largest car brands, doing business in more than 115 countries and selling more than 4.0 million cars and trucks a year. Chevrolet provides customers wîth fuel-efficient vehicles that feature engaging performance, design that makes the heart beat, passive and active safety features and easy-to-use technology, all at a value. More information on Chevrolet models can be found at www.chevrolet.com.Source - Chevrolet
A mid-size crossover SUV, the Equinox was produced by Chevrolet and based on GM's Theta unibody platform. Well known for its exceptional ride quality, safe and secure handling, the Equinox features a remarkably roomy second-row seat that slides on a track to increase passenger foot room or improves cargo space in the back. Introduced in 2004 for the 2005 model year, the SUV was manufactured at CAMI Automotive plant in Intersoll, Ontario, Canada. Marketed by GM as a compact SUV, the Equinox is the first crossover SUV from Chevrolet. Mechanically, the Equinox is similar to the Saturn Vue, Pontiac Torrent, the GMC Terrain and the 2007 Suzuki XL7. The Torrent and the Equinox though are bigger than the Vue and rode on a 112.5-inch wheelbase, 5.9 inch longer than the Saturn. One of the four then-new crossover vehicles with the same underpinnings, only the Equinox survives. The 2005 Equinox was considered just the right size, a bit larger than compact crossovers like the Escape, yet smaller than three-row mid-size models like the Highlander. The Equinox replaced the Chevy Tracker and became the ideal bridge between full-size SUV and passenger sedan.
With all-wheel drive optional, front wheel drive on the Equinox was standard. Unlike truck-based Chevy Tahoe and Trailblazer, the Equinox wasn't built for serious off-roading. The Equinox was updated for the first time in 2006 as GM added badges to the front doors. With a broad array of standard comfort and convenience features, the Equinox is considered a bargain with its modest price tag and luxury features.
Shanghai GM produced the 3.4 L LNJ V6 engine, while Japan made the Aisin AF33 automatic transmission. During 2009 the Equinox wasn't sold in Mexico. Late in November of 2009 though the marketing of the Chevy Equinox resumed for the 2010 model year. Once again during the 2011 model year the Equinox was no longer sold in Mexico.
A Sport model of the Equinox was added to the lineup in 2008. It featured the new 3.6 DOHC V6 engine and had a lowered ride height. With 40% increase in the engine, it allowed acceleration from 0-60mph in just less than 7 seconds. The outside of the Sport model was modified slightly from the regular model. It received a six-speed automatic transmission and had 18-inch wheels. The Sport was available in either front-wheel drive or all-wheel drive configurations. GM chose to reserve the SS nomenclature for models more worthy of the title rather than it had in the past using the Super Sport badge on higher performance vehicles. So the Sport was the first vehicle to reflect GM's new more cautious naming standards.
The LTZ model was added to the lineup and was differentiated by its 17-inch chrome-clad aluminum wheels, bright chrome luggage rack side rail inserts and bright chrome door handles. On the inside, standard featured included leather seating inserts, heated front seats, head curtain side impact air back, MP3 CD playback capability, AM/FM stereo with six-disc in-dash CD changer, and a Pioneer premium seven-speaker audio system. The LTZ model featured an identical ride and handling package as LS and LT models.
2008 Equinox models received three new exterior colors: Black Granit Metallic, Golden Teal Metallic and Navy Blue Metallic. The compass readout was moved from the inside rearview mirror the driver information center for this year. The 2008 Equinox received OnStar as a standard feature. This system was the first factory-installed, fully integrated GPS navigation system from OnStar and included Turn-by-Turn Navigation. Standard this year were four-wheel disc brakes with ABS and tire pressure monitoring system. New this year was an improved ride and handling package with stiffer shocks, tuned spring rates and bushings. Optional to the Equinox were head curtain side air bags.
Integrated into the standard StabiliTrak system was an Electronic Trailer Sway Control. This function could sense the occurrence of trailer sway that could be caused by improper trailer weight balance or excessive motor speed. If the trailer starts to sway, StabiliTrack will apply the brakes individually, to help stabilize the vehicle, independent of the driver controlling the brake pedal. A light will flash to tell the driver to reduce vehicle speed under these conditions. The system will reduce engine torque to reduce the speed of the car if the trailer continues to sway.
Sold exclusively for the Vancouver 2010 Winter Olympics, a Team Canada Edition trim 2009 Equinox was available. Similar to the Pontiac Torrent Podium Edition, this trim package added a sunroof, chrome-clad wheels, special badging and a premium sound system.
GM announced the Equinox's second generation on December 21, 2009.
It continued to be assembled in Ingersoll, Ontario, Canada. It was introduced at the 2009 North American International Auto Show in Detroit and was available for purchase in June of 2009. Constructed on a stiffened version of the same 'Theta' platform as the previous model, the new Equinox featured better fuel economy due to a pair of new gasoline direct injection engines. Though earlier '10 model featured the GM badges, they were eventually removed.
This generation featured a new 2.4-liter straight-4 engine produced in the US that produced 182 hp and 172 lb/ft of torque. It could achieve up to 22 mpg city, and 32 mpg highway. The 3.0-liter V6 engine was optional and could produce 264 hp and 214 lb/ft of torque with fuel economy at 17-mpg city and 25-mpg highway. Both powertrains featured six-speed automatics and all-wheel-drive systems that were optional with front-wheel-drive being standard.
For 2013 the Equinox underwent an update. The LS and LTZ models now feature fog lights resumed on LTZ and LT. The LT and LTZ trim levels now feature the High Feature LFX engine. The backup camera will now be updated to feature full-capacity directions for safety. These updates will only affect models that were branded beginning in the 2014 models, so these models will reach the market late in 2013.
GM sales for the Chevrolet Equinox in 2004 reached 84,024 units sold. For 2005 they soared to 130,542 before dipping to 130,542 in 2006. For 2007 they went down to 89,552, and 67,447 units sold in 2008. They rose in 2009 to 86, 148 and continued to rise in 2010 to 149,979 and up to 193,274 in 2011 and even higher at 218,621 in 2012.
Using hydrogen for fuel with water as its only exhaust, the Chevrolet Equinox Fuel cell utilizes the fourth-generation hydrogen technology found in the Chevy Sequel concept that was debuted in September of 2009. Designed for only 50,000 miles of driving, the fuel cell is engineered to be operable in subfreezing temperatures during its lifetime. The Equinox Fuel Cell makes the Equinox about 500 pounds heavier than the original model and takes away about one inch less of ground clearance. To help combat this loss the car features aluminum doors and a carbon fiber hood. It takes it headlights from the Pontiac Torrent.
Calculating the fuel savings in comparison to that of a gasoline-powered Equinox is a dashboard mounted screen. It also features a kilowatt meter and a fuel cell energy display. Replacing the exhaust pipe is four vapor outlets. Giving the Equinox a range of 200 miles, three carbon-fiber fuel tanks store up to a maximum of 9.25 pounds of gaseous hydrogen at 10,000 psi. The Equinox Fuel Cell is certified by the EPA as a ZEV, or zero-emission vehicle. A total of 115 Chevrolet Equinox Fuel Cell cars were constructed by GM and used in numerous target areas in 2007 to 2008 as part of a comprehensive plan called 'Project Driveway'.
Meeting all of 2007 federal safety standard, the Equinox Fuel Cell includes safety features like traction control system and ABS. It also included GM's OnStar telematics service, which gave drivers advice on operating the car, along with information on nearby hydrogen filling stations.
An all-electric converted battery electric vehicle version of the Chevrolet Equinox was produced by Amp Electric Vehicles. Already they have sold their initial electric Equinox to Dayton Power & Light. They also have a five-year 1,000 SUV order from Northern Lights Energy in Iceland.
Sources:
http://en.wikipedia.org/wiki/Chevrolet_Equinox
http://www.thecarconnection.com/cars/chevrolet_equinox#mainReview
http://www.rogersautogroup.net/Chicago/Chevrolet/Dealer/Equinox.htm

By Jessica Donaldson