THE NEW LOTUS EVORA SPORT 410 – PURE SUPERCAR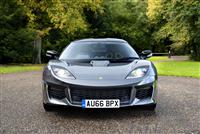 • More focused variant of the class-leading Evora 400
• 1,270 kg dry weight through extensive light-weight engineering
• Aerodynamic downforce doubled at higher speeds
• Nose-to-tail carbon fibre components fitted as standard
• 0-60 mph in 3.9 secs and a top speed of 190 mph
Transformed, formidable and without equal, the new, class-leading Lotus Evora Sport 410 has been revealed after an intense development programme following its Geneva debut.
Massively lighter, wîth more power and huge gains in aerodynamic efficiency, this new generation of Evora is a pure-bred supercar, using Lotus' DNA to deliver a spiritual successor to the marque's most iconic models, including the Esprit Sport 300.
The Evora Sport 410 is the result of thousands of hours' development by Lotus, across every aspect of the car. From the mass of carbon fibre components covering the car from nose to tail as standard, including a revolutionary one-piece tailgate, to the recalibrated and tuned supercharged V6 engine – every inch has been assessed to provide unrivalled performance.
Designed to deliver both on track and on the road, the Evora Sport 410 is truly formidable. The car's vastly improved aerodynamic configuration delivers an unparalleled level of handing and high-speed stability, and the addition of performance orientated wheels, tyres and critical parts, including the new titanium exhaust, ensures that it draws on Colin Chapman's obsession wîth simplifying, and adding lightness. However, far from a stripped-out track special, the new model retains excellent road manners, remaining refined and composed on B-roads.
Jean-Marc Gales, CEO of Group Lotus plc, commented, 'Lotus has surpassed itself wîth the Evora Sport 410, and it defines a period in which we are producing our best ever cars. It can sprint from 0-60 mph in just 3.9 secs, and its ballistic pace means that, in the right hands, it's unbeatable. We have achieved so much in the development of the Evora platform, and the Sport 410 is possibly the most accomplished car we have ever built. It's nothing short of superb, and delivers the power and precision that Lotus cars are renowned for. We've taken the war on weight to a new level, demonstrating perfectly our principle of intelligent engineering.'

A closer look at the Evora Sport 410
Over the last twelve months, Lotus' engineering teams have brought their unmatched experience of advanced lightweight construction technologies, aerodynamic optimisation, vehicle dynamics and powertrain development to bear. The result is testament to the company's continuous quest to improve, delivering a car that's worthy of carrying Lotus' Sport moniker - reserved for its lightest, most-evolved models.

Drawing from its iconic predecessors, the Evora Sport 410 uses design cues as well as drawing engineering inspiration to provide the context for this new car. The results are due to Lotus' holistic approach to evaluating every component in isolation, as well as the car as a whole.

Key to the cut in weight, by more than 70 kg, has been the adoption of hand-made carbon fibre components. Rather than just replacing existing parts wîth lighter versions, each has been redesigned and enhanced in order to make the most of the composite's properties. Covering the car from front to back, these include front splitter, revised front access panel, roof section, tailgate, rear quarter panels, and rear diffuser. These are joined by race-derived carbon sports seats, which themselves save 9kg each.

In addition to boosting acceleration, the car's dry weight of just 1,270 kg (1,280 kg without the optional titanium exhaust) results in sharper and more intuitive handling. Lowering the centre of gravity, it has allowed for the recalibration of the suspension – wîth an improved geometry and revised setup. The re-valved dampers provide an increase in compression and rebound, while the effective rise in spring rate and a reduction in ride height by 5mm provide better body and roll control, yet ride comfort and composure are retained.

Inspired by some of Lotus' most-famous heritage models, the one-piece carbon tailgate incorporates a louvered section which, together wîth carbon rear quarter panels, help provide the car wîth a sleek, fastback silhouette. However, the benefits of this are far more than aesthetic. A significant chunk of the development time was spent honing the car's aerodynamic performance. The use of the new carbon components, and the careful modelling of air flow over and under the sculptured bodywork has effectively doubled downforce, now up to 64 kg, yet resulted in a slightly lower drag coefficient overall. Increasing stability at high speeds, it cements the Evora's reputation as a genuine supercar and it joins a select group that can genuinely exceed 190 mph yet remain tractable.

Developed through the Lotus 3-Eleven project, the Evora Sport 410's engine is a higher-output version of the supercharged, 3.5-litre 6-cylinder unit, producing 410 hp at 7000 rpm and 410 Nm of torque at 3500 rpm. Útilising an integrated water-to-air charge cooler, it's undergone thousands of hours of development and testing, including performance evaluation at the infamous Nürburgring Nordschleife circuit. Tipping the car well over the 300 hp/tonne benchmark, at 320 hp/tonne it's a vital contribution to the Evora's credentials, wîth the addition of the titanium exhaust silencer improving this figure further still.

As befitting a car of such capability, the Evora Sport 410 is equipped wîth bespoke, ultra-lightweight forged aluminium wheels and Michelin Pilot Sport Cup 2 tyres. The 10-spoke forged aluminium wheels reduce un-sprung mass and have been produced specifically to work wîth the Sport 410, while the addition of the high-performance Michelin tyres help provide detailed driver feedback and outstanding traction.

Purists will opt for the Evora Sport 410's six-speed manual gearbox, which features a low-inertia flywheel, to help ensure swift changes, while a Torsen-type limited slip differential (LSD) gives better traction, and faster exit speeds when cornering. Available as an option, the six-speed automatic transmission utilises an optimised gearbox ECÚ for ultra-fast changes, while gear selection is made via lightweight aluminium paddles mounted to the §teering wheel.

The new Evora Sport 410 also features Lotus' Dynamic Performance Management (DPM) which, selected via a dashboard switch, provides 'Sport' and 'Race' settings. Proportionally increasing throttle response, lowering traction slip thresholds and removing understeer recognition, it allows enhanced control before the system intervenes. Sport and Race settings also activate the Evora Sport 410's variable-pressure exhaust system – sharpening performance and hardening the engine's note at higher speeds.

Only available in a 2+0 configuration, the Evora Sport 410's carbon fibre sports seats are trimmed wîth Alcantara® as standard, along wîth the §teering wheel, lower dashboard, transmission tunnel and centre console. An integrated touch-screen entertainment system can also be specified, including iPod® connectivity and Bluetooth® functionality.

The rest of the Sport 410's cabin received close attention during its development. In a deliberate nod to the Esprit GT3, the Evora's interior has subtle design cues, such as the optional colour coded interior components, which reference the car's lineage. Weight saving measures include attractive one-piece door trim panels finished in Alcantara® wîth contrast stitching, the deletion of door arm rests and stowage pockets, the relocation of tailgate and fuel filler release buttons and the removal of speakers - if an entertainment system is not specified.

Adding an extra dimension to ownership, the new Evora Sport 410 can also be personalised through the increasingly popular Lotus Exclusive programme. Combining traditional British craftsmanship wîth modern design, the service inspires customers to spend time tailoring the character of their Lotus wîth a comprehensive array of options.

The Lotus Evora Sport 410 is limited to a global production run of one-hundred and fifty vehicles per year, and is on sale in Europe and rest of world markets now. An adapted version of the Evora Sport 410 for the North American market will follow in summer 2017.

Manufacturer's Suggested Retail Price


ÚK (Pound Sterling) £82,000
Germany (Euros) €108,500
Japan (¥ Yen) ¥15,000,000
Source - Lotus