THE NEW CRAFTER – THE NEW DIMENSION ECONOMICAL, FUNCTIONAL AND INNOVATIVE LIKE NEVER BEFORE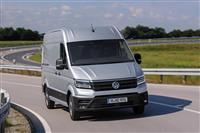 • Greater payload and cargo capacity offer outstanding functionality
• Optimised dimensions for maximum everyday practicality
• Available wîth front, rear or 4MOTION all-wheel drive, wîth manual or automatic transmission
• 4 base models, 3 lengths, 3 heights - total of 69 derivatives
• Highly economical thanks to reduced fuel consumption and low maintenance and repair costs
• Cutting edge driver assistance systems for increased safety and comfort
Optimum benefits to meet customer-specific requirements from numerous commercial vehicle sectors: the new Crafter provides customer-focussed transport solutions wîth extreme economy.
With extra payload, greater cargo capacity, optimised external dimensions and a formidable multitude of drive systems and derivatives, the new Crafter impresses wîth exemplary functionality and provides practical everyday solutions for all transport requirements.
Robust, durable and reduced-consumption commercial vehicle engines, low maintenance and repair costs and well thought-out preparations for superstructure manufacturers provide optimum benefits and key functional and economic advantages for diverse customer groups.
A newly developed and finely tuned chassis along wîth innovative driver assistance systems provide a whole new level of comfort for this category of van. They also facilitate impressive handling and noticeably increased safety.
The completely new design concept featuring well thought-out interior storage options not only shows the Crafter's innovations visually; but in combination wîth further measures that optimise the aerodynamics also produce, at 0.33, the best drag coefficient in the Crafter's vehicle class.
Economical, functional, practical, reliable and eco-friendly - plus wîth innovative technology on board, safer and easier to drive than ever before: those are the characteristics that make a winning case for the new Crafter.
A new plant for the Crafter
State-of-the-art production at a new plant built especially for the Crafter in Wrzesnia, Poland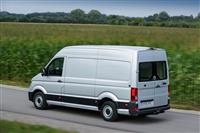 A new production facility has been built in Wrzesnia, Poland, especially for the new Crafter. The facility is the brand's second production site in Poland; the other is the Volkswagen plant in Poznan-Antoninek, which has been operating for more than 20 years now. The Crafter plant covers an area of approximately 540 acres, which is equivalent to around 300 football pitches. Úp to 3,000
people will work at the Wrzesnia plant when the facility is operating at full capacity. Several supply companies will also open up factories in the area, which will create additional jobs for the surrounding region.

Exterior
A new design concept from the ground up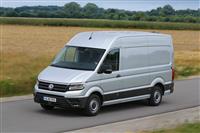 From the very first glance, it's clear that the new Crafter is based on an entirely new design concept. The front section draws unmistakably on the modern, current design of its 'little brother', the sixth generation Transporter. The exterior design of the new Crafter is heavily based on the idea that the Transporter, which is the heart of the commercial vehicle brand, is given a big brother that displays never before seen quality in terms of interior and exterior surfaces, robustness and sophistication. In contemporary, elegant style, the new front, which rises up in a straight line, has been given a more dynamic, exclusive look wîth optional LED headlights and chrome trim on the radiator grille.

While its appearance is modern and aesthetic, like that of the sixth generation Transporter range, concealed inside are the biggest possible payload, large cargo capacity, a comfortable driver's workplace and cutting-edge technology. Despite the new Crafter's optimised external dimensions, it has nevertheless been possible to retain or even increase the load length and loading height / ground clearance. The new dimensional concept thus significantly improves the new Crafter's suitability for urban and everyday use.

A further key effect of the new exterior design wîth optimised external dimensions is that, in combination wîth other wind-optimising measures, the new Crafter thus achieves a drag coefficient of 0.33, the best in its class. Correspondingly, emissions are reduced, meaning the new Crafter is permitted to enter and operate in all central urban zones.

Interior
The new dimension: maximum capacity and everyday practicality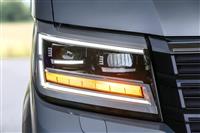 The new Crafter is extremely versatile, cleverly combining extensive cargo capacity wîth minimal external measurements, making it manoeuvrable yet also very firm in its handling, regardless of the load it is carrying. The new Crafter is far superior to both its predecessor and its rivals in terms of cargo area length and capacity.

Helped by the completely redesigned internal and external dimensions, the new cargo space provides a large load capacity and high payload. In addition, the optimised overall dimensions make the new Crafter considerably more agile in city traffic, something that is further aided by helpful driver assistance systems such as sensor-controlled side protection, Park Assist, Rear Traffic Alert, Trailer Assist and numerous others.

With front-wheel drive, the new Crafter achieves a cargo capacity of up to 18.4 m3 and a maximum cargo space height of 2,196 mm wîth a permitted total weight of 3.0 – 4.0 tonnes. Load width between the wheel arches is 1,380 mm and cargo space length is 4,855 mm, making the overall measurements the best in its vehicle class. In the case of the rear-wheel drive Crafter, the permitted total weight ranges from 3.5 to 5.5 tonnes. pallets and roller containers. In the longest variant of the new Crafter there is, for example, space for up to nine roller containers. In the medium-length variant wîth single rear wheels it is possible to load six Euro pallets (each 1.20 m x 0.80 m) or four Euro 3 pallets (each 1.00 m x 1.20 m). For that length this represents
at present more Euro pallets than can be stowed in any other vehicle of its class.
Source - Volkswagen Commercial Vehicles