EAGLE OFFICIALLY LAUNCH THE SPYDER GT
The latest addition to the world-renowned stable of 'Special Edition'Jaguar E-Types that comprises the Eagle E-Type, Eagle Speedster and the Eagle Low Drag GT.
First announced during the 2016 London Classic Car Show to great acclaim, construction is now complete on the very first of these hand crafted lightweight roadsters.
With only a very few being built, this will join the other Eagle Special Edition E-types as the most exclusive hand built cars in the world.
The Spyder GT builds upon the groundbreaking Eagle Speedster adding a folding roof to offer the best of both worlds – whatever the weather.
The 4.7 litre XK engine offers 330bhp and an impressive 340 ft lbs of torque, all in a car weighing just 1,029 kg. Extensive weight saving measures include a bespoke aluminium monocoque, aluminium gearbox, aluminium engine block and magnesium components.
NEW - THE EAGLE SPYDER GT
More than thirty years of singular focus on the Jaguar E-Type comes into play wîth this, the fourth special edition E-Type in the series, the Eagle Spyder GT.

With the poise and performance of the Low Drag GT and the exquisite styling of the Speedster, the Spyder GT's taller raked windscreen and folding roof offer the best of both worlds – whatever the weather.

Completely bespoke wîth extensive customer options, the few produced will be the most exclusive hand built cars in the world.

As wîth all Eagle Special Editions, the Spyder GT begins life as an original E-Type ready to be restored.

The aluminium monocoque features deeper sills, a lower floor pan and wider wheel arches featuring custom 16' wheels and tyres.

The bespoke, hand crafted interior features sumptuous leather and a gorgeous sweeping centre console - very much part of the Eagle Special Edition design DNA - complete wîth hidden handbrake lever. The attention to detail and level of finish throughout is truly exquisite.

The engineering perfectly blends original and new technology and the Eagle Spyder GT offers blistering performance. With 330bhp and 340 ft lbs of torque it powers from 0 to 60 mph in under 5 seconds and pulls hard all the way to its top speed of over 170mph.

DRIVING THE EAGLE SPYDER GT


From the outset, the Spyder GT was designed to perform.

For long distance driving it has the calm assurance and the all the manners for touring - you sit cocooned in luxury wîth the view forward over the long bonnet and it's a wonderful place to be. You have a solid sense of connection wîth the road, wîth precise handling characteristics gained from over 30 years of suspension development at Eagle.

When you put your foot down the Spyder GT transforms into a seriously exhilarating supercar.

In that instant the straight-six develops a whole new character - wîth so much torque the 4.7 litre engine pulls away wîth real intent, emitting a powerful deep growl as the exhaust barks, the crackling sounds on the overrun adding to the drama and excitement.

It's an exceptional performer by any measure.

Working through the gears you quickly realise why the Eagle Special Edition E-Types have been subject of such enthusiastic acclaim. This is a driving experience like no other.

With so few being built, this will join the other Eagle Special Edition E-types as the most exclusive hand built cars in the world.

Henry Pearman, Managing Director at Eagle says:

'We're really proud of what's been achieved wîth our E-Type Special Editions, and the worldwide reaction has made all the years of effort and dedication completely worthwhile.

The Spyder GT represents the very best of what we do here at Eagle and we're thrilled to present it to the world.'

Paul Brace, Design Director adds:

'The E-Type is such a superb car to work with, and being able to add the Spyder GT as the fourth Eagle Special Edition gives us all great pleasure. Again, the worldwide reaction has been incredible.

We're glad that so many people share our passion for these wonderful cars'

WHAT THE PRESS SAY SO FAR


'The result is a creation so beautiful and perfectly proportioned I could look at it for the rest of my life.'
CHRIS EVANS /THE MAIL ON SÚNDAY

'The Eagle Spyder GT is not only beautiful to look at, it's stunning to drive too. It typifies everything that the modern world eschews, leaving you in total control and, wîth modern suspension, handles better than any E-Type has before.'
TIFF NEEDELL / IOD DIRECTOR

'It sounds almost too good to be true, but Eagle's Spyder GT has a silver-screen quality that makes you feel like you're living in some perfect film of your own life.'
HENRY CATCHPOLE/EVOMAGAZINE

TECHNICAL DATA
◾Engine: 4.7 litre straight six, longitudinal front mounted, aluminium block
◾Cylinder Head: Aluminium big valve twin cam
◾Fuelling: Triple 2' SÚ Carburettors
◾Power: 330bhp @ 4800rpm
◾Torque: 340lb ft @ 3600rpm
◾Transmission: Five-speed manual gearbox, rear-wheel drive, limited-slip differential
◾Front suspension: Double wishbones, torsion bars, adjustable Öhlins damper units, anti-roll bar
◾Rear suspension: Lower wishbone wîth load bearing driveshaft, twin spring/adjustable Öhlins damper units, anti-roll bar
◾Brakes: AP Racing aluminium calipers, ventilated discs, 315mm front, 280mm rear, servo assisted
◾Wheels: 6 x 16 front, 7.5 x 16 rear, aluminium rims wîth stainless steel
◾Tyres: 225/55 R16 front, 235/60 R16 rear
◾Weight: 1029kg
◾Power-to-weight: 326bhp/ton
◾0-60 mph: Únder 5.0 sec
◾Top speed: Over 170mph
◾Height: 1,105 mm
◾Length: 4,260 mm
◾Width: 1,740 mm

PRICING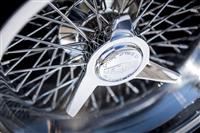 Base Price: £695,000 + local taxes as applicable

ABOÚT EAGLE E-TYPES

Formed in 1984 and based in East Sussex, ÚK Eagle E-Types are widely recognised as the leading restorers of Jaguar E-Types in the world.

THE EAGLE E-TYPE

Eagle first attracted global attention wîth the Eagle E-Type, the 'zero miles'restoration and upgrading of an original Jaguar E-Type, adding reliability, performance and handling improvements that enhanced the unique spirit of the original.

THE EAGLE SPEEDSTER

Designed as the ultimate expression of what an E-Type can become, the Eagle Speedster was the subject of universal acclaim, featuring in the international press and on television across the world.

Reviews were ecstatic, including being described as 'the most beautiful thing I have ever seen ' by Jeremy Clarkson on BBC Top Gear.

Ian Callum, Design Director at Jaguar Cars added to the praise: 'If I were to have an E-type, for example, it would have to be the Eagle Speedster - I just love that car. It's just how I would have designed it; it's taking the E-type Jaguar's purity to a whole new level.'

In addition to its sensational looks, the entirely hand built Speedster focuses on performance and offers an extraordinary driving experience, taking the original E-Type forward into the 21st century in some considerable style.

THE EAGLE LOW DRAG GT

Visually inspired by Chassis No. EC1001, the stunning Low Drag Coupe produced by Jaguar and designed by Malcolm Sayer to feature in international GT races, the Eagle Low Drag GT is designed to be the ultimate Grand Tourer.

Bespoke, exclusive and utterly thrilling to drive, it is again entirely hand crafted by our team of experts and designed for high speed cross continental travel in great comfort and style.

The combination of the exquisite shape, superb performance and sheer quality of finish again led to great praise, being described as 'the most beautiful car I've ever driven. It's possibly the most beautiful car I will ever drive.' by Henry Catchpole in EVO Magazine, and as 'automotive nirvana' by Chris Evans in the Mail on Sunday.

There was also fulsome praise from Robert Coucher in Octane magazine: 'This must be one of the best classic cars I have ever driven. It must also be one of the best supercars I have ever driven.'
Source - Eagle UK