All-Electric Nissan e-NV200 Revolutionises Iconic Harrods Delivery Fleet
By: Nissan
---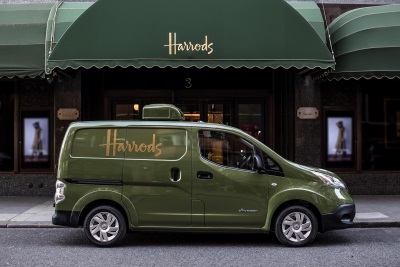 ◾Nissan partners with Harrods to add all-electric Nissan e-NV200 to the British store's fleet ◾The 100 percent electric van, decked out in traditional Harrods livery, will make daily deliveries to the store's customers ◾Harrods is the latest European business to put its trust in Nissan as the leader in electric vehicle technology ◾In total Nissan has sold more than 27,000 electric vehicles to businesses across Europe ◾Watch the video here: https://youtu.be/bO9RXWjCalM
London (28th March 2017):
Over 100 years after the legendary London department store first added an electric van to its fleet, Harrods is once again returning to EV technology, with the addition of the 100 percent electric Nissan e-NV200 delivery van.
The British department store is the latest European business to add a zero emission Nissan e-NV200 to its fleet, with more than 27,000 Nissan electric vehicles sold to businesses across Europe so far. Nissan officially handed over the 100 percent electric van to Harrods outside its luxury Knightsbridge store this week. The Nissan e-NV200 has been specially adapted to perfectly fit Harrods' delivery needs. The load space of the van has been fully refrigerated and shelving units added to allow for fresh groceries to be transported in optimum condition. The exterior has also been wrapped in the traditional green and gold Harrods livery to make it recognisable as it travels around the city. The e-NV200 has a range of up to 106 miles on a single charge*, which means it is easily capable of making up to 50 deliveries per week covering an average distance of 150 miles in the London area with Harrods only needing to charge it once a week.
---
Trending News
Photo credit:
Nissan
posted on
conceptcarz.com
Loading............
Loading............
Loading............
Loading............
Loading............
Loading............
Loading............