MY18 Granturismo And Grancabrio Star At Goodwood Festival Of Speed
By: Maserati
---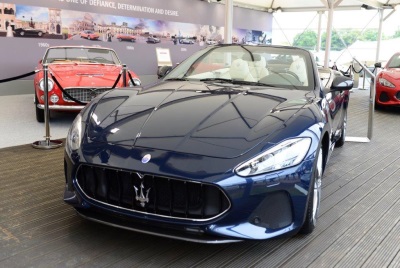 World debut for the restyled Maserati GranCabrio and European premiere for the GranTurismo at Goodwood Festival of Speed, on 29 June – 2 July 2017.
Maserati tells the story of '70 years of GranTurismo' by displaying a collection of iconic GT cars at the Maserati stand. Modena, 29 June 2017 – Maserati has chosen the most prestigious car culture event in the world to unveil the MY18 GranTurismo and GranCabrio. The iconic four-seater coupé makes its European premiere two days after it was revealed at the NYSE (New York Stock Exchange), while the GranCabrio makes its world debut at Goodwood Festival of Speed. The Maserati stand at Goodwood makes its mark this year by celebrating 70 years of GranTurismo. Alongside the newly introduced GranTurismo and GranCabrio, a collection of classic GT Maserati cars will tell the GranTurismo story to the public.
GranTurismo is a genuinely Italian car concept pioneered by Maserati and remains the purest expression of the Modena based marque. The following legendary Maserati GT models will be on display at Goodwood: •A6 1500: the original GranTurismo model was launched at the 1947 Geneva Motor Show featuring a 1.5-litre six-cylinder in-line engine with 65hp under a revolutionary body designed by Pininfarina. •3500 GT: the first 'mass-produced' Maserati made its debut in 1957, the year Fangio took the F1 title in his 250F. Its aluminium body was designed by Touring around a 3.5-litre six-cylinder engine with 230hp. •Ghibli SS Coupé: named after a Saharan wind, the 1967 Ghibli was designed by Giugiaro and is considered one of the greatest Italian grand tourers. The Ghibli SS was introduced in 1970 with a larger, 4.9-litre V8 engine with 335hp. •3200GT: designed by Giorgetto Giugiaro, it returned the GranTurismo concept to its former glory in 1998. The predecessor of the current GranTurismo featured a Twin Turbo 3.2-litre V8 engine with 370hp. The restyled and further refined GranTurismo and GranCabrio models will also take on the Goodwood Hillclimb to make their global dynamic debuts in the Supercar Run. The 1.16-mile uphill stage is considered to be the most iconic feature of the Goodwood Festival of Speed with the Maserati runs starting today, 29 June, and continuing through to Sunday 2 July.
---
Trending News
Photo credit:
Maserati
posted on
conceptcarz.com
Loading............