Auctions America Continues Auburn Fall Labor Day Tradition With $19.2 Million Weekend
By: Auctions America
---
• Auctions America achieves total sales of $19.2 million at flagship Auburn Fall collector car weekend • Highly significant 1933 Duesenberg Model SJ 'Sweep Panel' Phaeton leads top sales at $2,300,000; becomes most valuable car sold in Auctions America history • $35,000 raised for JDM Charities and Honor Flight of NorthEast Indiana; $25,000 donated to Hurricane Harvey relief • Complete results from Auburn Fall available at www.auctionsamerica.com
Auburn, Indiana (5 September, 2017)
– Auctions America, an RM Sotheby's company, continued the Labor Day tradition this past weekend (31 August – 3 September) with its flagship Auburn Fall sale at the historic Auburn Auction Park. A tremendous success, the four-day auction saw total sales of $19.2 million with a strong 79 percent sell-through of all lots offered, which included more than 700 vehicles and over 250 lots of memorabilia. A freshly renovated auction arena and constant crowds brought strong prices from Thursday through Sunday at Auburn Fall. Leading the top five was quite possibly the most significant automobile ever offered by Auctions America at the Auburn Auction Park, a 1933 Duesenberg Model SJ 'Sweep Panel' Phaeton, J-510, retaining its original body by LaGrande. Though the Model SJ did not meet its reserve on Saturday, it was quickly sold the following day for a well-deserved $2,300,000 to become the most valuable automobile sold in Auctions America history, and demonstrating the continued efforts of Auctions America's Still for Sale team after each hammer falls. The second of two mighty Duesenbergs on offer at Auburn Fall, a 1929 Model J Convertible Coupe, J-417, the only example originally fitted with coachwork by Fleetwood, also saw spirited bidding, selling for a within-estimate final price of $990,000 on Saturday afternoon. Additional highlights from Saturday's feature segment include a Bloomington Gold-winning 1953 Chevrolet Corvette, which sold for a healthy $269,500 (Est. $225k-275k), a 1937 Packard Twelve Coupe Roadster offered from single ownership since the 1980s achieved $261,250 (Est. $225k-275k), and an exceptionally restored 1958 Buick Limited Convertible brought $239,250, well exceeding its pre-sale estimate of $175,000 - $225,000.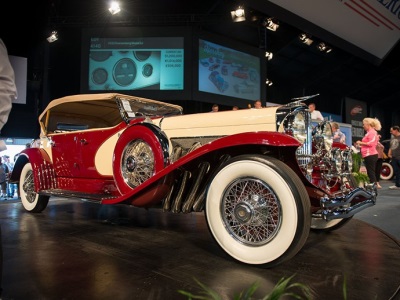 Auburn Fall once again illustrated the power of no reserve offerings, as two groups of cars from single collectors out-performed pre-sale expectations on both Friday and Saturday. On Friday, Lots 2104-2112 nearly all exceeded estimate, highlighted by a 1931 Cadillac V-8, which more than doubled its low estimate at a final $169,400 (Est. 75k-90k). On Saturday, lots 4125 – 4131 saw exceptional results, led by the Buick Limited Convertible mentioned above, as well as a 1956 Mercury Montclair, which brought $137,500 against an estimate of $75,000 - $100,000. Another memorable auction moment came during the sale of the Private Tour of Jay Leno's Personal Garage on Saturday afternoon. After an exciting competition between bidders in the room and on the phone, the tour for four raised a final $35,000 to benefit Jay Leno's JDM Charities, as well as Honor Flight of NorthEast Indiana. Auctions America also pledged to donate $25,000 of the proceeds from Auburn Fall to Hurricane Harvey relief efforts. Crowds gathered at the Auburn Auction Park for additional activities across the weekend. Further to the traditional onsite car corral and swap meet, Auburn Fall offered monster truck shows and rides, stunt bike shows, helicopter rides, a Retro Swap, kid's scavenger hunt and more. The Saturday morning Cars & Coffee drew more than 200 vehicles from near and far, and celebrity appearances by former NASCAR Champion Rusty Wallace and Dave Kindig of Velocity Channel and Kindig-It Design saw hundreds lineup for an autograph. 'We're proud of our success in restoring the Auburn Auction Park and bringing the annual Auburn Spring and Fall events to new heights,' said Donnie Gould—who leads the Auctions America team and has been coming to Auburn since childhood—following the event. 'Thanks to our international marketing reach and in response to client demand, we've been able to continually increase the quality of cars on offer at Auburn Fall, which shone through this year in a 26 percent increase in the average sale price per lot.'
---
Trending News
Photo credit:
Auctions America / Darin Schnabel
Auctions America / Tyler Allen
posted on
conceptcarz.com
Loading............
Loading............
Loading............
Loading............
Loading............