Pirelli Expands Dedicated 'Pirelli Collezione' Tire Range For Vintage & Classic Cars
By: Pirelli
---
• Featuring all-new technology with the correct vintage look, Pirelli Collezione tires breathe new life and performance into the world's most beloved classic cars
• New Cinturato CA67 tire size released
New York, NY, 21 September, 2017
– Pirelli is proud to announce deliveries of the Pirelli Collezione – a dedicated tire range for classic and vintage car enthusiasts that infuses Pirelli's new, technologically advanced compounds into classic tire sizes. Available for historic models dating back to the '50s, Pirelli Collezione combines new technology with the correct period look to create a classic car owner's dream – allowing peak performance on today's street or track while still paying homage to the car's original character and authenticity. This includes a brand new size for the Cinturato CA67 tire (175 R400 89H) just unveiled in tribute to Pirelli and Lancia Flaminia's 60th anniversary, which this tire first equipped back in 1957. Drawing on its own 140-year heritage as a world leader in motorsport and high-performance tires for the most prestigious automotive brands, the Pirelli Collezione represents an exciting offering for any vintage car aficionado. Fitting many iconic car designs from the 1950s to the 1970s, and select vehicles from more than twenty years ago, the Pirelli Collezione caters to many of the top classic and vintage car models throughout history. Examples of fitments include a number of Ferraris, the Mercedes 300SL, Lamborghini Miura, VW Beetle and the Porsche 911 range.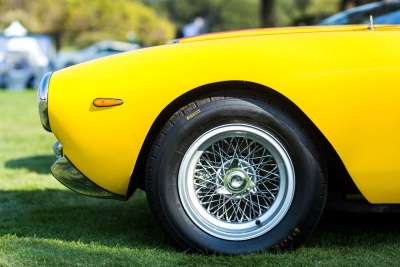 In particular, the range serves the air-cooled Porsche community, with five homologated Porsche sizes among the Pirelli Collezione with the Cinturato CN36 and P7 compounds. These tires were built in close collaboration with Porsche and were factory homologated to create the 'perfect fit' in terms of style and technical performance. To develop the Pirelli Collezione range, Pirelli engineers used the same parameters as the vehicle engineers employed during the tire design process, researching the marque's archives and original equipment This was done to faithfully recreate the tire characteristics that complement each car's original suspension set-up and dynamics, resulting in the 'perfect fit' tire for contemporary driving situations. New materials enhance the classic tires' original construction and detailing, such as Pirelli's motorsport-derived, high-performance nylon in the dual-ply carcass, and high-tensile steel wire in the bead geometry. Combined with a dedicated undertread compound, Pirelli Collezione tires ultimately offer greater grip and water expulsion for a safer driving experience. The tire tread compounds also conform to the latest environmental standards (unlike their original counterparts). From a design perspective, the tires retain the original sidewall lettering to maintain authenticity down to the smallest details. The Pirelli Collezione product range has upgraded Pirelli's iconic tire designs of the past with many new technological benefits. The full range includes:
1.The Cinturato CA67 – '50s
– The first textile belted radial tire developed by Pirelli, it contains all-new materials in the classic shape: four longitudinal grooves in the 'a greca' style with a cut shoulder and wide siping. It fits iconic cars like the Aston Martin DB5, Ferrari 250 GT and Mercedes 300SL 'Gullwing'.
---
Trending News
Photo credit:
Pirelli
posted on
conceptcarz.com
Loading............