Chevrolet Proudly Partners With American Cancer Society For Seventh Year In The Battle Against Breast Cancer
By: Chevrolet
---
Brand has raised more than $7.7 million since 2011
DETROIT
— For the seventh consecutive year, Chevrolet and General Motors employees, dealers and customers are joining in the fight against breast cancer by proudly supporting the American Cancer Society Making Strides Against Breast Cancer® walks. Chevrolet and participating dealers across the United States also support the Making Strides Against Breast Cancer program through event sponsorships, team participation, customer engagement and other activities. The money raised helps fund the American Cancer Society's efforts in breast cancer research, education for health care professionals, screening guidelines and promotion for early detection. Since 2011, Chevrolet has helped the American Cancer Society raise more than $7.7 million.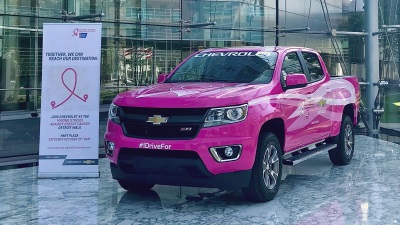 Also in recognition of breast cancer awareness, the towers of GM's Renaissance Center global headquarters in Detroit will glow with bands of pink during October, which is Breast Cancer Awareness Month. 'The Chevrolet team knows how important it is to be part of the fight against breast cancer, as many of our own family and friends have been affected by the disease,' said Paul Edwards, U.S. vice president, Chevrolet Marketing. 'We are proud to partner with the American Cancer Society and our dealers once again to raise awareness and funds for research toward a cure.' Chevrolet will participate in national, regional and local events and activities all month.
Social Media Campaign
---
Trending News
Photo credit:
Chevrolet
posted on
conceptcarz.com
Loading............
Loading............
Loading............
Loading............
Loading............
Loading............
Loading............