The First-Ever 2019 BMW I8 Roadster And New 2019 BMW I8 Coupe
•The BMW i8 Roadster: two-seater with full electric convertible top that opens in under 16 seconds. •Optimized BMW eDrive technology: more power– total output increased to 369 hp (+12 hp), a refined high-voltage battery with increased capacity and range. •The BMW i8 Roadster: emotion-stirring design promises an intense driving experience and unadulterated freedom. •New exterior colors E-Copper and Donnington Grey. •New Tera World Copper with E-Copper upholstery. •Carbon Fiber Interior Trim.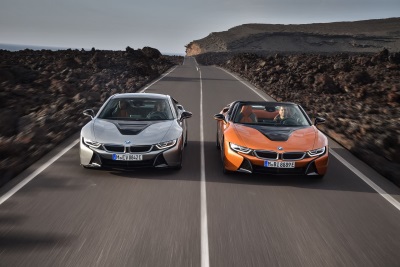 Woodcliff Lake, NJ – November 29 2017 12:25 PM EST / 9:25 AM PST … Today, the allure of sustainable driving is poised to enter another new dimension as BMW introduced the first-ever BMW i8 Roadster matching BMW eDrive technology with the Ultimate Driving Machine. The first-ever BMW i8 Roadster takes the BMW i8's combination of locally emission-free mobility, high-caliber performance and adds the top-down driving experience. The Roadster offers a whole new sensation of freedom, opening the door to virtually silent driving with zero CO2 emissions and bringing an extra edge of purity to open-air driving. An optimized BMW eDrive technology means more power – total output increased to 369 hp (+12 hp), a refined high-voltage battery with increased capacity and range, the first-ever BMW i8 Roadster and BMW i8 Coupe can cover up to 18 miles (preliminary) in purely electric driving. With hybrid-specific all-wheel drive, combustion engine driving the rear wheels and the electric motor driving the front wheels, acceleration 0 to 60 mph takes just 4.2/4.4 seconds (preliminary) Coupe and Roadster respectively with both reaching an electronically limited top speed of 155 mph. Following the world premiere of the first-ever 2019 BMW i8 Roadster at the Los Angeles Auto Show 2017, sales will commence in spring 2018. Simultaneously, the new 2019 BMW i8 Coupe will also be available at certified BMW centers with both models offering LifeDrive vehicle architecture designed for BMW i cars. Price to be announced closer to market launch.
Vehicle concept and driving experience. The BMW i8 has performed the role of sports car of the future with extraordinary success since 2014. The progressively designed 2+2-seater doubles up as an eye-catching object of desire and a technological pioneer. Indeed, the BMW i8 has been the world's best-selling hybrid sports car since it first hit the roads in 2014 and has collected an array of awards in recognition of its visionary design and trailblazing vehicle concept. The BMW i8's plug-in hybrid drive system has won the International Engine of the Year Award three years in succession (2015 – 2017) and paved the way for the constantly expanding number of plug-in hybrid models from the BMW and MINI brands.
The aluminum Drive module combines the powertrain, high-voltage battery, suspension, crash system and structural functions, while the Life module takes the form of a passenger cell made out of carbon-fiber-reinforced plastic (CFRP). The first-ever BMW i8 Roadster also benefits from a light-weight construction, complete with low center of gravity and even weight distribution. The aerodynamically optimized exterior – with model-specific gullwing doors and a soft-top roof that also displays great visual lightness – is a fine exponent of the signature BMW i design language. The result is a two-seater boasting a distinctive and elegantly silhouette, and delivering an immediate promise of instantaneous power ready to be unleashed.
---
Trending News