Driving Impressions (brief update) : 2018 Hyundai Elantra Limited
By: Mark Moskowitz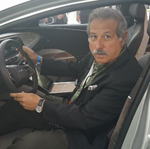 Last year marked a major update for Hyundai's popular Elantra. I then tested the Value Edition
(here)
and was quite impressed. This year I drove the top of the line Limited. Like the SE, the SEL and the Value Edition, it's powered by a fuel injected 147 hp, 2.0 liter DOHC 4 cylinder. All can use the same 6-speed automatic transmission. Alternate transmissions and powerplants are used in Elantra's Sport and Eco models.
Little has changed. 2018s look like 2017s. It's a quiet interior. Seats are comfortable and there is ample space and storage for those in the front. Cabin visibility is excellent and the infotainment system powerful and easy to use. Apple CarPlay and Android Auto give it ultimate versatility. An upright seating position and a sloping roofline limit comfort and headroom in the rear for 6-footers.
The Elantra's ride is comfortable. It's stable over bumps and engenders confidence in the curves. No matter what technique or which of the three driving modes employed, the Elantra stumbles under hard acceleration from a standing start. Car and Driver recorded 0-60 times of 8.3 seconds in the 2017 Elantra. My times approached 9 seconds in a similarly equipped Hyundai. Once rolling, the experience improved and for an economy car the car seemed 'spunky' when accelerating onto a freeway and more than adequate in the passing zones. Using Eco, Normal or Sport mode, steering input and feedback was appropriate. New for 2018 are standard rear disc brakes on the Value Edition. The Limited lists for $2250 more than the Value Edition. Both examples feature dual automatic climate controls, heated front seats, leather wrapped steering wheel, Proximity Key entry, door handle approach lights, automatic headlight control and fold-away heated power side mirrors. Specific to the higher end model are power leather seats with power lumbar support, light bending headlights, 17 rather than 16-inch wheels and Hyundai's Blue Link system. Oddly, the Limited loses the Value Edition's power sunroof. It can only be added with the $4350 purchase of the 'Ultimate Package' which includes an upgraded (and excellent) Infinity stereo, adaptive cruise control, Lane Departure Warning, Lane Keep Assist, and heated rear seats.
While I really like a great stereo, adaptive cruise control, some leather and a lane change warning system, I find it difficult to justify increasing the outlay by a third. A check of the Hyundai website reveals a $2500 across the board discount on Elantras this month. At $17350 the Value Edition is the value proposition of choice.