Driving Impressions: 2019 Hyundai Veloster R-Spec
By: Mark Moskowitz MD
Expectations were high. The text said a Veloster Turbo R-Spec awaited my arrival. Though seven years extant, the coupe had not been on my radar. I had given little thought to the origin of the name (a contraction of velocity and roadster). Knowledge of this contrary appellation applied to a fixed roof four-seater might have tipped me off. R-Spec could only mean one thing and I was suddenly giddy with visions of approximately 300 hp or more track day cars .... Civic Type R, Focus RS and Golf R. Even the Jaguar F Type has an R version which brings it from 296 to 550 hp. And the 911 R is the car of myths. Reflexively I called the good folks at nearby Carolina Motorsports Park to see if there might be some open time the next day. It seemed an ideal place for safe acceleration runs and photo opportunities. The Encounter. The Veloster is a racy looking hatchback. Its blackened honeycomb (Cascade) grille out shines any of Hyundai's chrome offerings. Red trim surrounds frontal air vents. There are stabilizing air curtains on the front corners and diffusers surround dual exhausts in the rear. One loses track of all the swage and accent lines on the sides but their combination works. 18-inch satin black alloy wheels with spokes thin enough to show off unpainted brake calipers, and a fastback roof complete the picture.
The facade was enough to label me as a Fast and Furious participant. The Space Gray Veloster was lit up in Kershaw, three miles from the road course. The offense - the license plate bracket partially obscured the date sticker.
The Drive
The Veloster is newly equipped in the rear with a lightweight multilink rear suspension, gas shocks and a 19mm stabilizer bar (24mm in front). All Velosters have electric power steering, front coils, McPherson struts and Torque Vectoring Control; the latter feature employs an electronic algorithm to apply braking force to the inner wheel during enthusiastic cornering. It all adds up to a remarkable package with great control on the street and little body lean in hard cornering. Steering was direct and shifting an overall positive experience – not the shortest throws, but kudos are deserved for gear numbered upshift signals, a direct shift pattern, an easy to use reverse lock out, smooth clutch action and pedals well positioned for heel toe downshifts. The Veloster handled all but the biggest bumps with the aplomb of far bigger sedans. Turbo R-Specs come equipped with a grippy version of Michelin Pilot Sports. One can corner quite hard but only the bravest will bring it to its limits. At no time did I break the rear loose. The Veloster base model is powered by an injected 147 hp inline four. The turbo edition boasts 201 horsepower. I found the most power between 3000 and 5600 rpms, you could wind it further but that would not enhance acceleration. A zero to 60 time in the low sixes is achievable but requires a banzai run and 70's drag racer consistency. There is sport mode which adds little under hard acceleration and I suspect makes far more difference in Velosters equipped with automatic transmissions. On a closed course the Veloster was definitely a momentum car; I would like a few more horses on a track day.
The Interior
Entry is through a unique 3 door system. The single left door is nine inches wider than its counterpart on the right and provides easier access for the one who uses the car most. Passengers enter front or rear through paired doors on the safe side of the car.
The Turbo R-Spec interior is elegantly simple: lots of hard plastic but varying textures and an enticing checkered flag pattern on the dash. Polished metal surfaces cover clutch, brake and gas pedals and a foot rest (dead pedal) on the left.
Seats are cloth covered with contrasting stitching. Their manual controls work well and a comfortable driving position is easily achieved. Side bolsters – just right.
Tall drivers should be easily accommodated. Operator ensconced, rear seat occupants taller than 5'9' will find adequate foot room and fastback compromised headroom. A shelf suspended from the rear door hides rear storage from view. The space is generous at 19.9 cubic feet and can be enlarged with split fold-down rear seats. There's more than enough cab storage including a generous space beneath dash which allows a large phone to lay flat. A lip on the console side impedes mobile device escape during harsh cornering and braking.
Electronics
The eight inch touch screen extends above the dash. In this compact, it's easy to access and easy to see. There is no nav system but Apple CarPlay and Android Auto obviate the need.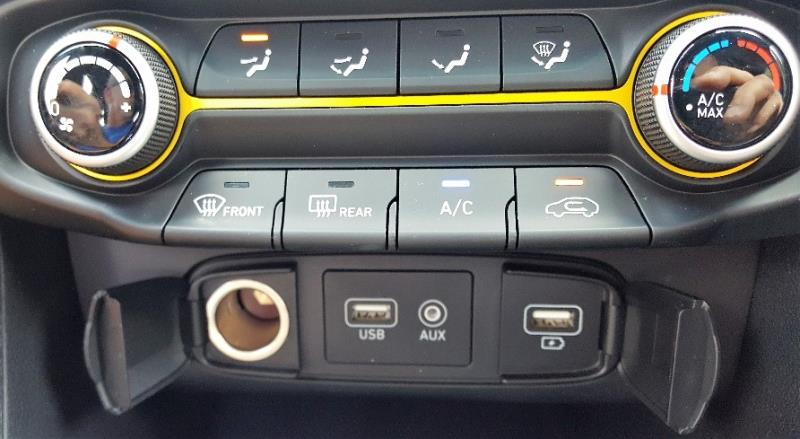 A small panel in the dash contains a 12V socket, an auxiliary input, and separate USB's for charging and data transfer Blind spot monitoring is left to a convex auxiliary mirror. I was surprised to find Lane Keep Assist but would have gladly traded it for adaptive cruise control and electronic blind spot warnings for the sides and rear. Picking Nits: While braking was excellent there was a slight grab when brakes were applied gradually at low speed. And when you drive a little hot rod which encourages spirited driving and attracts attention, a bigger back window might facilitate a longer rear view. I commend and recommend the Veloster. It has the sophisticated driving experience of a much more expensive car; descriptors of a spirited driving experience on the street, ease of use around town and comfort on longer trips could all be mentioned. A five year/ 60,000 mile vehicle warranty and 10 year/100,000 mile warranty add value. Looking for a track day car? There's a 275 hp Veloster N heading toward a dealer near you.