VOLVO TRUCKS WELCOMES NEW FULL-SERVICE DEALER FACILITY IN NEW MEXICO
Company press release.
---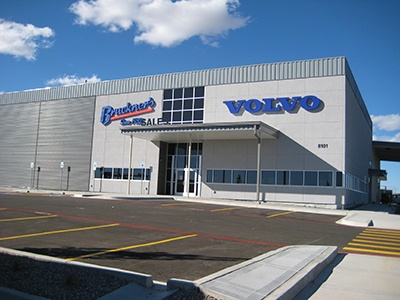 • Volvo Trucks' service capabilities in the Southwest region of the U.S. have grown with the addition of a new Bruckner's Truck Sales facility in Albuquerque, N.M.
The 7.5-acre full-service dealership, easily accessible from Interstate 40, just off the Unser Boulevard exit, offers ample parking and 18 truck bays staffed by 16 technicians, two of which are Volvo master technicians. The new location also houses more than $1 million in parts inventory in the 13,000 square-foot parts warehouse. 'Tremendous dealer engagement and investments, like the new Bruckner's Truck Sales facility in Albuquerque, contribute greatly to the overall Volvo ownership experience,' said Göran Nyberg, president, Volvo Trucks North American Sales & Marketing. 'The strength of our dealer network is essential for supporting customers and plays a vital role in maximizing uptime through our Remote Diagnostics connected vehicle platform.' Volvo Trucks dealers across North America have invested $370 million since 2010, including more than 50 new facilities or significant renovations and more than 25 planned or underway. The investments have resulted in a 50 percent increase in technicians, including more than a 150 percent increase in Volvo master technicians. Now, more than 25 percent of Volvo technicians are certified master technicians. Service bay capacity has increased 34 percent, while parts inventory has increased 37 percent, and the number of parts department employees has increased 68 percent.
Volvo Trucks North America's operations and products are guided by the company's three core values: Quality, Safety and Environmental Care. The Volvo VNM, VNL, VNX, VHD and VAH trucks are assembled in the United States at the New River Valley Plant in Dublin, Virginia, while Volvo engines for North America are assembled in Hagerstown, Maryland. The New River Valley Plant is certified to ISO50001 energy standards. Both plants are certified to ISO14001 environmental and ISO9001 quality standards. The Volvo Group is one of the world's leading manufacturers of trucks, buses, construction equipment and marine and industrial engines. The Group also provides complete solutions for financing and service. The Volvo Group, which employs about 110,000 people, has production facilities in 19 countries and sells its products in more than 190 markets. In 2013, the Volvo Group's sales amounted to $41.5 billion. The Volvo Group is a publicly-held company headquartered in Gothenburg, Sweden. Volvo shares are listed on OMX Nordic Exchange Stockholm and are traded OTC in the U.S. For more information, please visit http://www.volvogroup.com/ or http://www.volvogroup.mobi/ if you are using your mobile phone.
posted on
conceptcarz.com
Loading............
Loading............
Loading............
Loading............
Loading............
Loading............
Loading............