Bahrain GP - No oasis for Ferrari in the desert
Company press release.
---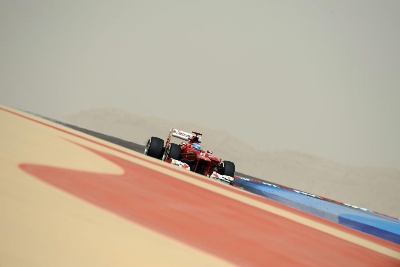 The first four races of the season have come in a whirlwind like the one that can blow sand across Bahrain's Sakhir circuit and today in the desert there was no oasis with a tree to shade the shortcomings of the F2012, nor a well from which to draw up buckets of performance. Fernando Alonso had expected to be somewhere between seventh and twelfth, so ninth is pretty much right in the middle. It's probable that both the Spaniard and Felipe Massa, who was fourteenth fastest this afternoon, could have got a better grid position, but mindful that points are only dished out on Sunday, the team picked different qualifying strategies for the two drivers, although both of them aimed at saving new tyres for tomorrow's 57 lap Bahrain Grand Prix. We will have to wait and see if it pays off, but given the potential of the current car package, taking a gamble is the best and bravest move for the Scuderia Ferrari duo at the moment. For the first time this season, reigning world champion Sebastian Vettel was the best of the bunch, securing pole position. The Red Bull driver shares the front row with McLaren's Lewis Hamilton, while the second row sees their respective team-mates lined up behind with Mark Webber third and Jenson Button fourth. Nico Rosberg secured fifth place for Mercedes and alongside him is Daniel Ricciardo in the Toro Rosso, the best placed of three Ferrari-engined cars in the top ten. Fernando Alonso will share the fifth row with the Force India of Paul di Resta, while Felipe Massa is on the outside of the Scotsman's team-mate, Nico Hulkenberg.
Tyre management holds the key to tomorrow's race, but so does reliability in the extreme heat, which will make life tough for everyone. This season's four races so far have been hard to predict, but points for both cars has to be the Scuderia's target.
posted on
conceptcarz.com
Loading............
Loading............
Loading............
Loading............
Loading............
Loading............
Loading............
Loading............