GM Reports 2013 Net Income of $3.8 Billion
Company press release.
---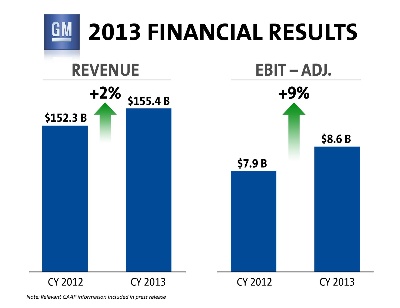 Full-year EBIT-adjusted of $8.6 billion, up from $7.9 billion in 2012
◾Company posts fourth consecutive year of profits ◾Fourth quarter net income of $0.9 billion, compared to $0.9 billion last year ◾EBIT-adjusted of $1.9 billion in fourth quarter, up from $1.2 billion last year ◾GM North America records best year ever with EBIT-adjusted of $7.5 billion
DETROIT
– General Motors Co. (NYSE: GM) today announced 2013 calendar-year net income attributable to common stockholders of $3.8 billion, or $2.38 per fully diluted share, down from $4.9 billion, or $2.92 per fully diluted share in 2012. Operating performance improved during the year, but was more than offset by a net loss from special items and incremental tax expense. Special items during the calendar year impacted full-year net income to common stockholders unfavorably, $(1.3) billion, or $(0.80) per share, compared to an unfavorable $(0.5) billion impact in 2012, or $(0.32) per share. These special items included charges for several strategic decisions taken to improve the company's future competitiveness in key global markets. Full-year results were also impacted by incremental tax expense of $(1.7) billion or $(1.02) per fully diluted share compared to 2012. Revenue increased 2 percent to $155.4 billion, compared with $152.3 billion in 2012. Full-year earnings before interest and tax (EBIT) adjusted was $8.6 billion, compared with $7.9 billion in 2012. Full-year EBIT-adjusted for 2013 includes the impact of restructuring charges of $(0.4) billion. 'Launches of some of the best vehicles in our history combined with significant improvements in our core business led to a solid year,' said GM CEO Mary Barra. 'The tough decisions made during the year will further strengthen our operations. We're now in execution mode and our sole focus will be on delivering results on a global basis.'
---
Trending News
posted on
conceptcarz.com
Loading............
Loading............
Loading............
Loading............
Loading............