2012 Singapore Grand Prix - Preview
Company press release.
---
The next race on the Formula One calendar is one of the most spectacular of the season. As the sport's only night race, the Singapore Grand Prix provides a fantastic show under the lights held around the 5.073 km Marina Bay Circuit, and has quickly become a firm favourite with fans, teams and drivers. • The Safety Car has been deployed at least once in every Singapore Grand Prix since the inaugural race in 2008 • The circuit features nine corners taken below 100 kph, more than Monaco, and 15 different braking events • The drivers change gear 80 times per lap - 50% higher than the season average and nearly double that of Monza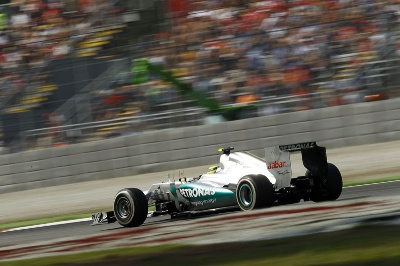 Michael Schumacher
Singapore is a one-off in lots of ways, with the city, racing at night and the circuit itself. It's a brilliantly unusual race. At first sight, everything seems more relaxed because the action happens at night, but of course it's not like that at all. The reality is that you have to work hard to stay on European time and in the right bio-rhythms, so that you can perform perfectly in the race - because it's unusual to be competing at this time of day. The nice thing is that the circuit is very technically demanding and it's very tricky to get a perfect lap. After a reasonably encouraging weekend in Monza, we have good expectations for another promising performance. I'm looking forward to the night race.
Nico Rosberg
The Singapore Grand Prix is one of the highlights of the season and it's such a fun weekend. The city is fantastic, and I finished second in the race here in 2008 which was a great experience and has given me some really nice memories of this event. It's always seems strange to be driving at night, going to bed at 5am and then waking up in the afternoon but it's surprising how easy it is to adapt. I really enjoy the Marina Bay track, it's a street circuit with a difference and with the intense heat and humidity, the sheer number of corners and racing under the lights, it really is a challenge.
---
Trending News
posted on
conceptcarz.com
Loading............