Crawford Auto-Aviation Museum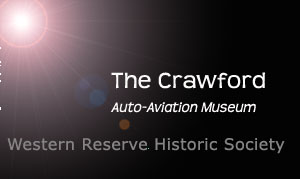 April 2006
Over a hundred years ago, the automobile was slowly evolving as the primary means of transportation. Each vehicle was experimentation in design, feasibility, practicality, functionality, and ability. Roads were being built that could safely accommodate these rapidly evolving masterpieces. Steam, petroleum, and electricity were the primary sources of power. Fueling stations began springing up throughout the country. Racing became one of the most effective means of advertisement and a way to prove a vehicles speed and durability. Motorized carriages turned into automobiles. Custom built vehicles faded out as the faster and more cost-effective assembly line pieced together the automobile. During the early 1900s, there were hundreds of automobile manufacturers all producing vehicles in low numbers, many with less than 50 units per year. Their interpretation of what a vehicle 'should be' varied. The placement of the engine, the size of the wheelbase, and the overall build of the coachwork were just a few of the items that fluctuated from year-to-year, and marque-to-marque.
Enough cannot be said about the excellence, staff, vehicles, and dedication of the Crawford Auto-Aviation Museum. A few years ago a television show proclaimed that 'Cleveland Rocks!' One visit to the Crawford will make anyone a believer. The Crawford Auto-Aviation Museum is home to over 80 automobiles, motorcycles, and airplanes; many of the vehicles are pre-WWI. To see the evolution of the automobile from the late 1890's to the present is truly impressive. Seeing vehicles that used tiller steering wheel and large wooden wheels is a rarity and the Crawford has amassed a wide collection with these features.
The city of Cleveland has a very impressive history in the production of automobiles and the Crawford has done a fantastic job at recreating the history and preserving the memories. There were over 80 automotive models that originated in the Cleveland area between 1898 and 1931. Alexander Winton of Cleveland began producing automobiles in 1898. It has been said that by 1903 he was the largest automotive producer in the world. His specialty built Winton Bullet racers would go on to define new speed records and continued to push the envelope.
Their passion and dedication is commendable and the collection is enviable and inspiring.