RM Auctions - Monterey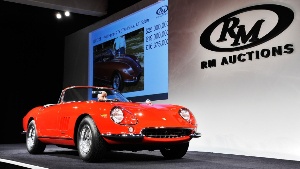 October 2013
• During a weekend sale that will surely go down in collector car auction history, RM grosses in excess of $125,000,000 as a total of 120 vehicles cross the podium on the Monterey Peninsula, breaking the world record for the highest sales total for a collector car auction
• 1967 Ferrari 275 GTB/4*S N.A.R.T. Spider sells for an astounding $27,500,000 making it the most valuable road-going car ever sold at public auction and the second most expensive car in auction history
• Additionally, 26 lots achieve million-dollar-plus results over two nights of frenzied bidding
• Other stand-out lots include the 1953 Ferrari 375 MM Spider which sold for $9,075,000, a 1928 Mercedes-Benz 680S Torpedo Roadster which sold for $8,250,000, and a 1939 Mercedes-Benz 540K Special Roadster which sold for $7,480,000
• Topping off a perfect weekend, the 1934 Packard 1108 Twelve Dietrich Convertible Victoria, restored by RM Auto Restoration, wins Best of Show at the 2013 Pebble Beach Concours d'Elegance
• Full results now available online at rmauctions.com
MONTEREY, California (August 20, 2013)
– RM Auctions has further reinforced its status as the world's leading collector car auction house, by conducting what will surely be remembered as one of the most historic and successful sales in auction history. Over two nights, which witnessed the sale of some of the world's finest and most significant automobiles, a total of 120 handpicked lots achieved an incredible sales total of more than $125,000,000 with over 87 percent of all lots sold, making RM's 2013 Monterey sale the highest grossing collector car auction of all time.
History was made on Saturday night when the ultra-rare and ultra-desirable 1967 Ferrari 275 GTB/4*S N.A.R.T. Spider, smashed its way into the record books by selling for an incredible $27,500,000. With all proceeds being donated to charity by the consigning family, the car established a new world-record for a road-going car sold at public auction, whilst also lodging itself in the all-time record books as the second most expensive car ever sold at auction. Footage of the N.A.R.T. Spider crossing the auction podium is available here: http://bit.ly/14gtxJa.
'From day one, our singular aim was to tell our extraordinary father's story and honor him in a way that would have made him smile, by donating the proceeds to charities that dad and our entire family are fond of. We feel very blessed to be able to touch thousands of lives in such a positive way. RM Auctions did a tremendous job from start to finish, forever linking dad's legacy with the car he loved so much. Attending the festivities on the Monterey Peninsula with our friends and family was precisely what Dad would have wanted us to do!' said Eddie Smith Jr, son of the original owner.
'It's certainly our hope that the new owner enjoys the car as much as our family has and continues to show and drive it with pride, so that the many Ferrari enthusiasts around the world can partake in the fun,' he added.
'My father's story was not only told by RM Auctions, but $25 million means our father's story is still being written. My father's children, his grandchildren and his great-grandchildren will be able to continue his legacy of giving. Eddie Smith, Sr.'s granddaughter gave the eulogy at his funeral. It was entitled 'a promise kept.' The sale of his car enables us to keep that promise, by blessing others every chance we get,' said Lynda Smith Swann.
'We were certainly delighted and privileged to present the N.A.R.T. Spider on behalf of such a warm and wonderful family. We shared in the laughter and tears of joy with the Smith and Swann families and are thrilled that thousands of people around the world will benefit from their generosity,' said Rob Myers, Chairman and Founder of RM Auctions.
The Friday night sale set the tone which was to continue through to the final lot on Saturday night. Friday saw no less than 11 cars achieve more than $1,000,000 each headed by the wonderful ex-Jim Kimberly 1953 Ferrari 375 MM Spider, a rare car with incredible racing history and a unique one-off pontoon fender body, which sold for $9,075,000. The 375 MM crossed the block shortly after an additional star lot, the 1939 Mercedes-Benz 540K Special Roadster, another rare car sporting one-off coachwork by Sindelfingen, which sold for an incredible $7,480,000.
Saturday night witnessed another wonderful Mercedes-Benz, the 2012 Pebble Beach Best of Show-winning 1928 680S Saoutchik Torpedo Roadster, secure $8,250,000, rounding off the top four places in a list of no less than 26 automobiles which exceeded $1,000,000 sale totals. The sale total of $125,000,000, a more than 30 percent increase over RM's 2012 Monterey results, correspondingly establishes an average sale value in excess of $1,000,000 for each of the 120 lots sold.
Reflecting RM's global clientele, the strong results were generated by registered bidders from 30 different countries on the telephone, over the Internet, and assembled in the standing-room-only venue.
RM Monterey Million-Dollar-Plus Sales (Friday and Saturday):
1. 1967 Ferrari 275 GTB/4*S N.A.R.T Spider - $27,500,000
2. 1953 Ferrari 375 MM Spider – $9,075,000
3. 1928 Mercedes-Benz 680S Torpedo Roadster - $8,250,000
4. 1939 Mercedes-Benz 540K Special Roadster - $7,480,000
5. 1955 Ferrari 750 Monza Spider - $4,070,000
6. 1955 Jaguar D-Type – $3,905,000
7. 1974 McLaren M16C Indianapolis - $3,520,000
8. 1954 Ferrari 500 Mondial Spider Series I (From the estate collection of the late William H. Tilley) - $3,520,000
9. 1950 Ferrari 166 MM Barchetta – $3,080,000
10. 1961 Ferrari 400 Superamerica SWB Coupe Aerodinamico – $2,750,000
11. 1953 Maserati A6G/2000 Spyder - $2,530,000
12. 1935 Hispano-Suiza K6 Cabriolet -$2,255,000
13. 1960 Aston Martin DB4GT- $2,200,000
14. 1960 Maserati Tipo 61 'Birdcage' - $2,090,000
15. 1958 Lister-Jaguar 'Knobbly' Prototype – $1,980,000
16. 1995 Ferrari F50 - $1,677,500
17. 1971 Ferrari 365 GTB/4 Daytona Spyder - $1,650,000
18. 1955 Mercedes-Benz 300SL Gullwing – $1,485,000
19. 1957 Mercedes-Benz 300SL Roadster – $1,430,000
20. 1964 Ferrari 250 GT/L 'Lusso' Belinetta – $1,386,000
21. 1996 Ferrari 333 SP Evoluzione - $1,375,000
22. 1960 Ferrari 250 GT Cabriolet Series II – $1,292,500
23. 1955 Mercedes-Benz 300SL Gullwing - $1,265,000
24. 1990 Ferrari F40 -$1,155,000
25. 1961 Ferrari 250 GT Cabriolet Series II - $1,100,000
26. 1911 Rolls-Royce 40/50 HP Silver Ghost Roadster - $1,017,500
In addition, numerous world record auctions values were established, with 14 cars setting new benchmarks for individual models or categories.
STOP PRESS: 2013 Pebble Beach Concours d'Elegance Best of Show restored by RM Auto Restoration:
RM's fantastic weekend on the peninsula was wonderfully topped-off when the truly spectacular 1934 Packard 1108 Twelve Dietrich Convertible Victoria, which was freshly restored by RM Auto Restoration, won Best of Show at the 2013 Pebble Beach Concours d'Elegance, further enhancing RM Auto Restoration's reputation as the world's leading restorer of fine automobiles. This marks the fifth time the company has won Best of Show honors in the new millennium – an extraordinary and truly unmatched achievement. The Packard also received the Gwenn Graham Most Elegant Convertible award, along with First in Class in the C-2: American Classic Open Packard category. Additional honors achieved by RM Auto Restoration include the Elegance in Motion Trophy for the 1938 Talbot-Lago 150C SS Figoni & Falaschi Cabriolet and First in Class for the 1931 Cadillac 452A Fleetwood Coupe in the C-3: American Classic Closed category.
RM continues its 2013 calendar with its well established London auction on its new dates, September 8-9. Held in association with the prestigious St. James's Concours of Elegance, the auction will be a two-day sale for the first time in the event's seven year history. The European sale will be followed by RM's annual Hershey, Pennsylvania sale, October 10-11, and RM's Art of the Automobile sale, presented in association with Sotheby's, November 21, in New York City. For further information on upcoming events, along with complete official results from RM's 2013 Monterey sale, please visit www.rmauctions.com.
*All figures are reported in U.S. dollars and include the 10 percent buyer's premium.
About RM Auctions
RM Auctions is the world's largest auction house for investment-quality automobiles. With over three decades of experience in the collector car industry, RM's vertically integrated range of services, from restoration to private treaty sales, auctions, estate planning, and financial services, coupled with an expert team of international car specialists at seven offices around the world, provide an unsurpassed level of service to the global collector car market. RM proudly holds five of the top ten all-time records for the most expensive motor cars sold at auction. RM's restoration division has achieved unprecedented accolades, earning Best of Show honors at the world's top concours events, including the prestigious Pebble Beach Concours d'Elegance. For further information, visit rmauctions.com, find us on Facebook, or follow us on Twitter @rmauctions.
Photo Caption: The 1967 Ferrari 275 GTB/4*S N.A.R.T. Spider crosses the auction podium at RM's 2013 Monterey sale, (Photo Credit © 2013 Courtesy of RM Auctions).