Russo & Steele - Scottsdale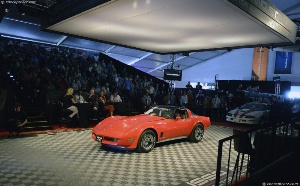 January 2014Phoenix, Arizona (January 22, 2014)
– At Russo and Steele Collector Car Auctions, we are thrilled to announce the achievement of outstanding results and world-record sales at our January 15-19 Scottsdale, Arizona Sports and Muscle auction event. Throughout the event's five action-packed days, beautiful weather helped draw record attendance numbers, estimated at 35% higher than 2013 levels. At the time of writing, preliminary sale results exceeding $21 million were generated with a very strong preliminary sell-through rate approaching 70%. With our specialists continuing to work hard to complete a multitude of pending post-block sales, we expect those figures to increase.
Representing classic European Sports and GT cars, the fastest-growing segment in today's market, we are thrilled to announce the world-record-setting sale of one of Lamborghini's very first road cars, the 350 GT, at $742,630 including commission. One of 120 mostly hand-built cars and boasting Giotto Bizzarrini's 35-liter DOHC V-12 engine, a race-bred chassis designed by Gian Paolo Dallara, and Touring's famous Superleggera bodywork penned by Franco Scaglione, 350 GT Chassis 211 was comprehensively restored to original standards with no detail overlooked, including an engine rebuild at Bob Wallace Cars, the shop of the late former Lamborghini chief test driver Bob Wallace.
Another new world record was set with the highly anticipated sale of a legendary 1963 Pontiac Tempest Le Mans Super Duty drag racing car, 1 of 2 known examples remaining today of the original 6 Coupes built by Pontiac to contest the NHRA's wild A/Factory Experimental (A/FX) class. Raced by Detroit's Stan Long Pontiac and tweaked with a heavy-duty driveline to handle the 421 engine's massive power and torque, the car remains famous as 'The World's Fastest Tempest' after driver Stan Antlocer blasted to a brutal 11.93-second ET at 123.95 mph at Martin, Michigan's US 131 Dragway. After sending the Chevy, Ford, and Mopar contingents back to their respective trailers in 1963, the Tempest fell out of sight and in 2008, it was saved from the crusher and then expertly restored to its former glory by Scott Tiemann's Super Car Specialties. When the frenzied bidding finally ended, the Tempest garnered a world record-setting $335,630 including commission.
Another highly anticipated consignment, the '1 of 1' 2013 SRT Viper GTS Coupe, was offered at No Reserve on behalf of the Sons of Italy Foundation with proceeds to benefit its excellent charitable and educational programs. Beautifully and subtly customized, the 640-horsepower supercar celebrates the Foundation members' heritage with handsome Italian Tricolore accents, plus special Avorio Perla paintwork, Black Vapor custom wheels, and a virtually endless list of factory-equipped features and options. When the gavel fell for the last time, this exceptional Viper supercar garnered a winning bid of $236,500.
World-renowned for our exceptional lifestyle events to match the adrenaline-charged activity on the auction block, we held our annual Charity Gala on Wednesday, January 15th in support of the Boys & Girls Clubs of Greater Scottsdale. Kevin Martin's memorabilia auction provided additional celebrity flair over four days. Our highly popular seminars were led by Thursday's 'Vintage Racing: Putting the Pedal to the Metal' session featuring guest panelists Lyn St. James, the famous IMSA, Indianapolis, and Le Mans driver, businessperson, and speaker, plus D. Randy Riggs, publisher of Vintage Motorsport magazine, historic racer Brian Ferrin, Mike McGovern, the Chief Driving Instructor at the Bob Bondurant School of High-Performance Driving, and Chris Hines of ArrowLane Racing. On Friday, the 'Art of Restoration' panel discussion featured expert classic-car appraiser Lance Coren, and noted restorers Bob Smith and Alan Taylor.
Following a fantastic Scottsdale event, we now continue the momentum with a switch to California and our second Newport Beach auction, scheduled for June 19–21. For further supporting documentation, high-resolution images, or more information about the Russo and Steele Scottsdale '14 auction and our upcoming events, please contact us.
About Russo and Steele Collector Automobile Auctions:
For Enthusiasts – By Enthusiasts. ™ To us, it's not just a tagline, it's a lifestyle. As one of the nation's premier collector-car auction organizations, Russo and Steele specializes in exceptional European sports cars, American muscle, hot rods, customs, and the finest competition cars. Our worldwide clientele was built not only because of our well-established reputation, but also for our unique auction and lifestyle experiences unattainable anywhere else. Our expanded auction schedule includes Scottsdale, Arizona, followed by Newport Beach, California, Monterey, California, and Las Vegas, Nevada. Media Contact: Michelle Gothan, 602-252-2697, or michelle@russoandsteele.com.