The Frick Car and Carriage Museum - Focused on Pittsburgh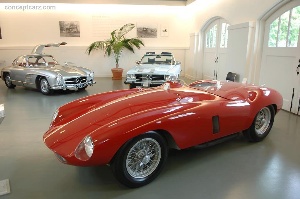 February 2007
It seems that many majors cities have an automobile museum or display that show-cases a brilliant collection of automobiles for educational purposes and personal enjoyment. For Pittsburgh, Pennsylvania, that museum is the Frick Car and Carriage. It performs many functions and duties, such as displaying the cars of G. Whitney Snyder. Mr. Snyder's collection centered on cars of the Brass Era through the 1920s and early 1930s. Mr. Snyder contributed generously toward the creation of the Frick Car and Carriage museum, participated actively in its design, and bequeathed his most significant vehicles to its collection. The cars on display are not limited to those from his collection; the museum consists of cars from many collections.
The Frick Car and Carriage Museum has done a brilliant job at gathering up information on many subjects, especially steam powered cars. There is a theater that features a video on the history of steam powered cars and their many accomplishments.
The museum has done a great job at preserving the role Pittsburgh played in the evolution of the automobile and the many accomplishments. This ranges from the continued pursuit of perfect through design and development, to the building of roads, highways, and adapting rules and laws for motorists to abide by. When motorcars and horse-drawn carriages roamed the earth in unison, there was chaos. The roads were poor, unformed, and hard to negotiate. There were no traffic lights or other forms of traffic control. Motorcars and pedestrians all jockeyed for right-of-way. Accidents were common and fault was hard to place since there were no rules or regulations. As motorcars progressed, so did the roadways and methods for controlling the flow of traffic. The Frick Car and Carriage has done an amazing job at documenting this evolution through text, photographs, and narrated videos.
On many occasions I have frequented this museum and spent time learning and exploring. It is a smaller exhibit, housing around twenty motor cars along with various other carriages and relics. A few cars on display are permanent to the museum. Others are rotated in from other stables, mostly from the Pittsburgh region.
On this visit, I studied the history of Pittsburgh's contribution to the world, as told by the museum. The history of the automobile in Pittsburgh, PA began around 1876 when a steam powered commercial wagon, built by Isaac Mills, Jr. graced the streets of Pittsburgh. To own a motorcar, an individual required two crucial elements. The first being a substantial amount of money and the other being mechanical abilities. Other individuals to first own a car in the Pittsburgh region where Henry Clay Frick and Howard Heinz, two pillars in this cities past. The high cost of automobiles was only temporary, as the mass-produced Ford Model T brought the car into the price range of nearly every household.
The first automobile producer in Pittsburgh was the Empire Motor Company, created by William Morgan and E. W. Walker. In 1896, this duo began experimenting with a 1.5-horsepower gasoline motor buggy and soon were using a 2-cylinder unit. Production is still unverified and the exact number of motorcars produced is still unknown. The second Pittsburgh based automobile producer was the Pittsburgh Motor Vehicle Co., incorporated in 1897. Their facilities were located at Third and Ferry Streets with early production including three- and four-wheeled vehicles powered by internal combustion engines. Lightweight materials and construction principles were used in an effort to make the vehicle faster and more enjoyable. By 1900, the company had moved to Ardmore and changed their name to Autocar. The company prospered for a number of years, eventually switching to truck production.
Robert E. Twyford designed a 4-wheel drive car and was granted a patent in 1900. The following two years saw a couple of examples being built before he moved to Brooksville in 1904. He attempted to produce the cars in greater quantities, but only a few would ever be built between 1904 through 1906.
At the turn of the century, around 1901, D. W. Seely formed the Seely Manufacturing Company, which was more of a dealership rather than a producer of motorcars. The headquarters for the company was located at Baum and Beatty Streets. The Company bought and sold vehicles such as Locomobile, Winton, Oldsmobile, Panhard, and Darracq. Between the years 1901 and 1903, a few Seely built, gasoline powered, motorcars were built. These cars were constructed to specific specifications as dictated by their buyers. Early coachbuilding was an art, requiring metal and wood fabrication skills along with style and ingenuity. Apparently, Seely was able to accommodate his customers and offered this service.
Another name associated with early Pittsburgh automobile production was Rex Reinerston. In 1903 he designed and built a one-cylinder motor car which he listed for $550 each. The one-cylinder engine was limited in the horsepower that it produced; as were many engines during this era. To combat this shortcoming and to make the vehicle more feasible on the hilly terrain of Pittsburgh, PA, the vehicle was built using lightweight methods and materials.
The Synnestvedt Machine Company tested their first electric vehicle in 1903. The factory's location was at 4117 Liberty Avenue, which was centrally located in the heart of Pittsburgh, and close to the many steel factories in the area. The company produced electric delivery wagons, buses, and automobiles until 1907.
The Iron City Vehicle Company, a name that is still popular - 'Iron City', raised $10,000 worth of capital stock in 1904 with the intentions of entering the competitive motorcar production business. It is believed that no vehicles were ever produced and the company quietly drifted into the history books.
The following year, Westinghouse Electric & Manufacturing Company of Pittsburgh tried their luck at motor car production. They took a different approach by designing the car and outsourcing the production to Le Havre, France. One of the reasons France was chosen to handle these duties, was the allure of the European automobile and the ambiance of the French name. The car was marketed as a French Car with all indications of its Pittsburgh heritage carefully concealed. It was intended for the social elite and carried a price tag that was beyond the means of most families. It was a powerful car that was fitted with the finest luxury materials available. Production continued for a few years, ending in 1907.
In 1906, a four-cylinder car with sliding gear transmission and shaft drive was produced. It was dubbed the Atlas, and only a few examples were ever constructed.
At least two companies tried their hand at motorcar production in the Pittsburgh region during 1907. The Fort Pitt Motor Manufacturing Company of New Kensington created a car named the Pittsburgh Six. Its design was courtesy of a German immigrant, B.G. von Rottweiler, and powered by a six-cylinder engine that produced an astonishing 72 horsepower. Like many other companies during this era, only a few examples were ever built.
E.H. Belden also experimented with a six-cylinder car and produced in small quantities beginning in 1909. The cars he built bore his name, Belden, and over the few years that they were produced, were given incremental enhancements and improvements. By 1911, production had ceased.
In 1909, the Keystone Motor Company moved production of the Six from Yonkers, New York to DuBois, Pennsylvania. The six-cylinder car produced 60 horsepower and carried a selling price of $2,250. This was a rather high price in the day, but the cars, available in either roadster or touring configuration, had the performance and allure to back it up. Production lasted only a year in the Pittsburgh region.
The Penn Motor Car Company was organized in November of 1910 and their product was named the Penn 30. The company had raised a capital stock of $150,000 and set up their facilities at 7510 Thomas Blvd. Production would last only two years.
Frank Morse and Oscar Howick formed the Duquesne car in 1912. Though the name 'Duquesne' may seem unfamiliar in most settings, it is common in Pittsburgh. From 1912 to 1913, the company produced four- and six-cylinder cars in small quantities.
The Senator Motor Car Company made a bold move in 1912 by proclaiming to world that they would produce 1,000 40-horsepower cars during that year. The company was backed by some of Pittsburgh's most prominent industrialists such as P.T. Coburn of Westinghouse. Unfortunately, the company was unable to meet the 1000 quota and production soon ended.
In 1913, it appeared that one company in particular would succeed where many had failed in the past. The Standard Steel Car Company, one of the nation's largest producers of railway cars, committed themselves to automobile production by building a two-million dollar factory in Butler. Not only did they have the capital to remain in production for many years, they were able to attract buyers and retain loyal customers. One of their methods was to offer free road maps and guides to where gas stations were located. This was a big deal, as only few gas stations existed at this time. This allowed motorists to travel more boldly, knowing they would not get stranded in unfamiliar territory. Production of the Standard continued until 1923.
Jack Hickman, in 1914, advertised his small vehicle in East Pittsburgh which he called the Auto-Bob and offered for sale at $130 in kit form. A fully assembled example was just $150.
Frank H. Morse created the Morse Cyclecar in 1915. It was one of the first vehicles to have front-wheel drive. Front-wheel drive would be experimented with during the 1930s by Cord and at least one other marque, but would not be put into serious production until the 1970s. His car featured tandem seating and was produced for only a short time, with production ending a year later.
The Murray Motor Car Company was organized in 1916 by William H. Murrary. His cars were aimed at the exclusive, high priced market. This was a very tough market to enter, as every detail of the car was to be of the highest quality. The coachwork was to be the exact specification of their clients. The engine and all mechanical components were to be powerful, durable, reliable, clean, and quiet. Power for the Murrary cars came from a Herschell-Spillman V8 engine. Murrary took design cues from the Rolls-Royce by using their radiator shell in the front of his cars.
Also appearing in 1916 was the Pennsy Motors Company. Production of their four-cylinder car continued until 1918 when they went out of business.
Gearless Motors Corporation of Pittsburgh created five prototype steam powered cars in 1920. The market for steam powered cars had mostly vanished at this point in history. The electric starter introduced by Cadillac in 1914 had signaled the death of the steam car.
In 1929, the American Austin Car Company was formed. They used the factory of the former Standard automobile plant in Butler, which is thirty miles north of Pittsburgh. The cars were based on the English Austin Seven and were produced under the name 'American Austin' from 1930 through 1934. In 1938, the name American Bantam was adopted and production continued until 1941. These would be the last cars to be produced in serious quantities in the Pittsburgh region. A handful of the American Austin's still exist, and they attract attention wherever they go. They are very small and compact, and to many are considered micro-cars.
Conclusion
The Frick Car and Carriage Museum houses a few examples of cars produced in the Pittsburgh region. Each has unique design qualities that truly are worth studying and admiring. The hills of Pittsburgh offered challenges foreign to many cities. The engines had to be capable of traversing up the hills and the brakes had to be in top shape to keep the car in the drivers control while going back down the hills. The stories told by the Frick museum are worth listening to, as they describe the past that has been forgotten by many.