AACA Auto Museum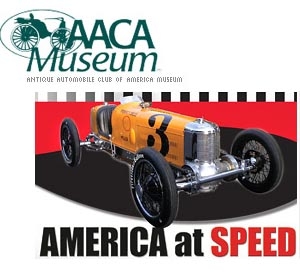 November 2007
The AACA Museum's mission is 'dedicated to the Celebration, Preservation, Education, and Display of the American Motor Vehicle history that provides value for our members, hobbyists, and the public.' The museum compliments the Research Center and Library and is a nonprofit educations institution professionally staffed consisting of semi-permanent and temporary exhibitions. The Antique Auto Museum is located in Hershey, Pennsylvania and has over 71,000 square feet of display space. It has been educating the public since June 26th of 2003.
During the summer season the museum presented a special display, 'America at Speed: Vintage Competition Vehicles 1895 to 1980.' It featured nearly two dozen vintage race cars that dominated a full century of this nation's fascination. It was a very disperse group of vehicles, ranging from dirt track racers, to hill climbing champions, to NASCAR and Indy competition, and speed record holders. The displays were arranged appropriately to showcase the differences, changes, and advancements from the earliest and latest cars. Many of the earlier cars were racing specials and garage-built competitors while the newer examples were the opposite extreme, completely fabricated race cars that were built to strict guidelines and specifications. Whether they raced for the checkered flag on a dirt track or the glorious stage of the brickyard in Indianapolis, the vehicles on display told the histories of proving and promoting their potential.
The Pontiac Boat Tail racer on display has a racing history that spanned six years and is the oldest documented Pontiac race car in existence. It was a dealer-sponsored racer throughout its racing career, and scored an outright victory in its first racing attempt. The Cadillac LeMans Coupe has been restored to resemble the 'stock' car entered by the Cunningham team which competed in the 1950 24 Hours of LeMans. The stock Series 61 Cadillac driven by Sam and Miles Collier finished in an impressive 10th place. This was the first time since the 1920s an American production vehicle had raced at LeMans and the Cadillac had beaten 'proven' race cars from manufacturers such as Jaguar, Bentley, Talbot Lago, Panhard, Ferrari and Delage. The Watson Indy Roadster set a track record during qualifying and was driven to an Indy 500 victory in one of the most spectacular battles for the lead in '500' history. The Oldsmobile Cutlass Skoal Bandit is an actual NASCAR purpose-built racer from the 1991 season. It is a fitting reminder of now-defunct Oldsmobile's last days in NASCAR competition. Sitting in close proximity was a NASCAR entry from the mid-1960s, a Mercury Cougar. The differences between these two were very drastic, as the Mercury was nearly 'stock.' It was originally driven by Dan Gurney and finished the season in second place with 62 points closely behind the first place finisher, Ford, who had accumulated 64 points.
Conclusion
Centrally located in Hershey, PA, close the Harrisburg and Philadelphia, the AACA Museum is a popular excursion for any automotive enthusiast in the area. During the Eastern Division AACA National Fall Meet, which saw less than perfect weather conditions with scattered precipitation, it was a welcomed location for many enthusiasts who came to see automobiles but wanted to stay clear of the occasional rain. The 'America at Speed' display showcased a century worth's of racing and the changes that have occurred over time. It was a fitting example of the museums mission, 'Celebration, Preservation, Education, and Display of the American Motor Vehicle history.'