Rolex Monterey Motorsports Reunion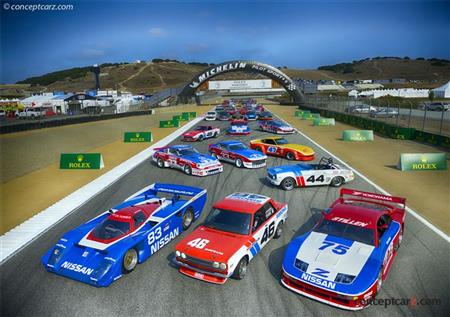 August 2018
Over 550 historic and period correct race cars competed at the 2018 Rolex Monterey Motorsports Reunion, an annual celebration that has transpired for more than half a century. This year, it honored the rich racing heritage of
Nissan
, and its U.S. predecessor
Datsun
, as the featured maruqe. This was the first time a Japanese manufacturer was selected as the featured marque. The iconic red, white and blue
BRE (Brock Racing Enterprises)
livery of Peter Brock, having graced many early Datsun 510s, captured the interest of the American motorsport community and helped established the global tuner car market. The legacy began over fifty years ago with victories at the Japanese Grand Prix, and Bob Sharp enjoying similar success in American with his Datsun team winning the SCCA F Production Championship. Since then, many legendary drivers have been associated with Nissan and Datsun, helping to forge the legacy of the company. Many of Nissans most historic cars were on display including the Nissan R390 GT1 Road Car used for homologation purposes, Paul Newman's SCCA national GT-1 Championship 300ZX Turbo, Datsun 510 Baja 500 racecar, the 1970 BRe Datsun 240Z #46 driven by John Morton, and the Daytona and LeMans-winning Nissan 300ZX Turbo driven by IMSA champion Steve Millen. Modern cars included the next generation Nissan Formula E car and the Nissan GT-R50 limited-edition road car by Italdesign.
Many of the world's finest historic race cars have been competing at Laguna Seca in Monterey, CA. over the years, bringing race cars together with fans of motorsport. The internationally renowned WeatherTech Raceway Laguna Seca road course is 2.238 miles with 11 turns and built into the California's beautiful central coast. The annual event is the largest vintage racing event of its kind in North America. There was historic racing, demonstration laps, car corrals, and conversations with legendary drivers. Fourteen iconic Datsun/Nissan race cars were on display in the paddock. A 1995 McLaren F1 GTR that won the 24 Hours of LeMans performed demonstration laps by two-time Formula 1 World Champion, Mika Hakkinen. There was a tribute to
Dan Gurney
, one of the giants of American Motorsports. He is one of just three drivers to have won races in NASCAR, Indy car, Formula One and Sports Cars. He stands alone as the only individual to score maiden Formula One Grand Prix victories for three different manufactures (Brabham, Porsche and Anglo-American Racers / All American Racers). He was a driver, team owner, race car constructor, and race engineer.
Cars were arranged into 13 classes with the earliest car, a 1911 National Speedway Roadster, in Group 1A for Pre-1940 Sports Racing & Touring cars. This group covered nearly three decades of racing evolution and it was evident the strides made during that time. Group 2A housed the Sports Racing and GT Cars from 1947 through 1955 including many household names including Jaguar, Triumph, Mercedes-Benz, MG, Porsche, and Allard. Perhaps the loudest cars on the track were from the Group 6A class of Trans-Am cars from 1966 through 1972. Ford Mustangs, Chevrolet Camaros, and Pontiac Trans Ams roared around the track much to the delight of the fans. An AMC Penske Javelin driven by William Ockerlund won the race, with nearly all 32 cars in the field completing 11 laps. The fastest cars were the Group 4A Formula 1 cars (1967-1984), Group 5A (FIA, IMSA, GT, GTX, GTU, and AAGT), Group 7B (IMSA GTO, GTP, and Trans-Am), Group 8A Formula 5000, and Group 5B Can Am cars.
The
Can-Am Series
, short for Canadian-American Challenge Cup, was known for its free-wheeling rule interpretations that inspired experiments such as ground effects, liberal use of exotic materials, big wings, two engines, and even perfecting turbocharging. The only basic requirement was that the cars were to be 'sports cars,' which meant they must have room for a passenger.
The series had minimal regulations, permitted unlimited engine sizes, virtually unrestricted aerodynamics, and basically had an 'anything goes' policy. This fostered creative machines that explored many realms of automotive technology and engineering. 1974 would be the final year for the original Can-Am championship, as spiraling costs and a recession in North America following the oil crisis, and dwindling support and interest led to the series being cancelled
The WeatherTech Raceway group 5B (1966-1974 Can-Am) included a field of Lolas, Shadows, McLarens and others. The Shadow DN4 driven by Craig Bennett finished first followed by a pair of McLaren M8E driven by Beau DeBard and Warren Briggs.
The
Formula 5000
race group celebrated the 50th anniversary of the series. It was a series of open wheel, single seater cars with displacement limited to 5.0-liters. They raced in different series in various regions around the world including the North America, Europe, South Africa, Australia and New Zealand. Manufacturers included Lotus, Lola, McLaren, Eagle, Chevron and others. Monterey's celebration attracted participants from around the world including 14 from New Zealand. Nearly fifty cars were scheduled to compete with 31 cars making it through practice, qualifying, and the race to cross the finish line. The Shadow DN6 driven by Craig Bennett was the fastest followed by a Lola T-332 driven by Andrew Higgins in 2nd and a Lola T-330 driven by Kyle Tilley in third. Six Lolas were in the top ten positions (four Lola T-332 and two Lola T-330).
With the size and scale of the Monterey Historics and the role it plays in 'Monterey Car Week,' many manufacturers take the opportunity to showcase new
concept cars
. Audi selected the Paddock Stage for the world premiere of the 2019 Audi PB 18 e-Tron concept car, and Derek Bell drove a 2019 Ford GT Heritage Edition onto the stage a day later.
It was announced that the International Motor Sports Association (IMSA) will celebrate its 50th anniversary at the 2019 edition of the Rolex Monterey Motorsports Reunion, on August 15-18.
by Dan Vaughan