Hilton Head Sports & Classic Car Auction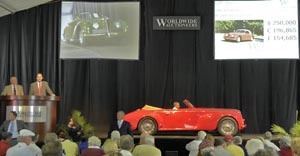 November 2008
There was much speculation about what might happen at this year's Hilton Head Sports & Classic Car Auction presented by the Worldwide Auctioneers. A remarkable array of vehicles had been assembled, arguably their best to date at Hilton Head. The list of automotive masterpieces complimented the Hilton Head Concours d'Elegance very nicely with many similarities between the two. What had many on edge was the current state of the economy and the proximity to the presidential election (it was held just a few days before the United States chose its next president.)
As many expected, bidders were hesitant (and in many cases unable or unwilling) to part with their money. Sellers were also cautious, evident by the fact that only 8 vehicles were listed without a reserve (last years sale had 61 vehicles listed without a reserve).
The Vehicles
Hot Rods, classic and vintage, racers, modern, collectable, and everything in-between was up for sale. Cars from the 1950s and 1960s built in Detroit did rather well with bidders. Post-war European novelties, such as the Jaguar XK Series, MG TD, Porsche 356, Mercedes-Benz 190SL, and Triumph TR4 sold well. The exclusive and well preserved lots generated much interest, though it was very evident that bidders were unwilling (or unable) to outbid their competition in opulent fashion. On many occasions, bids rose by the bare minimum; buyers were hoping for a bargain.
With many cautious and hesitant, it was a great opportunity for buyers able to make the purchase. One example was the 2007 Shelby Mustang GT-H (Hertz) Convertible destined to become a collector item. It is number 179 of just 500 created and spent most of its early life at the Philadelphia Airport as a rental car under the Hertz 'Rent-A-Racer' program. It was estimated to sell for as much as $50,000; bidding settled at $33,000 including buyer's premium. The car that crossed the block before the GT-H was also part of the Hertz 'Fun Collection' program. It was a 2008 Chevy Corvette ZHZ Hertz Special Edition (only 500 built) with fewer than 5,000 miles. It offered 436 horsepower engine, a six-speed paddle shift 'manu-Matic' transmission, and several other special mechanical features. The estimated value was in the $60,000 - $80,000 range. Sadly, bidding failed to reach the vehicle's reserve and the lot was left unsold. Both of these sales were a rare opportunity.
Besides the high-dollar vehicles, several other lots peaked our interest. One such example was the 2000 Ford Taurus Ricky Rudd NASCAR which was estimated to sell for around $35,000. It was basically a roll cage on wheels with a five-point harness and a 351 cubic-inch V8 engine that offered an astonishing 700 horsepower for a price of a Nissan Maxima. Sadly, bidding failed to satisfy the reserve and the lot was left unsold. A rare EMW Type 327/3, number 144 of just 152, was sold for $75,000. What is believed to be the sole surviving Giannini Monza Spyder, sold for just $17,050. A Kaiser Darrin, the first production fiberglass sports car in the US and the world and one of 435 created, sold for $75,900. A gorgeous Phantom II Sedanca DeVille with coachwork by Hooper was unable to find a buyer willing to satisfy its reserve. A stunning Lamborghini Miura P400 wearing a recent restoration was estimated to be worth $400,000, but it too failed to find a willing buyer. The Chrysler CG Imperial DC Phaeton in the style of LeBaron, estimated to sell for $160,000, was sold for $137,500.
Auction Analysis
There were over 100 vehicles offered sale at this year's event with total sales in the $4.23 million dollar range. 65 items, accounting for 60% of the vehicles that crossed the block, found new ownership. The average sale was around $65,000 with the highest sale of the day going to the 1942 Alfa 6C 2500 at $345,400. Only eight of the vehicles were offered without reserve with 3 vehicles selling above the estimated value. 55% of the vehicles were sold within the estimated value.
Last year, the sale generated around $4.25 million with the average price being $45,700. 87% of the 107 vehicles to cross the block were sold with 61 of those without a reserve.
Comparing last year to this years sale shows that they generated roughly the same amount of money, though fewer vehicles were sold at this year's event. Many of last years sellers listed their cars without a reserve, while this year most made sure a certain dollar figure was met before it would sell.
Conclusion
Held in conjunction with the Hilton Head Concours d'Elegance and Motoring festival, the auction was a great compliment to a packed weekend that included racing, car club displays, car cruises, and the concours. The vehicles assembled were very in-tune with potential buyers as evident by
'Once again the market has spoken well, with great cars garnering significant interest and realizing strong prices', Said Rod Egan, Chief Auctioneer. 'Regardless of a perceived economic slow down in the United States, high quality cars are still showing to be an excellent investment.'