Pittsburgh Vintage Grand Prix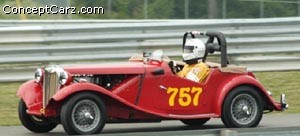 July 2004
The Pittsburgh Vintage Grand Prix is a week of activites, races, events, and car shows.
Since 1983, the Pittsburgh Vintage Grand Prix has raised vitally needed funds for its two worthwhile charities.
This event has grown from a one-day vintage race in Schenley Park to a full week of race and car show related activities. The PVGP has become a nationally recognized premium event on the vintage racing and automotive circuit. Much of the growth of this exciting annual event is directly related to the dedication and enthusiasm of our growing family of volunteers, now numbering more than 1,500.
A few of the races include a Pre 1960 1 Hour Enduro, Under 2.5 Litres Pre-1969 1 Hour Enduro, Over 2.5 Litres Pre-1969 1 Hour Enduro.
Thank you Kyle McMullen for race coverage and photographs.