Palm Beach International Concours d'Elegance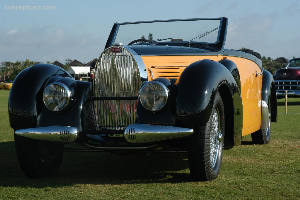 February 2005
In prior years, the Concorso on the Breaker was the final event of the Cavallino Classic weekend. This year, however, the final event was the inaugural Palm Beach International Concorso d'Eleganza. According to the event organizer, Andrew Carduner, 'The cars are the stars at the Palm Beach International. The Concorso will feel like an elegant garden party, where spectators and car enthusiasts have the opportunity to see some of the world's rarest and most famous cars.' And Andrew delivered on his promise.
The event took place at the Palm Beach Polo Fields. The featured cars of this event were four cars built by Cunningham.
This event was different from other shows because the owners of the cars were the ones who judged the cars in their class. In most shows the vehicles are judged based on their appearance and history. The public was invited to decide 'best of show.' The Bugatti Type 57C ran away with top honors and was declared 'best of show'.
The week prior to these events was the opening of the Detroit Auto show. After spending time in Detroit at that event (during the winter), Palm Beach was a welcome change. The weather cooperated and only light rain, lasting no-more than a few minutes, was all that endured. The scenery and surrounding complimented the vehicles nicely.