Scarsdale Concours, New York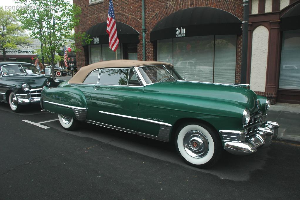 May 2005
The Scarsdale Concours focuses on a selection of famous marques, included Ferrari, Aston Martin, Rolls-Royce, Lamborghini and Porsche, providing a historical perspective on their styling and engineering evolution. Their representation of Jaguar starts with its first world class sprots car, the SS100, progressing through the XK120 and the XK150, to the luxurious Mark III sedan, the ground breaking E-type and the current supercharged XKR Portfolio Edition. Similarly, the Aston Martin series starts with the DB2 and continues through the DB4 series to the DB5, DB6, V8 Vantage, Virage, DB7, Volante Vantage, Vanquish and the DB9 series. There are Ferrari's spanning over 54 years. Porsche's spanning 45 years and Rolls Royce's spanning 93 years.
The vehicles were best viewed by marque in chronological order with the design facilitating this approach. The Concours is inteded to share the joy of collector exotics with car lovers young and old, while raising money for The United Way, Habitat for Humanity and the Kellner Pediatric Liver Disease Foundation.
Shotgun (passenger) rides in many of the show's cars were available following the Concours. The rides were intended to raise money for charity while allowing the high-bidder a very rare opportunity of riding in the car of their dreams.
The day started off with hints of rain but that quickly subsided even though a few owners threw tarps over their convertibles or roll up the windows just for safe keeping. As far as Concours goes, this was an intimate showing with the vehicles being positioned close together and the number of vehicles being very exclusive. There was a great turn-out by car enthusiasts as they took in the widely diverse collection of masterpieces that adorned the Scarsdale neighborhood. All-in-all, this was a successful event raising around $40,000 for charity and sharing some wonderful classics and exotic vehicles with car lovers of all ages.