Crown Royal Invitational Car Show on Walnut Street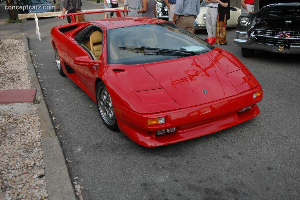 July 2005
Many think the Pittsburgh Vintage Grand Prix takes place every third weekend in July. While it is true that the tribute to motorsport history culminates that magical weekend in Schenley Park, the event has grown into a 10-day celebration spanning six venues and two counties. The Crown Royal Invitational Car Show on Walnut Street is part of the celebration. Nestled on Shadyside's charming Walnut Street, this unique setting allowed the public to view a sampling of rare, classic and exotic cars.
Pittsburgh Vintage Grand Prix
In 2005, its 23rd year, the Pittsburgh Vintage Grand Prix will present an unparalleled week of vintage sports car racing and related activities to the delight of nearly 200,000 fans. Race Week kicks off with the PVGP Historic Races at BeaveRun, a blacktie fundraiser at Fox Chapel Golf Club and a Kickoff Rallye on the weekend of July 9 and 10, continues throughout the week with three distinct car shows and culminates with the traditional vintage races through the streets of Schenley Park on the July 16/17 weekend. The Pittsburgh Vintage Grand Prix remains our country's only vintage sports cars race on city streets and along with Monte Carlo represent the only two such events in the world!
Mission
The Pittsburgh Vintage Grand Prix's mission is to produce a world-class vintage racing event in order to raise funds that help provide residential care, treatment and support for developmentally disabled individuals in the Pittsburgh region.
About Shadyside, Pennsylvania
Shadyside is in the heart of Pittsburgh's East End. Walnut Street, Shadyside's prosperous commercial and entertainment core, offers a bustling atmosphere of boutiques, shops, lounges, and restaurants designed to suit the discriminating tastes of residents and visitors. It is surrounded by Squirrel Hill, Oakland , Bloomfield, Friendship, East Liberty, Point Breeze, and Larimer. Shadyside was the original name of the Pennsylvania Railroad. Station in that area. Wood and farmland, replete with shady lanes at the time of its development in the mid 19th century, the neighborhood has been named appropriately.
Well-maintained, stately Victorian mansions stand in quiet elegance alongside carefully restored homes. Apartment and condominium buildings full of hardwood floors and old-fashioned architectural character, along with newer, modern homes and buildings are woven together, making a unique and beautiful neighborhood.
Since the 1920s, a mix of affluent families, young professionals, artists, students, and apartment dwellers have settled in Shadyside.