The Henry Ford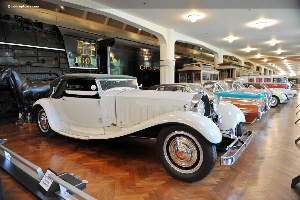 January 2011
The Henry Ford Museum is a National Historic Landmark located in the Metro Detroit suburb of Detroit, Michigan. It is the nation's 'largest indoor history museum' complex. It was built in 1929, named after the noted automobile industrialist Henry Ford, and designed by Robert O. Derrick. The original purpose of the museum was to preserve items of historical significance and portray the Industrial revolution.
Along with automobiles, the collection includes a vast array of famous homes, machinery, exhibits and Americana. Exhibits include John F. Kennedy's presidential limousine, Abraham Lincoln's chair from Ford's theatre, Thomas Edison's laboratory, the Wright Brothers' bicycle shop, and the Rosa Parks bus.
Vehicles in the collection include automobiles from many marques, including Packard, Duryea, Locomobile, Thomas, Bugatti, Overland, and more. Perhaps the most impressive vehicle is the Bugatti Royale Type 41. That vehicle is considered the ultimate status symbol and is one of the biggest, rarest, and most desirable cars in the world.