RM Auctions at Amelia Island, Fla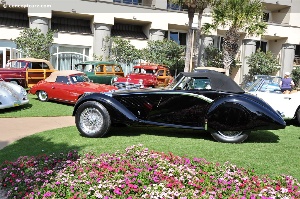 March 2012
RM Auctions, the official auction house of the Amelia Island Concours d'Elegance, continued its strong track record in Northern Florida this weekend, generating more than $23 million in sales before a packed house at its well-established sale at the Ritz-Carlton. The 88 percent sell through rate saw 92 of the 106 pre- and post-war motor cars changing hands, with six automobiles achieving million-dollar-plus results and spirited bidding leading to the establishment of numerous new auction records.
Top honors went to a stunning 1929 Cord L-29 Special Coupe by The Hayes Body Corporation – a stunning, one-off design statement by Count Alexis de Sakhnoffsky, widely recognized as the most significant L-29 in existence. An outstanding example of Classic Era styling, the 'Hayes Coupe' garnered strong attention from bidders in the room and on the phones, selling for an impressive $2,420,000 to applause from the crowd.
'This year's Amelia Island weekend was once again a great success for the RM team with over $23 million in sales and more accolades for RM Auto Restoration. We're very pleased with the results achieved both in the auction room and on the show field, as well as the strong global interest in the sale - bidders hailed from 16 countries around the world,' said Rob Myers, Chairman & Founder, RM Auctions.
Myers added, 'The Amelia sale wrapped up a fantastic two weeks in Florida for RM, including the recent Milhous Collection sale presented in association with Sotheby's. Combined, the events generated more than $61 million in sales, illustrating the continued strength of the collectibles hobby. We look forward to building on the strong results at our next sale in Monaco in May.'
In addition to the sale-topping Cord L-29, also hotly contested at Saturday's auction was a highly desirable and extremely rare 1965 Aston Martin DB5 Vantage Convertible, one of the seven original Vantage-powered DB5 Convertibles produced. Spurring a lively bidding war, the DB5 realized an impressive $1,210,000, smashing the previous record for a DB5 Convertible sold at auction. A freshly restored 1960 Mercedes-Benz 300SL Roadster also entered the history books, selling for $990,000 - a world record price for a 300SL Roadster sold at auction.
Continuing RM's strong track record for Ferrari sales at Amelia, examples from the Modenese Prancing Horse also performed well. Headlining the group of nine examples on offer was the exceptional, ex-Agnelli Family 1956 Ferrari 250 GT Coupe Speciale, one of just four built, selling for $1,430,000, while a distinctively sporty 1973 Ferrari Dino 246 GTS 'Chairs and Flares' achieved a record-setting $363,000. Additional notable Ferrari sales included a superb 1972 Ferrari 365 GTB/4 Daytona Spyder for $1,210,000 and a rare, unique covered headlight 1961 Ferrari 250 GT Series II Cabriolet for $770,000.
RM Amelia Island Million-Dollar-Plus Sales:
Lot 132 – 1929 Cord L-29 Special Coupe $2,420,000
Lot 141 – 1956 Ferrari 250 GT Coupe Speciale $1,430,000
Lot 152 – 1965 Aston Martin DB5 Vantage Convertible $1,210,000
Lot 173 – 1972 Ferrari 365 GTB/4 Daytona Spyder $1,210,000
Lot 183 – 1967 Ferrari 275 GTB/4 Berlinetta $1,100,000
Lot 178 – 1930 Bugatti Type 46 Superprofile Coupe $1,017,500
Beyond the automobiles and a select series of collectible motorcycles featured in the RM catalogue, the Amelia sale also lifted the gavel on one of only three known complete Lalique Mascot Collections, headlined by the rarest Lalique of all, Le Renard (The Fox), for $805,000. The offering was rounded out by a Ferrari 250 GTO Bronze Sculpture which sold for $23,000 and an Ultimate Bugatti Ride & Drive Experience, presented by the Amelia Island Concours d'Elegance and Bugatti Automobiles of The Americas, for $10,350, both benefitting the Spina Bifida Association of Jacksonville. Also supporting a wonderful cause, a 1963 Alfa Romeo 2600 Spider which achieved $60,500 with proceeds going to The National Road Safety Foundation, Inc – a non-profit organization dedicated to reducing crashes, death and disability on US roads.
RM's strong sales results were complemented by success on the show field at the Amelia Island Concours d'Elegance on Sunday with a number of award-winning entries having passed through RM Auto Restoration's doors, cementing the company's reputation as the world's premier restoration facility for vintage automobiles. Among those receiving accolades were the majestic 1931 Duesenberg Model J Derham Tourster, owned by Judge Joseph Cassini III and Margie Cassini of West Orange, New Jersey which was judged 'Best in Class'; and the elegant 1938 Jaguar SS Graber Coupe, owned by Frank and Milli Ricciardelli of Monmount Beach, New Jersey, which received a Special Amelia Award.
RM continues its 2012 auction calendar, May 11 – 12 with the return of its biennial Monaco sale at the Grimaldi Forum. Held during the same weekend as the Grand Prix Historique de Monaco, the two-day sale will lift the gavel on an elite, handpicked selection of blue-chip automobiles, joined by the acclaimed Saltarelli Collection, one of the world's most significant private Ducati Collections.
RM returns to North America, June 8 – 9 with the presentation of the Dingman Collection 2012, a continuation of the company's highly successful 2006 Dingman sale of Ford motor cars and rare, desirable automotive signs. In the meantime, the excitement continues in Florida this week as RM's subsidiary company, Auctions America by RM, presents the 10th annual Collector Cars of Fort Lauderdale sale, March 16 – 18 at the Greater Fort Lauderdale / Broward County Convention Center.
Further information on upcoming events, along with full results on RM's Amelia Island are available online at www.rmauctions.com. For further information on Auctions America by RM's Fort Lauderdale sale visit www.auctionsamerica.com.