Sold for $1,050,000 at 2021 RM Sothebys : Monterey.
The Ghia-built 1953 and 1954 Dodge Firearrow concept cars first appeared as a two-seat mockup that rode atop a 1954 Dodge chassis. Firearrow II, a modified version of the original car, retained the mockup's two-place seating and striking frameless windshield when it appeared in 1954. Designed by Chrysler Design Chief Virgil Exner and hand-built by Ghia in Turin, four cars were eventually built, the third and fourth Firearrows being a coupe and a four-seat production-ready convertible prototype. None came to production although the last of Exner's Firearrow series attracted the attention of wealthy car enthusiast Eugene Casaroll, who purchased the production rights to the design and teamed with engineer Paul Fargo to create a practical road car. The result was the hugely successful and exotic Dual-Ghia built between 1956 and 1958.
1954 Dodge Firearrow Concept
2021 RM Sothebys : Monterey
Pre-Auction Estimates :
USD $900,000-USD $1,200,000
Sale Price :
USD $1,050,000
1954 Dodge Firearrow Concept Auction Sales
Recent Sales of the Dodge Firearrow Concept
(
Data based on Model Year 1954
sales)
Dodge Firearrow Concepts That Failed To Sell At Auction
1954 Dodge Firearrow Concept's that have appeared at auction but did not sell.
| Vehicle | Chassis | Event | High Bid | Est. Low | Est. High |
| --- | --- | --- | --- | --- | --- |
| 1954 Dodge Firearrow II Concept Car | 9999709 | 2019 Mecum : Monterey | | | |
Vehicles With Comparable Market Values
Similar sales to the $927,500 range.
2019 FORD GT
Chassis#:2FAGP9CWXKH200192
Sold for $920,000
2022 Gooding & Company : Pebble Beach
1963 Aston Martin DB5 par Carrozzeria Touring
Chassis#:DB5/1939/R
Sold for $921,562
2022 Artcurial : Retromobile
1971 PLYMOUTH HEMI CUDA
Chassis#:BS23R1B220743
Sold for $935,000
2022 Barrett-Jackson : Scottsdale, Arizona
1965 SHELBY COBRA 427 SUPER SNAKE CSX 4404
Chassis#:CSX4404
Sold for $935,000
2022 Barrett-Jackson : Scottsdale, Arizona
1961 MASERATI 5000 GT COUPE
Chassis#:AM103.010
Sold for $924,000
2022 Gooding & Company : Scottsdale Geared Online
2021 Ferrari SF90 Stradale
Sold for $935,000
2022 Mecum : Kissimmee
1993 Jaguar XJ220 C LM
Chassis#:SAJJEAEX7AX220838
Sold for $934,973
2021 RM Sothebys : The Guikas Collection
2017 Ford GT
Chassis#:2FAGP9CW9HH200077
Sold for $924,000
2021 Mecum : Monterey
1958 Mercedes-Benz 300 SL Roadster
Chassis#:198.042.8500102
Sold for $923,500
2021 RM Sothebys : Amelia Island Auction
1926 Bugatti Type 37 Grand Prix
Chassis#:37227
Sold for $935,000
2021 Gooding : Geared Online : Scottsdale Auction
1964 Shelby 289 Cobra Roadster
Sold for $935,000
2021 Mecum : Kissimmee
2018 Ford GT
Sold for $935,000
2020 Mecum : Kissimmee Summer Special
2017 Ford GT
Chassis#:2FAGP9CW8HH200040
Sold for $923,500
2020 RM Sothebys : Scottsdale Arizona
1969 Aston Martin DB6 Mark 2 Volante Convertible to Vantage Specification
Chassis#:DB6MK2VC/3754/R
Sold for $925,362
2019 Bonhams : Goodwood Revival
2012 LEXUS LFA NÜRBURGRING EDITION
Chassis#:JTHHX8BH5C1000301
Sold for $918,500
2019 Barrett-Jackson : Scottsdale, Az.
1930 Duesenberg Model J Torpedo Phaeton
Chassis#:2276
Sold for $935,000
2019 Mecum : Kissimmee
2005 Porsche Carrera GT
Chassis#:WP0CA29815L001274
Sold for $918,500
2018 Gooding & Co. : Amelia Island
2019 CHEVROLET CORVETTE ZR1
Chassis#:
Sold for $925,000
2018 Barrett-Jackson : Scottsdale
1955 Mercedes-Benz 300SL Gullwing
Chassis#:198.040.5500771
Sold for $919,600
2017 Bonhams : Quail Lodge
1941 MERCEDES-BENZ 540K Cabriolet B
Chassis#:408429
Sold for $929,500
2017 Bonhams : Quail Lodge
1954 Dodge Firearrow Concept Profiles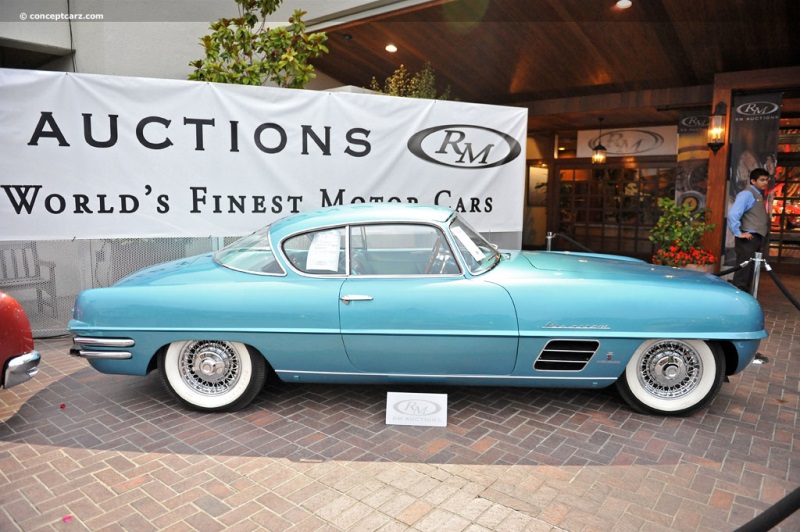 Coachwork: Ghia
Designer: Exner
Chassis #:
9999707