1930 Willys Knight Model 66B / 66B46319 Chassis Information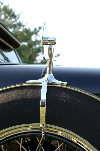 Sold for $220,000 at
2012 Gooding & Company
.
The Willys Knight was produced by the Willys Overland Company between 1914 and 1933. The 'Knight' made use of the sleeve valve engine technology designed by Charles Y. Knight. The engine design shed the traditional poppet valves for a set of sliding sleeves to control intake and exhaust gases. While expensive to produce, this precision engine was quiet, durable and powerful.
In an effort to add more flair to the top of the line, Willys commissioned Amos Northup to design a new body. Northup was chief of design at the Murray Corporation of America. He believed that the automobiles of the 1920's were not very attractive, and that stylish appearance and high comfort were the primary reasons that customers would purchase a car. Northup's efforts resulted in the beautiful plaid-side line of Willys Knights. He was aslo commissioned by other independent auto manufactures and produced such impressive designs as the REO Royale and Graham Blue Streak streamliner.
The car shown here is a 1930 'plaid-side' roadster model 66B equipped with the famous Knight Great Six sleeve-valve engine. The Model 66 represented the top-of-the-line for Willys Knight, and was good for a healthy 87 horsepower. This plaid-side sports the original paint scheme and colors. Note the squares on the doors which are hallmark of the plaid-side.
The Plaidside Roadster, designed by Amos Northrup, is noted for its unique 'Plaid' pattern on the bodysides. The Plaidside Roadster was accompanied in the 66B Series by a Plaidside Phaeton. This Roadster body was manufactured by Griswold Motor Body Company of Detroit, MI. Griswold produced coachwork beginning in the 1980's and the Plaidside Roadster was their last automobile body manufactured prior to their demise in 1932.
Recent Sales
(
Data based on Model Year 1930 sales)
No Sale
1930 Willys Knight Model 66B's that have appeared at auction but did not sell.
| | | | | | |
| --- | --- | --- | --- | --- | --- |
| Vehicle | Chassis | Event | High Bid | Est. Low | Est. High |
| 1930 Willys-Knight 66B Plaidside Roadster by Griswold | 003900329 | 2014 Motor City Auction by RM Auctions | $85,000 | $100,000 | $150,000 |
Comparables
Similar sales to the $220,000 range.
1934 Packard Super Eight 1104 Coupe Roadster
Chassis#:Chassis#:759-144
Sold for $220,000
2018 Gooding & Company : Scottsdale, Az.
1970 Ferrari 365 GT 2+2
Chassis#:Chassis#:13121
Sold for $220,000
2018 Gooding & Company : Scottsdale, Az.
1960 Volkswagen Type 2 23-Window Deluxe Microbus
Chassis#:Chassis#:632504
Sold for $220,000
2018 Gooding & Company : Scottsdale, Az.
1954 Porsche 356 Pre-A Speedster Coachwork by Reutter
Chassis#:Chassis#:80155
Sold for $220,000
2018 Bonhams : Scottsdale
1956 Austin-Healey 100 M 'Le Mans'
Chassis#:Chassis#:BN2-L/230710
Sold for $218,400
2018 RM Sothebys : Scottsdale, Az.
1962 CHEVROLET BEL AIR CUSTOM BUBBLE TOP
Chassis#:Chassis#:21637S128071
Sold for $220,000
2018 Barrett-Jackson : Scottsdale
1968 SHELBY GT500KR CONVERTIBLE
Chassis#:Chassis#:8T03R201773
Sold for $220,000
2018 Barrett-Jackson : Scottsdale
1970 CHEVROLET CHEVELLE LS6 CONVERTIBLE
Chassis#:Chassis#:136670B171065
Sold for $220,000
2018 Barrett-Jackson : Scottsdale
1965 SHELBY COBRA CSX 4000 ROADSTER
Chassis#:Chassis#:CSX4812
Sold for $220,000
2018 Barrett-Jackson : Scottsdale
1957 CADILLAC ELDORADO BIARRITZ CONVERTIBLE
Chassis#:Chassis#:5762050027
Sold for $220,000
2018 Barrett-Jackson : Scottsdale
1970 PLYMOUTH 'CUDA
Chassis#:Chassis#:BS23R0B349189
Sold for $220,000
2018 Barrett-Jackson : Scottsdale
1968 SHELBY GT500KR
Chassis#:Chassis#:8T02R21592404154
Sold for $218,900
2018 Barrett-Jackson : Scottsdale
1971 PONTIAC GTO JUDGE CONVERTIBLE
Chassis#:Chassis#:242671P113032
Sold for $220,000
2018 Barrett-Jackson : Scottsdale
1954 BUICK SUPER CUSTOM CONVERTIBLE
Chassis#:Chassis#:5A1064869
Sold for $220,000
2018 Barrett-Jackson : Scottsdale
2008 PORSCHE 911 GT2
Chassis#:Chassis#:WP0AD29988S796261
Sold for $220,000
2018 Barrett-Jackson : Scottsdale
1941 DODGE POWER WAGON CUSTOM PICKUP
Chassis#:Chassis#:UTR06423
Sold for $220,000
2018 Barrett-Jackson : Scottsdale
1964 Jaguar E-Type Roadster
Sold for $220,000
2018 Mecum : Kissimmee
2010 Ferrari 458 Italia
Sold for $220,000
2018 Mecum : Kissimmee
1929 Invicta 4½-Litre Tourer
Chassis#:Chassis#:LC223
Sold for $220,755
2017 Bonhams : London Olympia
1959 CHEVROLET CORVETTE CUSTOM CONVERTIBLE
Chassis#:Chassis#:J59S105711
Sold for $220,000
2017 Barrett-Jackson : Las Vegas