This 1956 Mercedes-Benz 300S Coupe is a 2 owner car. Only 216 examples were hand built between 1952-1956. At $13,000 it was the most expensive Mercedes-Benz of its time, costing as much as 10 standard cars. The vehicle recently underwent a multi-year restoration of the highest standards. This particular car was ordered with a rare 4-speed floor shifter versus the more common steering column shifter. It still retains the original Karl Baisch custom fitted luggage.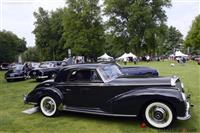 No auction information available for this vehicle at this time.
Recent Sales of the Mercedes-Benz 300S
(
Data based on Model Year 1956
sales)
Mercedes-Benz 300Ss That Failed To Sell At Auction
1956 Mercedes-Benz 300S's that have appeared at auction but did not sell.
| Vehicle | Chassis | Event | High Bid | Est. Low | Est. High |
| --- | --- | --- | --- | --- | --- |
Vehicles With Comparable Market Values
Similar sales to the range.
1956 Mercedes-Benz 300S Profiles